By BOTT Desk
Day 1 Highlights
"We are going ahead and giving out 23 airstrips in the state under PPP mode to further air connectivity": Shri Vishvendra Singh, Hon'ble Minister for Tourism, Govt of Rajasthan
"We plan to promote green tourism, open up 50 new travel destinations and launch the publicity campaign in the overseas market during our G20 presidency": Mr Arvind Singh, Secretary, Ministry of Tourism, Govt of India
"India's G20 presidency will provide much-needed impetus to the tourism sector": Ms Gayatri Rathore, Principal Secretary – Tourism, Art & Culture, Govt of Rajasthan

"#

GITB

is a platform for promoting India as a premier tourist destination and showcasing its vast tourism offering to the world": Mr Dipak Deva, Chairperson, FICCI Tourism and Culture Committee at the 12th edition of The Great India Travel Bazaar 2023.
"Today GITB is the only event that focuses exclusively & promotes inbound tourism": Dr Jyotsna Suri, Past President, FICCI
"By 2030, as India becomes the 3rd largest economy in the world, a prediction: tourism outflow from India is going to be 5X of today's numbers, & the inflow of foreign tourists is going to be 10X of the current level. This will lead to green & sustainable job creation": FICCI SG Mr. Shailesh Pathak
"The G20 presidency will transform and take the Indian tourism sector to a new level": Mr Randhir Vikram Singh, President, Indian Heritage Hotel Association & CMD, Mandawa Hotels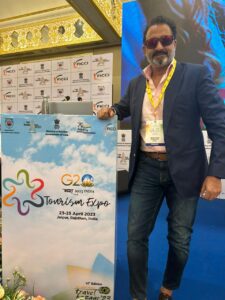 "Ebix's entire establishment in India, particularly in the travel sector, aims to invest in all MSMEs, bringing them together across various travel group sectors. This includes services such as basic ticketing, inbound services, transport management, meetings and events, and rail tourism. Instead of corporatizing them, Ebix's objective is to empower these MSMEs in India by providing adequate capital, human resources, and learning and development opportunities. By offering a platform for these businesses to express themselves and operate autonomously, Ebix seeks to create a friendly and empowering environment for Indian MSMEs. Currently, these companies are struggling individually; however, Ebix's vision is to unite them and create a conglomerate where they can realize their goals with the backing of a well-established corporation.": Naveen Kundu, Managing Director, EbixCash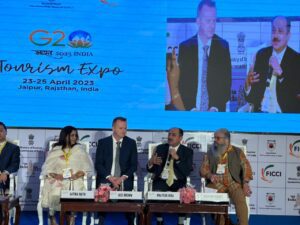 Session 1: Role Of Tourism towards One World, Sustainability & Inclusive growth

Travel and Tourism are lucrative industry, both for the economy of the state and local communities. In 2019, Travel & Tourism was one of the world's largest sectors, accounting for 10.4% of global GDP (USD 9.2 trillion), 10.6% of all jobs (334 million), and was responsible for creating 1 in 4 of all new jobs across the world. The experts will discuss on creating a better and more resilient Travel & Tourism with sustainable development goals, new & innovative use of technology in enhancing the customer experiences focusing on people, planet, and public health, social inclusion, biodiversity conservation, climate action, circular economy, governance, and finance.

Chaired by: Mr. M.R. Synrem, IAS, Joint Secretary, Ministry of Tourism, Government of India

Moderator: Mr. Atul Bagai, Country Head, United Nations Environment Programme

Panellists:

Mr. Sanjeev Ahuja, IAS Secretary, Tourism, Government Of Goa*
Mr. Sachin Ramchandra Jadhav, IAS, Commissioner-cum-Director,Department of Tourism, Government of Odisha
Mr. Anil Chadha, Divisional Chief Executive – Hotels, ITC Hotels
Mr. Prateek Hira, President & CEO of Tornos
Ms. Latika Nath, Environmentalist & Brand Ambassador RTSOI

Mr. Richard Finney, Director, Saddle Tramp Adventure Travel

Company, United Kingdom
Session 2: Developing Tourism Economy by Destination Management and Empowered MSMEs

Tourism is one of the biggest contributors to the world economy. It is necessary to develop an agile and future-proof sector, both in the short and long term. Nurturing tourism MSMEs and Startups to unleash innovation and dynamism in the tourism sector. Rethinking the strategic management of destinations towards a holistic travel approach for a renewed and sustained growth. Focusing on Rural Tourism and promotion of Archaeological Tourism will have a high potential to stimulate local economic growth, social change, and inclusive community development.
Moderator: Mr. Rajan Sehgal, Co-Founder-Passionals; President-Indian Golf Tourism Association and Advisor, Teleporters Travel Solution LLP Panellists:

Mr. J K Mohanty, Chairman & Managing Director, Swosti Group
Mr. Naveen Kundu, Managing Director, EbixCash •

Mr Lakshyaraj Singh Mewar, Executive Director, HRH Group of Hotels
Mr. Ranveer Brar, Celebrity Chef
Ms. Maggie Maguire, Director, One Himalaya, United Kingdom
Glimpses from Day 1 of #GITB2023 & G20 Tourism Expo

 
Follow BOTT on LinkedIn, Facebook, Twitter & Instagram
Subscribe BOTT Channels on WhatsApp & Telegram to receive real time updates