By BOTT Desk
At least 50 destinations will be selected and developed as a complete package of tourism, announced the Union Minister for Finance & Corporate Affairs Smt Nirmala Sitharaman while presenting the Union budget 2023-2024 in Parliament here today. She added that these destinations will be selected through challenge mode using an integrated and innovative approach while the focus of development of tourism would be on domestic as well as foreign tourists.
The Finance Minister proposed to launch an App in which all the relevant aspects of the tourist destination would be made available, in addition to aspects such as physical connectivity, virtual connectivity, tourist guides, high standards for food streets and tourists' security, to enhance tourist experience.
To strengthen the domestic tourism, Sector specific skilling and entrepreneurship development will be dovetailed to achieve the objectives of the 'Dekho Apna Desh' initiative, the Budget 2023-24 proposed. To encourage tourism in the border villages, tourism infrastructure and amenities will be facilitated under the Vibrant Villages Programme, announced the Finance Minister.
Speaking about the various tourism schemes, Smt. Sitharaman said "'Dekho Apna Desh' initiative was launched as an appeal by the Prime Minister to the middle class to prefer domestic tourism over international tourism while 'Swadesh Darshan Scheme' was launched for integrated development of theme-based tourist circuit."
The Minister said Unity Mall, to promote and sell State's own One District, One Product (ODOPs), Geographical Indication (GI) and other handicraft products, will be set up in states. She further added that States would be encouraged to set up such Unity Mall in the capital city or most prominent tourism centre or the financial capital and also provide space for ODOPs & GI products of other States as well.
"The country offers immense attraction for domestic as well as foreign tourists. There is a large potential to be tapped in tourism. The sector holds huge opportunities for jobs and entrepreneurship for youth in particular. Promotion of tourism will be taken up on mission mode, with active participation of states, convergence of government programmes and public-private partnerships." said the Finance Minister talking about the potential of Tourism in India.
TCS for overseas tour program increased to 20%

On the flip side, she announced that for foreign remittances for other purposes under LRS and purchase of overseas tour program, it is proposed to increase the rates of TCS from 5 per cent to 20 per cent. This will impact the outbound tourism significantly as this would increase the costs for Indians going for holidays abroad. 
Eco-tourism opportunities
Wetlands are vital ecosystems which sustain biological diversity. In his latest Mann Ki Baat, the Prime Minister said, "Now the total number of Ramsar sites in our country has increased to 75. Whereas, before 2014, there were only 26…" Local communities have always been at the forefront of conservation efforts. The government will promote their unique conservation values through Amrit Dharohar, a scheme that will be implemented over the next three years to encourage optimal use of wetlands, and enhance bio-diversity, carbon stock, eco-tourism opportunities and income generation for local communities. 
Live Twitter Feed: https://twitter.com/BOTT_Tweets/status/1620665678708736001?s=20&t=KAbS2Ri9tT9Loug1FHMtvQ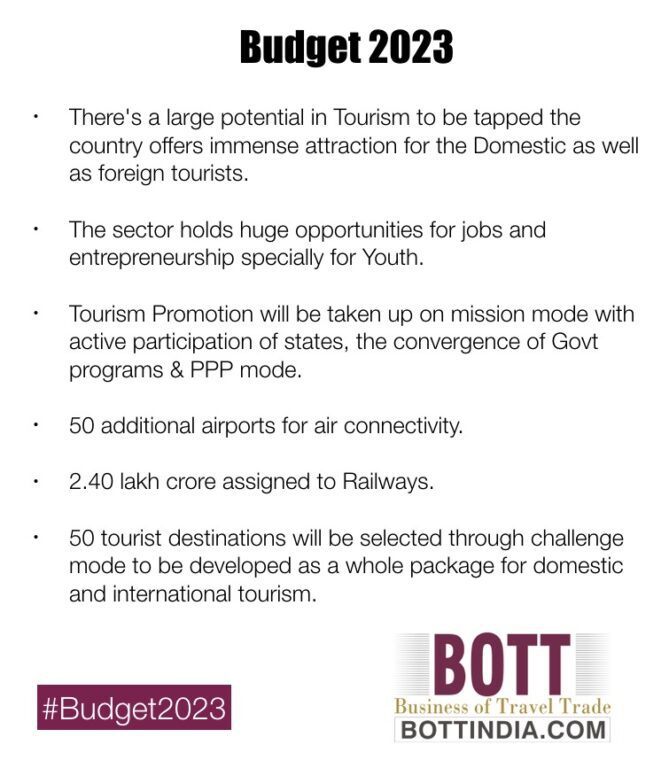 Follow BOTT on LinkedIn, Facebook, Twitter & Instagram
Subscribe BOTT Channels on WhatsApp & Telegram to receive real time updates