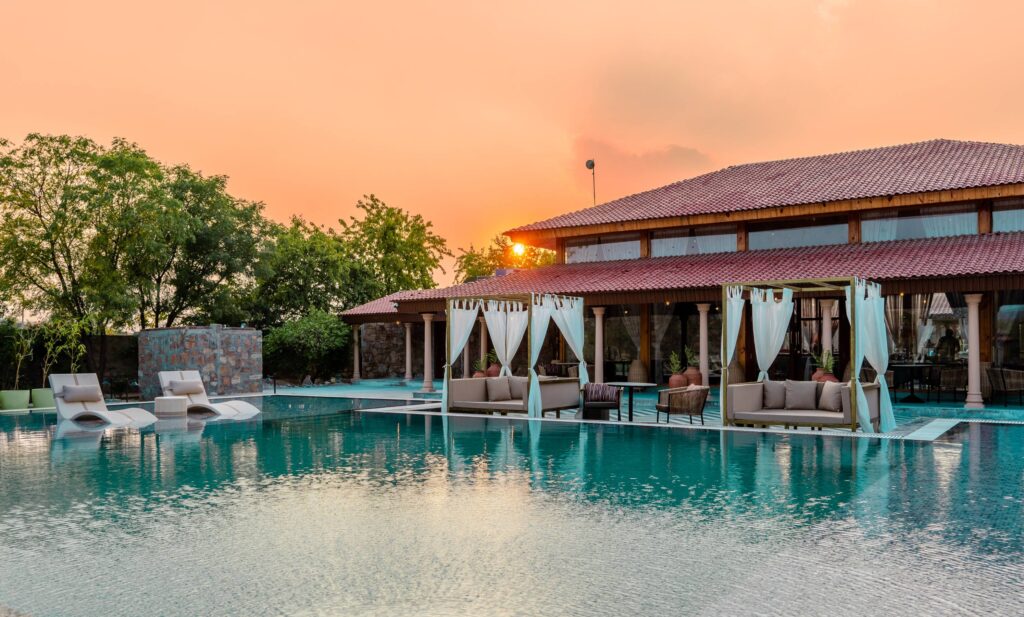 Nestled within 11 acres of nature's bounty, Brij Bageecha offers an immersive stay experience that is nothing short of exceptional. The resort's state-of-the-art design and awe-inspiring architecture, combined with Brij's signature hospitality, create a truly luxurious escape from the hustle and bustle of city life. With 20 villas overlooking a serene lake, the resort is perfect to unwind and rejuvenate with family, friends, and lovable canine companions.
The 1,250 sq. ft. private villas at Brij Bageecha offer tranquillity and a chance to unwind at one's own pace. These spacious villas are designed with unique and thoughtful details such as floor-to-ceiling glass windows that let natural light flood in, heated sit-in central water bodies that serve as the focal element in each villa, and private sit-outs that overlook a serene lake. The resort boasts four distinct luxury villa categories, from a villa with a heated plunge pool, private heated pool, private jacuzzi, to a villa with a courtyard, guests can choose from a range of options. Each villa features a private veranda with a lake view, ensuite he/she washrooms, individual shower cubicles, study space, a living area with separate powder rooms, and a fully equipped pantry.
Commenting on the launch, Udit Kumar, Co-founder – Brij Hotels said, "At Brij, we're dedicated to creating not just hotels, but destinations that offer authentic experiences rooted in local art, culture, and people. Rajasthan is a land of varied locales and rich experiences, and we're proud to showcase the vibrant colors of this region through our unique properties. Brij Bageecha, Kukas embodies our vision to craft spaces that allow you to reconnect with nature and embrace slow living, savoring every moment and feeling truly in sync with the destination and all it has to offer."
Brij Bageecha is home to two varied dining venues that focus on the farm-to-fork philosophy. Unwind at the end of the day at Rang – the sunset lounge and bar and delve into a selection of beverages, from coffee and tea to creatively curated cocktails and fine wine. Alternatively, end the day with a delectable meal at Sangri, the elegant all-day diner that boasts a remarkable ambiance and serves freshly prepared local, regional, and world cuisines, made with ingredients sourced from the resort's organic farm.
The expansive property features multiple aesthetic locations across the resort from a lovely library lounge, a beautiful lush green courtyard to an all-weather swimming pool and an upcoming wellness spa. The inaugural stay offer at Brij Bageecha starts at INR 22,999 per night for a Luxury Villa with Private Pool. The rate includes accommodation for two, buffet breakfast and high tea. Taxes are extra.
 About Brij Hotels
Co-founders Udit & Anant Kumar founded Brij Hotels with the core fundamental of continuing the legacy of their great grandfather's philosophy of local sustainability and giving back to the community. This forms the mission and ethos of Brij Hotels at all the destinations, offering bespoke retreats developed around an ecosystem of sustainable tourism that keeps these habitats intact while economically uplifting the local communities. This is achieved through local employment creation, use of local design & sustainable materials for development not to mention the guest service experience around a showcase of local arts, crafts, and culture.
Brij Hotels currently operate 7 properties across India, in Uttar Pradesh (Varanasi), Rajasthan (Kukas, Pali, Jawai, Bikaner and Jaipur) and Himachal Pradesh (Dalhousie). The Group is adding multiple destinations with hotels in Bandhavgarh, Himachal, Uttarakhand, Goa and Nepal under development.
Follow BOTT on LinkedIn, Facebook, Twitter & Instagram
Subscribe BOTT Channels on WhatsApp & Telegram to receive real time updates