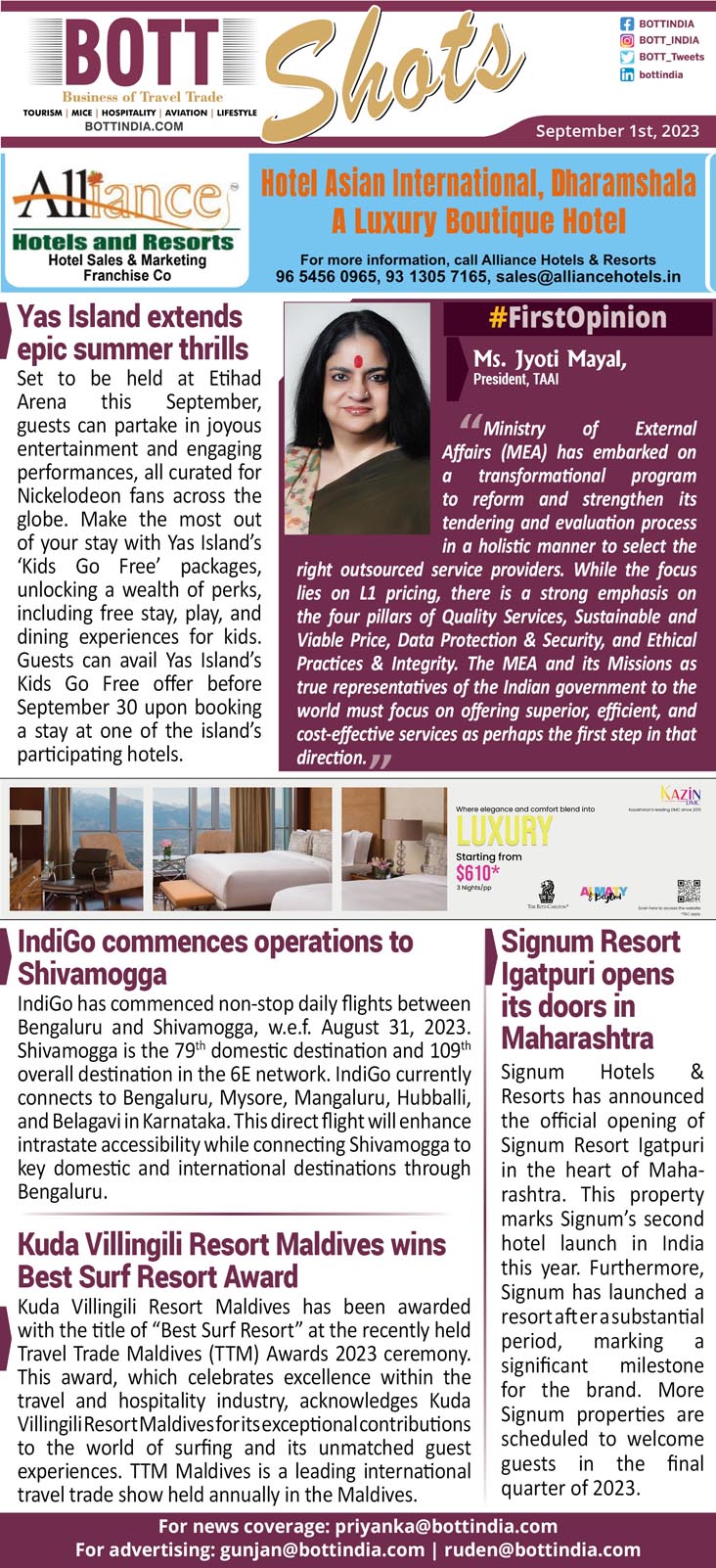 Yas Island extends epic summer thrills
Set to be held at Etihad Arena this September, guests can partake in joyous entertainment and engaging performances, all curated for Nickelodeon fans across the globe. Make the most out of your stay with Yas Island's 'Kids Go Free' packages, unlocking a wealth of perks, including free stay, play, and dining experiences for kids. Guests can avail Yas Island's Kids Go Free offer before September 30 upon booking a stay at one of the island's participating hotels.
IndiGo commences operations to Shivamogga
IndiGo has commenced non-stop daily flights between Bengaluru and Shivamogga, w.e.f. August 31, 2023. Shivamogga is the 79th domestic destination and 109th overall destination in the 6E network. IndiGo currently connects to Bengaluru, Mysore, Mangaluru, Hubballi, and Belagavi in Karnataka. This direct flight will enhance intrastate accessibility while connecting Shivamogga to key domestic and international destinations through Bengaluru.
KudaVillingili Resort Maldives wins Best Surf Resort Award
KudaVillingili Resort Maldives has been awarded with the title of "Best Surf Resort" at the recently held Travel Trade Maldives (TTM) Awards 2023 ceremony. This award, which celebrates excellence within the travel and hospitality industry, acknowledges KudaVillingili Resort Maldives for its exceptional contributions to the world of surfing and its unmatched guest experiences. TTM Maldives is a leading international travel trade show held annually in the Maldives.
Signum Resort Igatpuri opens its doors in Maharashtra
Signum Hotels & Resorts has announced the official opening of Signum Resort Igatpuri in the heart of Maharashtra. This property marks Signum's second hotel launch in India this year. Furthermore, Signum has launched a resort after a substantial period, marking a significant milestone for the brand. More Signum properties are scheduled to welcome guests in the final quarter of 2023.
#FirstOpinion
"Ministry of External Affairs (MEA) has embarked on a transformational program to reform and strengthen its tendering and evaluation process in a holistic manner to select the right outsourced service providers. While the focus lies on L1 pricing, there is a strong emphasis on the four pillars of Quality Services, Sustainable and Viable Price, Data Protection & Security, and Ethical Practices & Integrity. The MEA and its Missions as true representatives of the Indian government to the world must focus on offering superior, efficient, and cost-effective services as perhaps the first step in that direction."
Ms. JyotiMayal, President, TAAI
Follow BOTT on LinkedIn, Facebook, Twitter & Instagram
Subscribe BOTT Channels on WhatsApp & Telegram to receive real time updates