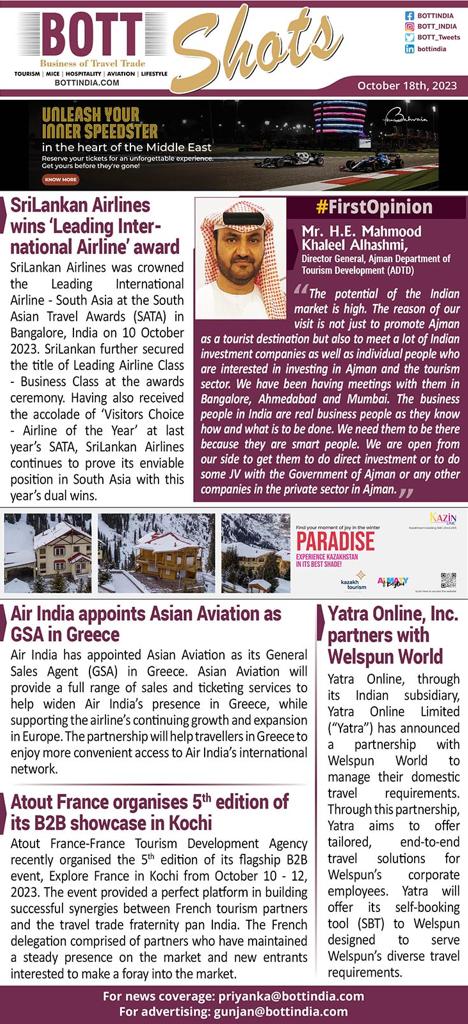 SriLankan Airlines wins 'Leading International Airline' award
SriLankan Airlines was crowned the Leading International Airline – South Asia at the South Asian Travel Awards (SATA) in Bangalore, India on 10 October 2023. SriLankan further secured the title of Leading Airline Class – Business Class at the awards ceremony. Having also received the accolade of 'Visitors Choice – Airline of the Year' at last year's SATA, SriLankan Airlines continues to prove its enviable position in South Asia with this year's dual wins.
Air India appoints Asian Aviation as GSA in Greece
Air India has appointed Asian Aviation as its General Sales Agent (GSA) in Greece. Asian Aviation will provide a full range of sales and ticketing services to help widen Air India's presence in Greece, while supporting the airline's continuing growth and expansion in Europe. The partnership will help travellers in Greece to enjoy more convenient access to Air India's international network.
Yatra Online, Inc. partners with Welspun World
Yatra Online, through its Indian subsidiary, Yatra Online Limited ("Yatra") has announced a partnership with Welspun World to manage their domestic travel requirements. Through this partnership, Yatra aims to offer tailored, end-to-end travel solutions for Welspun's corporate employees. Yatra will offer its self-booking tool (SBT) to Welspun designed to serve Welspun's diverse travel requirements.
Atout France organises 5th edition of its B2B showcase in Kochi
Atout France-France Tourism Development Agency recently organised the 5th edition of its flagship B2B event, Explore France in Kochi from October 10 – 12, 2023. The event provided a perfect platform in building successful synergies between French tourism partners and the travel trade fraternity pan India. The French delegation comprised of partners who have maintained a steady presence on the market and new entrants interested to make a foray into the market.
#FirstOpinion
"The potential of the Indian market is high. The reason of our visit is not just to promote Ajman as a tourist destination but also to meet a lot of Indian investment companies as well as individual people who are interested in investing in Ajman and the tourism sector. We have been having meetings with them in Bangalore, Ahmedabad and Mumbai. The business people in India are real business people as they know how and what is to be done. We need them to be there because they are smart people. We are open from our side to get them to do direct investment or to do some JV with the Government of Ajman or any other companies in the private sector in Ajman."
Mr. H.E. Mahmoon Khaleel Alhashmi,
Director General, Ajman Department of Tourism Development (ADTD)
Follow BOTT on LinkedIn, Facebook, Twitter & Instagram
Subscribe BOTT Channels on WhatsApp & Telegram to receive real time updates