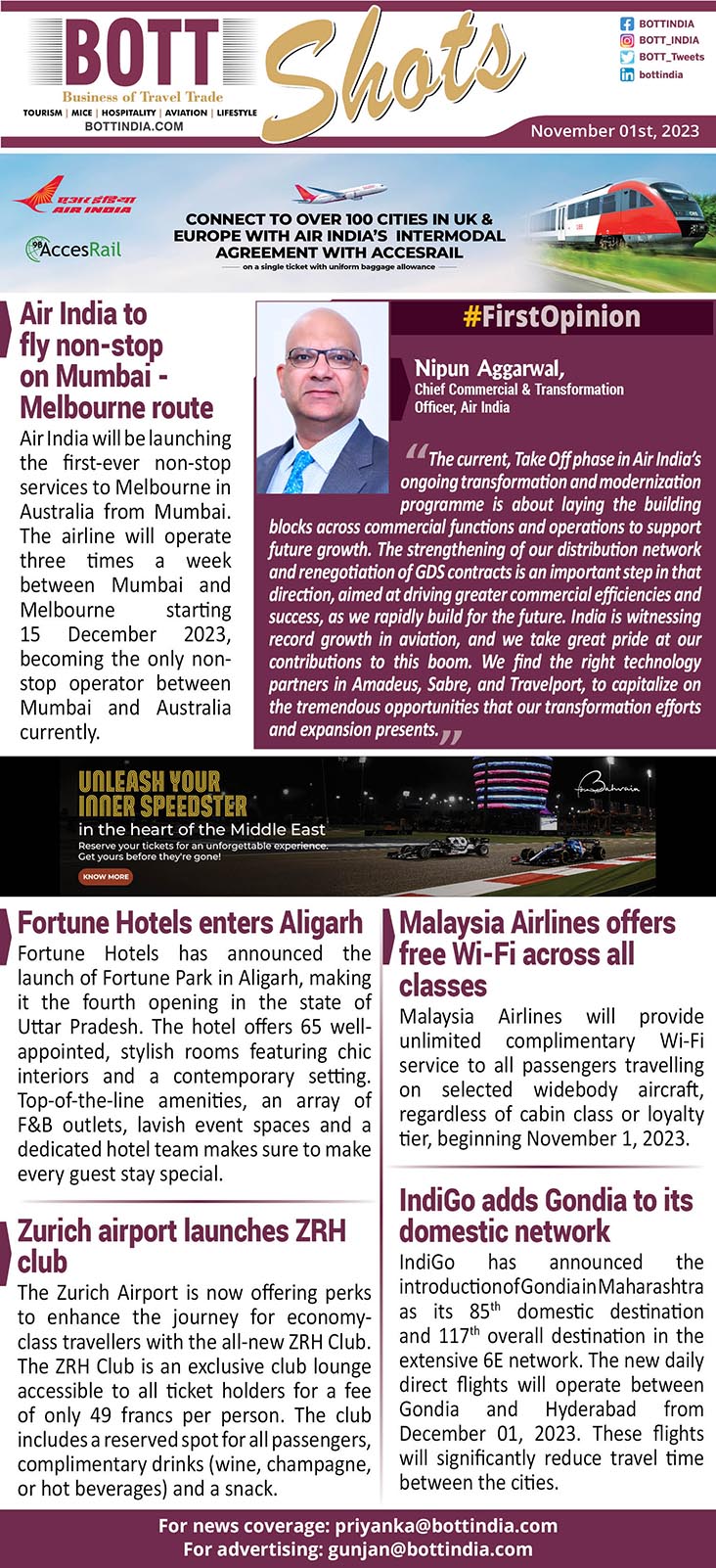 Air India to fly non-stop on Mumbai – Melbourne route
Air India will be launching the first-ever non-stop services to Melbourne in Australia from Mumbai. The airline will operate three times a week between Mumbai and Melbourne starting 15 December 2023, becoming the only non-stop operator between Mumbai and Australia currently.
Fortune Hotels enters Aligarh
Fortune Hotels has announced the launch of Fortune Park in Aligarh, making it the fourth opening in the state of Uttar Pradesh. The hotel offers 65 well-appointed, stylish rooms featuring chic interiors and a contemporary setting. Top-of-the-line amenities, an array of F&B outlets, lavish event spaces and a dedicated hotel team makes sure to make every guest stay special.
Zurich airport launches ZRH club
The Zurich Airport is now offering perks to enhance the journey for economy-class travellers with the all-new ZRH Club. The ZRH Club is an exclusive club lounge accessible to all ticket holders for a fee of only 49 francs per person. The club includes a reserved spot for all passengers, complimentary drinks (wine, champagne, or hot beverages) and a snack.
Malaysia Airlines offers free Wi-Fi across all classes
Malaysia Airlines will provide unlimited complimentary Wi-Fi service to all passengers travelling on selected widebody aircraft, regardless of cabin class or loyalty tier, beginning November 1, 2023.
IndiGo adds Gondia to its domestic network
IndiGo has announced the introduction of Gondia in Maharashtra as its 85th domestic destination and 117th overall destination in the extensive 6E network. The new daily direct flights will operate between Gondia and Hyderabad from December 01, 2023. These flights will significantly reduce travel time between the cities.
#FirstOpinion
"The current, Take Off phase in Air India's ongoing transformation and modernization programme is about laying the building blocks across commercial functions and operations to support future growth. The strengthening of our distribution network and renegotiation of GDS contracts is an important step in that direction, aimed at driving greater commercial efficiencies and success, as we rapidly build for the future. India is witnessing record growth in aviation, and we take great pride at our contributions to this boom. We find the right technology partners in Amadeus, Sabre, and Travelport, to capitalize on the tremendous opportunities that our transformation efforts and expansion presents."
Nipun Aggarwal, Chief Commercial & Transformation Officer, Air India
Follow BOTT on LinkedIn, Facebook, Twitter & Instagram
Subscribe BOTT Channels on WhatsApp & Telegram to receive real time updates