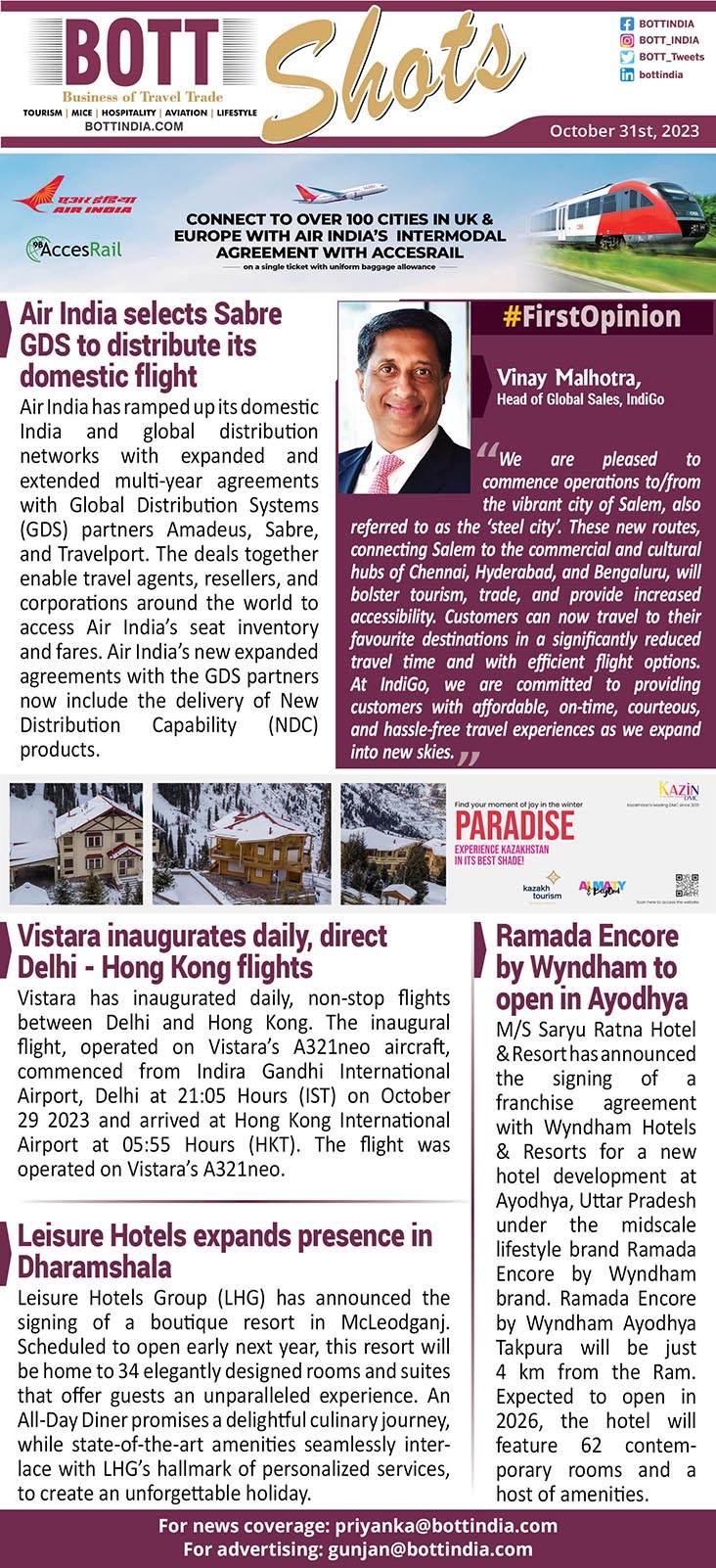 Air India selects Sabre GDS to distribute its domestic flight
Air India has ramped up its domestic India and global distribution networks with expanded and extended multi-year agreements with Global Distribution Systems (GDS) partners Amadeus, Sabre, and Travelport. The deals together enable travel agents, resellers, and corporations around the world to access Air India's seat inventory and fares. Air India's new expanded agreements with the GDS partners now include the delivery of New Distribution Capability (NDC) products.
Vistara inaugurates daily, direct Delhi – Hong Kong flights
Vistara has inaugurated daily, non-stop flights between Delhi and Hong Kong. The inaugural flight, operated on Vistara's A321neo aircraft, commenced from Indira Gandhi International Airport, Delhi at 21:05 Hours (IST) on October 29 2023 and arrived at Hong Kong International Airport at 05:55 Hours (HKT). The flight was operated on Vistara's A321neo.
Ramada Encore by Wyndham to open in Ayodhya
M/S Saryu Ratna Hotel & Resort has announced the signing of a franchise agreement with Wyndham Hotels & Resorts for a new hotel development at Ayodhya, Uttar Pradesh under the midscale lifestyle brand Ramada Encore by Wyndham brand. Ramada Encore by Wyndham Ayodhya Takpura will be just 4 km from the Ram. Expected to open in 2026, the hotel will feature 62 temporary rooms and a host of amenities.
Leisure Hotels expands presence in Dharamshala
Leisure Hotels Group (LHG)has announced the signing of a boutique resort in McLeodganj. Scheduled to open early next year, this resort will be home to 34 elegantly designed rooms and suites that offer guests an unparalleled experience. An All-Day Diner promises a delightful culinary journey, while state-of-the-art amenities seamlessly interlace with LHG's hallmark of personalized services, to create an unforgettable holiday.
#First Opinion
"We are pleased to commence operations to/from the vibrant city of Salem, also referred to as the 'steel city'. These new routes, connecting Salem to the commercial and cultural hubs of Chennai, Hyderabad, and Bengaluru, will bolster tourism, trade, and provide increased accessibility. Customers can now travel to their favourite destinations in a significantly reduced travel time and with efficient flight options. At IndiGo, we are committed to providing customers with affordable, on-time, courteous, and hassle-free travel experiences as we expand into new skies."
Vinay Malhotra,
Head of Global Sales, IndiGo
Follow BOTT on LinkedIn, Facebook, Twitter & Instagram
Subscribe BOTT Channels on WhatsApp & Telegram to receive real time updates