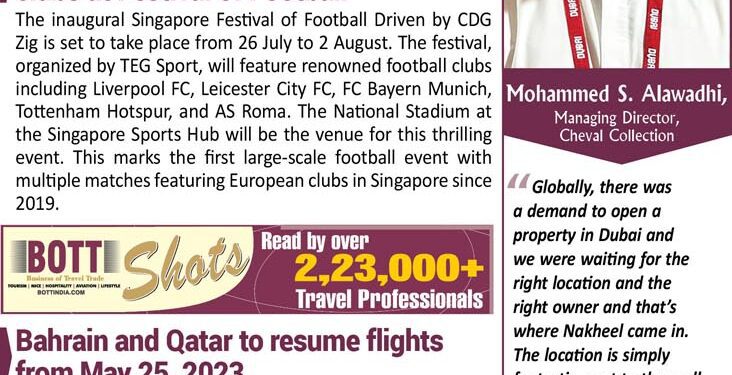 IndiGo inducts its second wide-body Boeing 777 aircraft
IndiGo has inducted its second Boeing 777 aircraft, on damp lease, which will operate to and from Mumbai- Istanbul route, effective on May 17, 2023. The Boeing 777 aircraft has the seating capacity of 400 passengers in a dual class configuration with 24 Business and 376 Economy Class. IndiGo has been operating its first wide-body- Boeing 777 aircraft on the Delhi- Istanbul route, which had started from February 01, 2023.
Singapore to host premier football clubs at Festival of Football
The inaugural Singapore Festival of Football Driven by CDG Zig is set to take place from 26 July to 2 August. The festival, organized by TEG Sport, will feature renowned football clubs including Liverpool FC, Leicester City FC, FC Bayern Munich, Tottenham Hotspur, and AS Roma. The National Stadium at the Singapore Sports Hub will be the venue for this thrilling event. This marks the first large-scale football event with multiple matches featuring European clubs in Singapore since 2019.
Bahrain and Qatar to resume flights from May 25, 2023
Qatar and Bahrain have announced the long-awaited resumption of flights between the two countries starting May 25, 2023 in accordance with what was agreed upon between the concerned authorities in the two brotherly countries. The resumption of flights between the Kingdom of Bahrain and the State of Qatar comes within the framework of the brotherly relations between the two brotherly countries and peoples.
5,590 Cathay Pacific tickets to be given away in India, Bangladesh, Nepal & UAE
As part of the "World of Winners" campaign sponsored by Hong Kong International Airport (HKIA) that will give away 500,000 free tickets to global visitors, Cathay Pacific will be offering residents across India, Bangladesh, Nepal and the United Arab Emirates (UAE) 5,590 round-trip air tickets to Hong Kong. The initiative is in support of Hong Kong Tourism Board's (HKTB's) "Hello Hong Kong" campaign to welcome tourists back to the city, now that travel restrictions are well behind us. The campaign will be launched simultaneously in India, Bangladesh, Nepal and UAE on the same day, 22 May 2023.
#FirstOpinion
"Globally, there was a demand to open a property in Dubai and we were waiting for the right location and right owner and that's where Nakheel came in. The location in simply fantastic, next to the mall and we are getting a lot of good reviews for our newly opened. We opened the Cheval Maison Dubai just before the Eid Holidays and already experiencing a spike. The location in simply fantastic, next to the mall and we are getting a lot of good reviews for it. The better news is that we are already negotiating our second property in Dubai with a different owner – a superb location and hopefully, we would be making an announcement soon, maybe in another month or so. We are also already talking to people in Riyadh, Jeddah, Doha and couple of groups in Abu Dhabi as well."
Mohammed S. Alawadhi, Managing Director, Cheval Collection
Follow BOTT on LinkedIn, Facebook, Twitter & Instagram
Subscribe BOTT Channels on WhatsApp & Telegram to receive real time updates