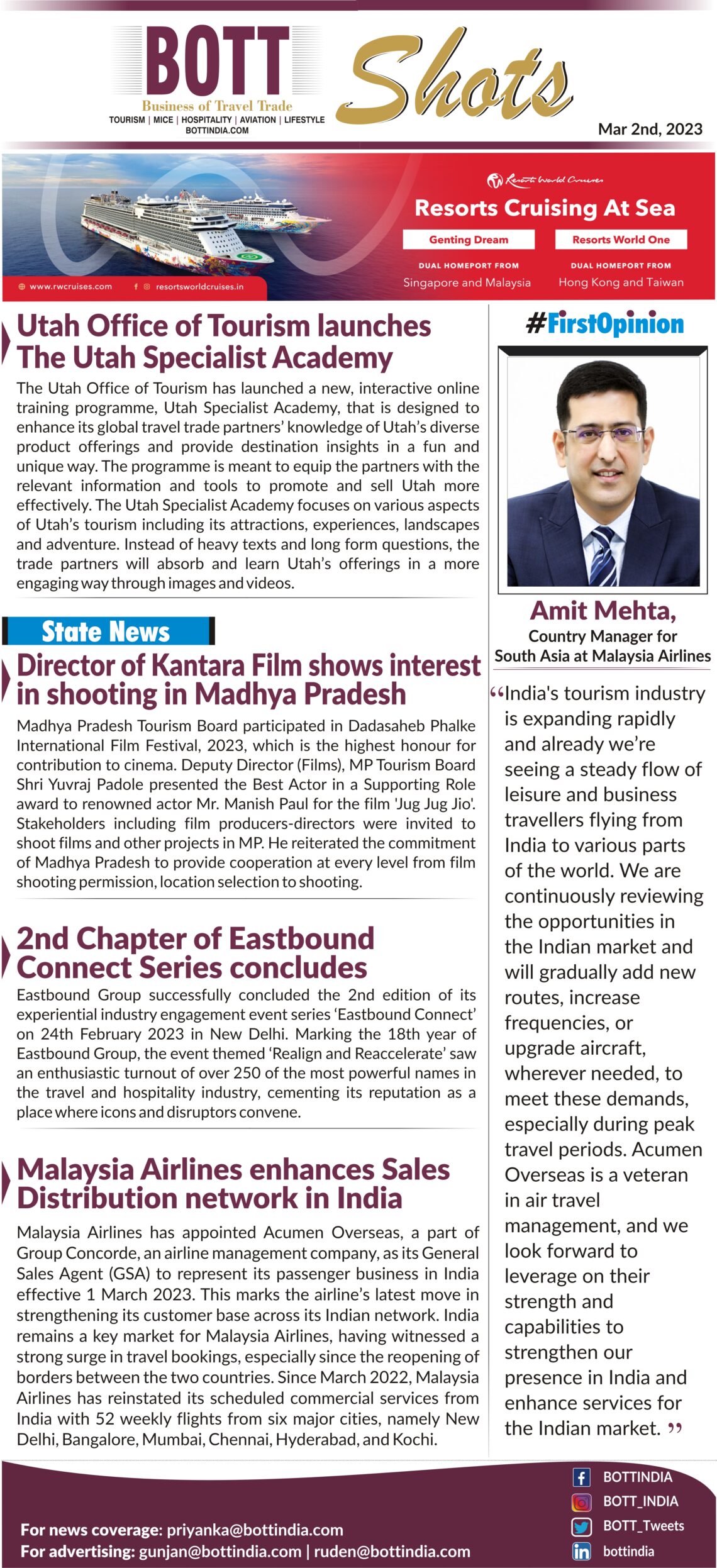 Utah Office of Tourism launches The Utah Specialist Academy
The Utah Office of Tourism has launched a new, interactive online training programme, Utah Specialist Academy, that is designed to enhance its global travel trade partners' knowledge of Utah's diverse product offerings and provide destination insights in a fun and unique way. The programme is meant to equip the partners with the relevant information and tools to promote and sell Utah more effectively. The Utah Specialist Academy focuses on various aspects of Utah's tourism including its attractions, experiences, landscapes and adventure. Instead of heavy texts and long form questions, the trade partners will absorb and learn Utah's offerings in a more engaging way through images and videos.
Director of Kantara Film shows interest in shooting in Madhya Pradesh
Madhya Pradesh Tourism Board participated in Dadasaheb Phalke International Film Festival, 2023, which is the highest honour for contribution to cinema. Deputy Director (Films), MP Tourism Board Shri Yuvraj Padole presented the Best Actor in a Supporting Role award to renowned actor Mr. Manish Paul for the film 'Jug Jug Jio'. Stakeholders including film producers-directors were invited to shoot films and other projects in MP. He reiterated the commitment of Madhya Pradesh to provide cooperation at every level from film shooting permission, location selection to shooting.
2nd Chapter of Eastbound Connect Series concludes
Eastbound Group successfully concluded the 2nd edition of its experiential industry engagement event series 'Eastbound Connect' on 24th February 2023 in New Delhi. Marking the 18th year of Eastbound Group, the event themed 'Realign and Reaccelerate' saw an enthusiastic turnout of over 250 of the most powerful names in the travel and hospitality industry, cementing its reputation as a place where icons and disruptors convene.
Malaysia Airlines enhances Sales Distribution network in India
Malaysia Airlines has appointed Acumen Overseas, a part of Group Concorde, an airline management company, as its General Sales Agent (GSA) to represent its passenger business in India effective 1 March 2023. This marks the airline's latest move in strengthening its customer base across its Indian network. India remains a key market for Malaysia Airlines, having witnessed a strong surge in travel bookings, especially since the reopening of borders between the two countries. Since March 2022, Malaysia Airlines has reinstated its scheduled commercial services from India with 52 weekly flights from six major cities, namely New Delhi, Bangalore, Mumbai, Chennai, Hyderabad, and Kochi.
#FirstOpinion
"India's tourism industry is expanding rapidly and already we're seeing a steady flow of leisure and business travellers flying from India to various parts of the world. We are continuously reviewing the opportunities in the Indian market and will gradually add new routes, increase frequencies, or upgrade aircraft, wherever needed, to meet these demands, especially during peak travel periods. Acumen Overseas is a veteran in air travel management, and we look forward to leverage on their strength and capabilities to strengthen our presence in India and enhance services for the Indian market."
Amit Mehta, Country Manager for South Asia at Malaysia Airlines