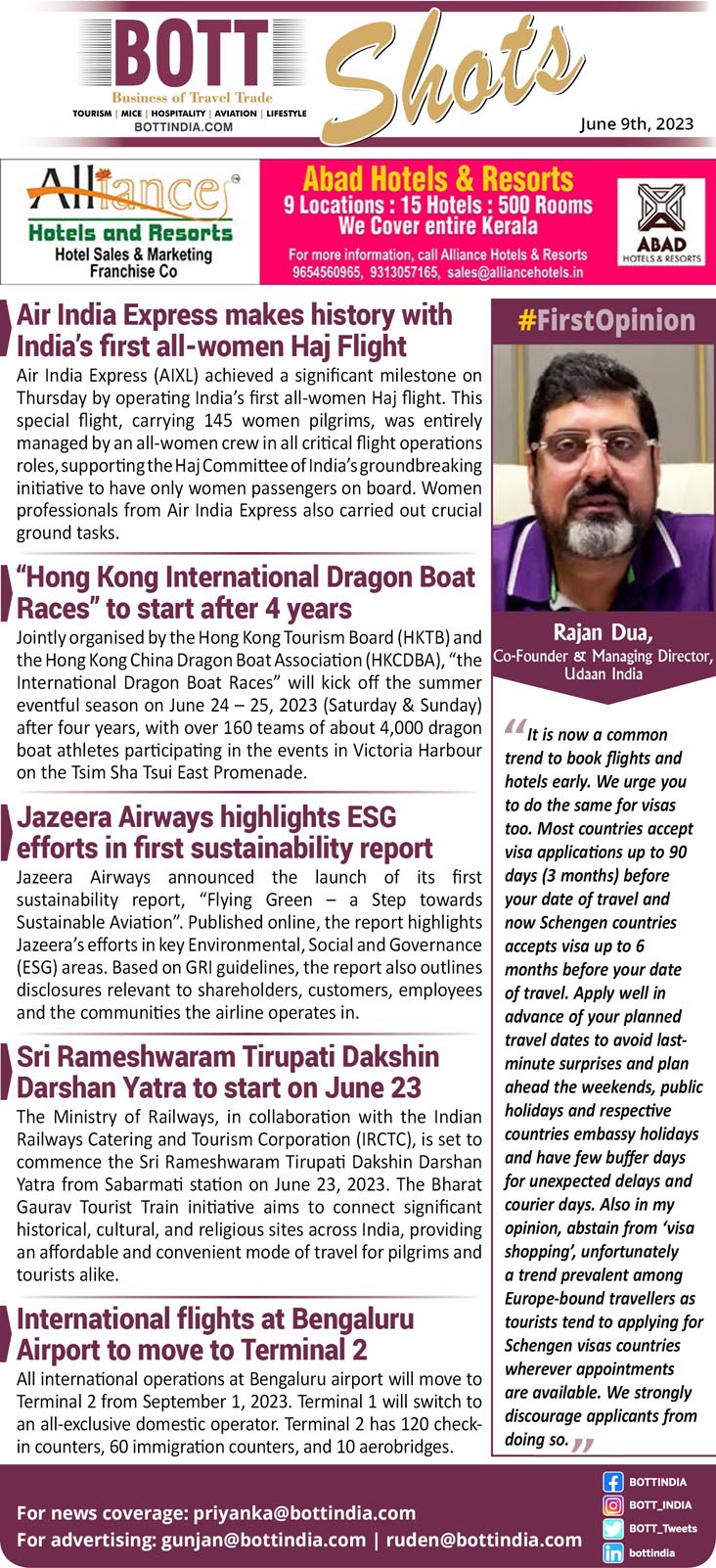 Air India Express makes history with India's first all-women Haj Flight
Air India Express (AIXL) achieved a significant milestone on Thursday by operating India's first all-women Haj flight. This special flight, carrying 145 women pilgrims, was entirely managed by an all-women crew in all critical flight operations roles, supporting the Haj Committee of India's groundbreaking initiative to have only women passengers on board. Women professionals from Air India Express also carried out crucial ground tasks.
"Hong Kong International Dragon Boat Races" to start after 4 years
Jointly organised by the Hong Kong Tourism Board (HKTB) and the Hong Kong China Dragon Boat Association (HKCDBA), "the International Dragon Boat Races" will kick off the summer eventful season on June 24 – 25, 2023 (Saturday & Sunday) after four years, with over 160 teams of about 4,000 dragon boat athletes participating in the events in Victoria Harbour on the Tsim Sha Tsui East Promenade.
Jazeera Airways highlights ESG efforts in first sustainability report
Jazeera Airways announced the launch of its first sustainability report, "Flying Green – a Step towards Sustainable Aviation". Published online, the report highlights Jazeera's efforts in key Environmental, Social and Governance (ESG) areas. Based on GRI guidelines, the report also outlines disclosures relevant to shareholders, customers, employees and the communities the airline operates in.
Sri RameshwaramTirupati Dakshin Darshan Yatra to start on June 23
The Ministry of Railways, in collaboration with the Indian Railways Catering and Tourism Corporation (IRCTC), is set to commence the Sri RameshwaramTirupatiDakshinDarshanYatra from Sabarmati station on June 23, 2023. The Bharat Gaurav Tourist Train initiative aims to connect significant historical, cultural, and religious sites across India, providing an affordable and convenient mode of travel for pilgrims and tourists alike.
International flights at Bengaluru Airport to move to Terminal 2
All international operations at Bengaluru airport will move to Terminal 2 from September 1, 2023. Terminal 1 will switch to an all-exclusive domestic operator. Terminal 2 has 120 check-in counters, 60 immigration counters, and 10 aerobridges.
FIRST OPINION
It is now a common trend to book flights and hotels early. We urge you to do the same for visas too. Most countries accept visa applications up to 90 days (3 months) before your date of travel and now Schengen countries accepts visa up to 6 months before your date of travel. Apply well in advance of your planned travel dates to avoid last-minute surprises and plan ahead the weekends, public holidays and respective countries embassy holidays and have few buffer days for unexpected delays and courier days. Also in my opinion, abstain from 'visa shopping', unfortunately, a trend prevalent among Europe-bound travellers as tourists tend to applying for Schengen visas countries wherever appointments are available. We strongly discourage applicants from doing so.
RajanDua, Co-Founder & Managing Director, Udaan India
Follow BOTT on LinkedIn, Facebook, Twitter & Instagram
Subscribe BOTT Channels on WhatsApp & Telegram to receive real time updates