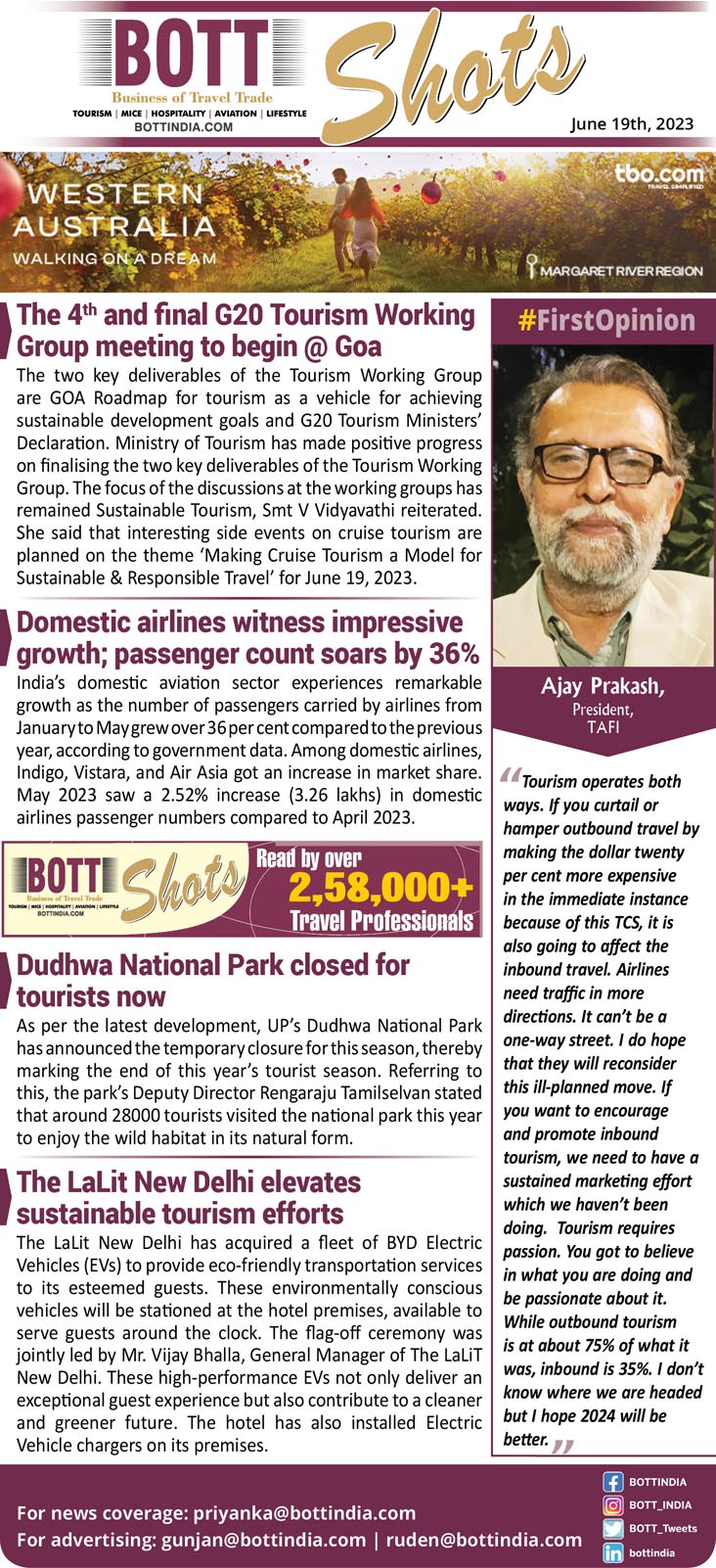 The 4th and final G20 Tourism Working Group meeting to begin @ Goa
The two key deliverables of the Tourism Working Group are GOA Roadmap for tourism as a vehicle for achieving sustainable development goals and G20 Tourism Ministers' Declaration. The Ministry of Tourism has made positive progress on finalising the two key deliverables of the Tourism Working Group. The focus of the discussions at the working groups has remained Sustainable Tourism, Smt V Vidyavathi reiterated. She said that interesting side events on cruise tourism are planned on the theme 'Making Cruise Tourism a Model for Sustainable & Responsible Travel' for June 19, 2023.
Domestic airlines witness impressive growth; passenger count soars by 36%
India's domestic aviation sector experiences remarkable growth as the number of passengers carried by airlines from January to May grew over 36 per cent compared to the previous year, according to government data. Among domestic airlines, Indigo, Vistara, and Air Asia got an increase in market share. May 2023 saw a 2.52% increase (3.26 lakhs) in domestic airlines passenger numbers compared to April 2023.
Dudhwa National Park closed for tourists now
As per the latest development, UP's Dudhwa National Park has announced the temporary closure for this season, thereby marking the end of this year's tourist season. Referring to this, the park's Deputy Director Rengaraju Tamilselvan stated that around 28000 tourists visited the national park this year to enjoy the wild habitat in its natural form.
The LaLit New Delhi elevates sustainable tourism efforts
The LaLit New Delhi has acquired a fleet of BYD Electric Vehicles (EVs) to provide eco-friendly transportation services to its esteemed guests. These environmentally conscious vehicles will be stationed at the hotel premises, available to serve guests around the clock. The flag-off ceremony was jointly led by Mr. Vijay Bhalla, General Manager of The LaLiT New Delhi. These high-performance EVs not only deliver an exceptional guest experience but also contribute to a cleaner and greener future. The hotel has also installed Electric Vehicle chargers on its premises.
#FirstOpinion
"Tourism operates both ways. If you curtail or hamper outbound travel by making the dollar twenty per cent more expensive in the immediate instance because of this TCS, it is also going to affect the inbound travel. Airlines need traffic in more directions. It can't be a one-way street. I do hope that they will reconsider this ill-planned move. If you want to encourage and promote inbound tourism, we need to have a sustained marketing effort which we haven't been doing. Tourism requires passion. You got to believe in what you are doing and be passionate about it. While outbound tourism is at about 75% of what it was, inbound is 35%. I don't know where we are headed but I hope 2024 will be better."
Ajay Prakash, President, TAFI
Follow BOTT on LinkedIn, Facebook, Twitter & Instagram
Subscribe BOTT Channels on WhatsApp & Telegram to receive real time updates