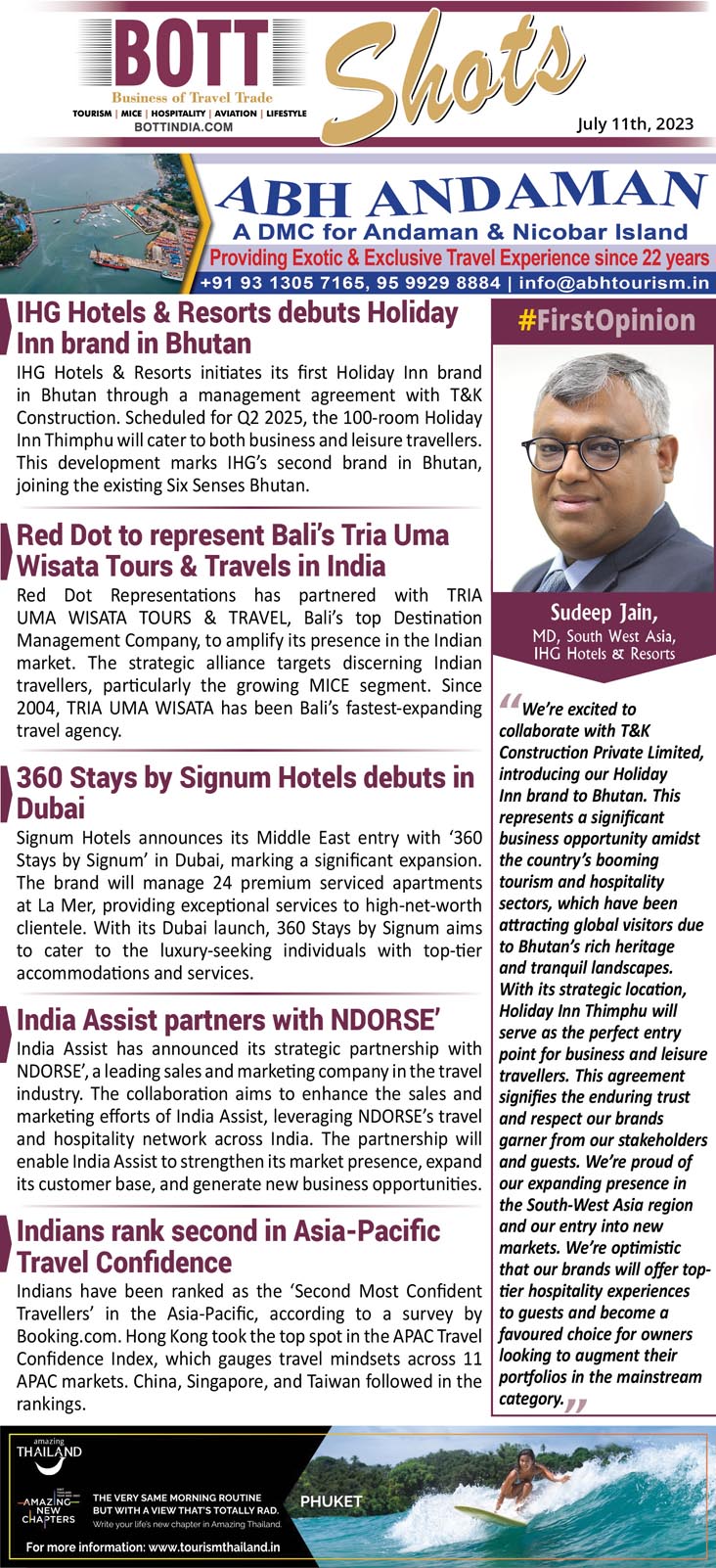 IHG Hotels & Resorts debuts Holiday Inn brand in Bhutan
IHG Hotels & Resorts initiates its first Holiday Inn brand in Bhutan through a management agreement with T&K Construction. Scheduled for Q2 2025, the 100-room Holiday Inn Thimphu will cater to both business and leisure travellers. This development marks IHG's second brand in Bhutan, joining the existing Six Senses Bhutan.
Red Dot to represent Bali's Tria Uma Wisata Tours & Travels in India
Red Dot Representations has partnered with TRIA UMA WISATA TOURS & TRAVEL, Bali's top Destination Management Company, to amplify its presence in the Indian market. The strategic alliance targets discerning Indian travellers, particularly the growing MICE segment. Since 2004, TRIA UMA WISATA has been Bali's fastest-expanding travel agency.
360 Stays by Signum Hotels debuts in Dubai
Signum Hotels announces its Middle East entry with '360 Stays by Signum' in Dubai, marking a significant expansion. The brand will manage 24 premium serviced apartments at La Mer, providing exceptional services to the high-net-worth clientele. With its Dubai launch, 360 Stays by Signum aims to cater to luxury-seeking individuals with top-tier accommodations and services.
India Assist partners with NDORSE'
India Assist has announced its strategic partnership with NDORSE', a leading sales and marketing company in the travel industry. The collaboration aims to enhance the sales and marketing efforts of India Assist, leveraging NDORSE's travel and hospitality network across India.The partnership will enable India Assist to strengthen its market presence, expand its customer base, and generate new business opportunities.
Indians rank second in Asia-Pacific Travel Confidence
Indians have been ranked as the 'Second Most Confident Travellers' in the Asia-Pacific, according to a survey by Booking.com. Hong Kong took the top spot in the APAC Travel Confidence Index, which gauges travel mindsets across 11 APAC markets. China, Singapore, and Taiwan followed in the rankings.
#FirstOpinion
 "We're excited to collaborate with T&K Construction Private Limited, introducing our Holiday Inn brand to Bhutan. This represents a significant business opportunity amidst the country's booming tourism and hospitality sectors, which have been attracting global visitors due to Bhutan's rich heritage and tranquil landscapes. With its strategic location, Holiday Inn Thimphu will serve as the perfect entry point for business and leisure travellers.This agreement signifies the enduring trust and respect our brands garner from our stakeholders and guests. We're proud of our expanding presence in the South-West Asia region and our entry into new markets. We're optimistic that our brands will offer top-tier hospitality experiences to guests and become a favoured choice for owners looking to augment their portfolios in the mainstream category."
Sudeep Jain, Managing Director, South West Asia, IHG Hotels & Resorts
Follow BOTT on LinkedIn, Facebook, Twitter & Instagram
Subscribe BOTT Channels on WhatsApp & Telegram to receive real time updates