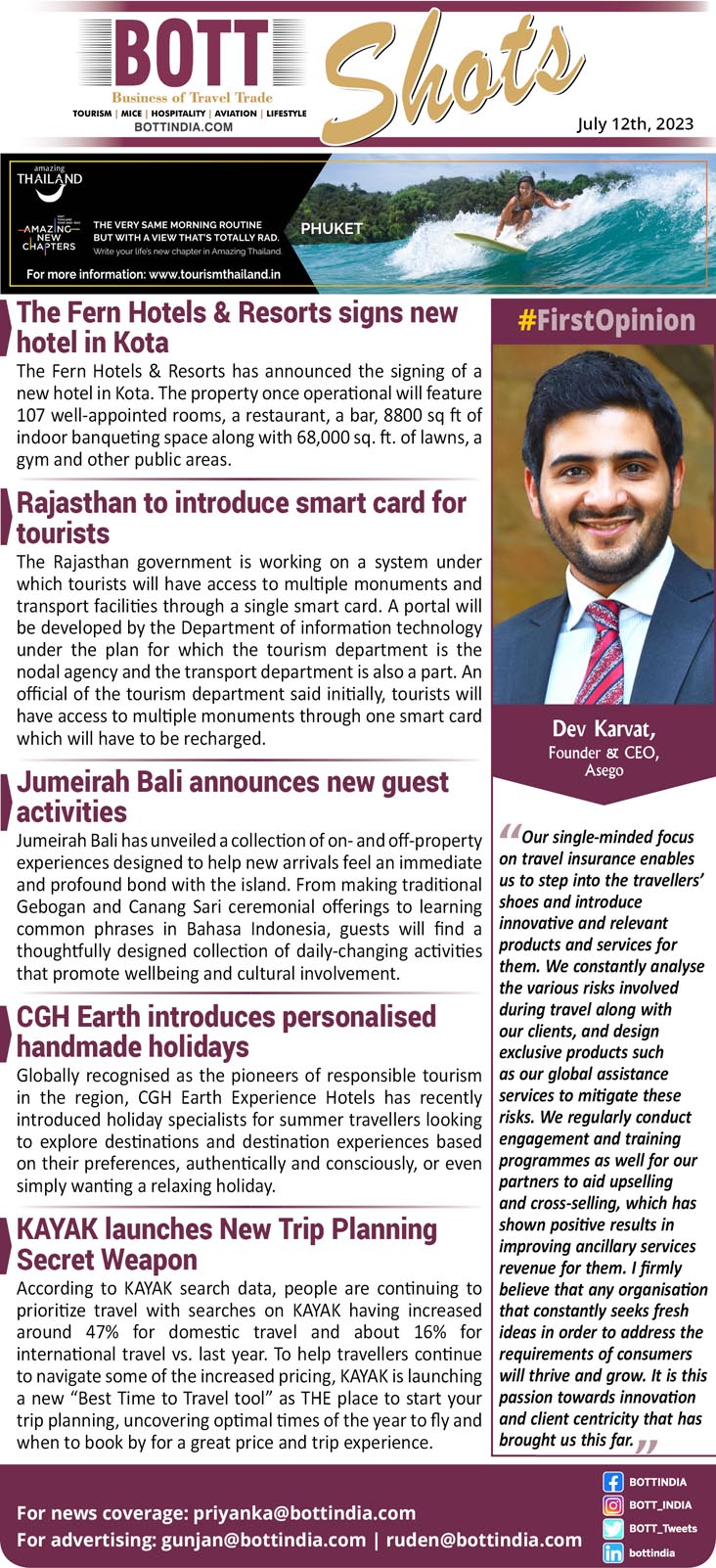 The Fern Hotels & Resorts signs new hotel in Kota
The Fern Hotels & Resorts has announced the signing of a new hotel in Kota. The property once operational will feature 107 well-appointed rooms, a restaurant, a bar, 8800 sqft of indoor banqueting space along with 68,000 sq. ft. of lawns, a gym and other public areas.
Rajasthan to introduce smart card for tourists
The Rajasthan government is working on a system under which tourists will have access to multiple monuments and transport facilities through a single smart card. A portal will be developed by the Department of information technology under the plan for which the tourism department is the nodal agency and the transport department is also a part. An official of the tourism department said initially, tourists will have access to multiple monuments through one smart card which will have to be recharged.
Jumeirah Bali announces new guest activities
Jumeirah Bali has unveiled a collection of on- and off-property experiences designed to help new arrivals feel an immediate and profound bond with the island. From making traditional Gebogan and Canang Sari ceremonial offerings to learning common phrases in Bahasa Indonesia, guests will find a thoughtfully designed collection of daily-changing activities that promote well-being and cultural involvement.
CGH Earth introduces personalised handmade holidays
Globally recognised as the pioneers of responsible tourism in the region, CGH Earth Experience Hotels has recently introduced holiday specialists for summer travellers looking to explore destinations and destination experiences based on their preferences, authentically and consciously, or even simply wanting a relaxing holiday.
KAYAK launches New Trip Planning Secret Weapon
According to KAYAK search data, people are continuing to prioritize travel with searches on KAYAK having increased around 47% for domestic travel and about 16% for international travel vs. last year. To help travellers continue to navigate some of the increased pricing, KAYAK is launching a new "Best Time to Travel tool" as THE place to start your trip planning, uncovering optimal times of the year to fly and when to book by for a great price and trip experience.
#FirstOpinion
"Our single-minded focus on travel insurance enables us to step into the travellers' shoes and introduce innovative and relevant products and services for them. We constantly analyse the various risks involved during travel along with our clients, and design exclusive products such as our global assistance services to mitigate these risks. We regularly conduct engagement and training programmes as well for our partners to aid upselling and cross-selling, which has shown positive results in improving ancillary services revenue for them. I firmly believe that any organisation that constantly seeks fresh ideas in order to address the requirements of consumers will thrive and grow. It is this passion towards innovation and client centricity that has brought us this far."
– Dev Karvat, Founder & CEO, Asego
Follow BOTT on LinkedIn, Facebook, Twitter & Instagram
Subscribe BOTT Channels on WhatsApp & Telegram to receive real time updates