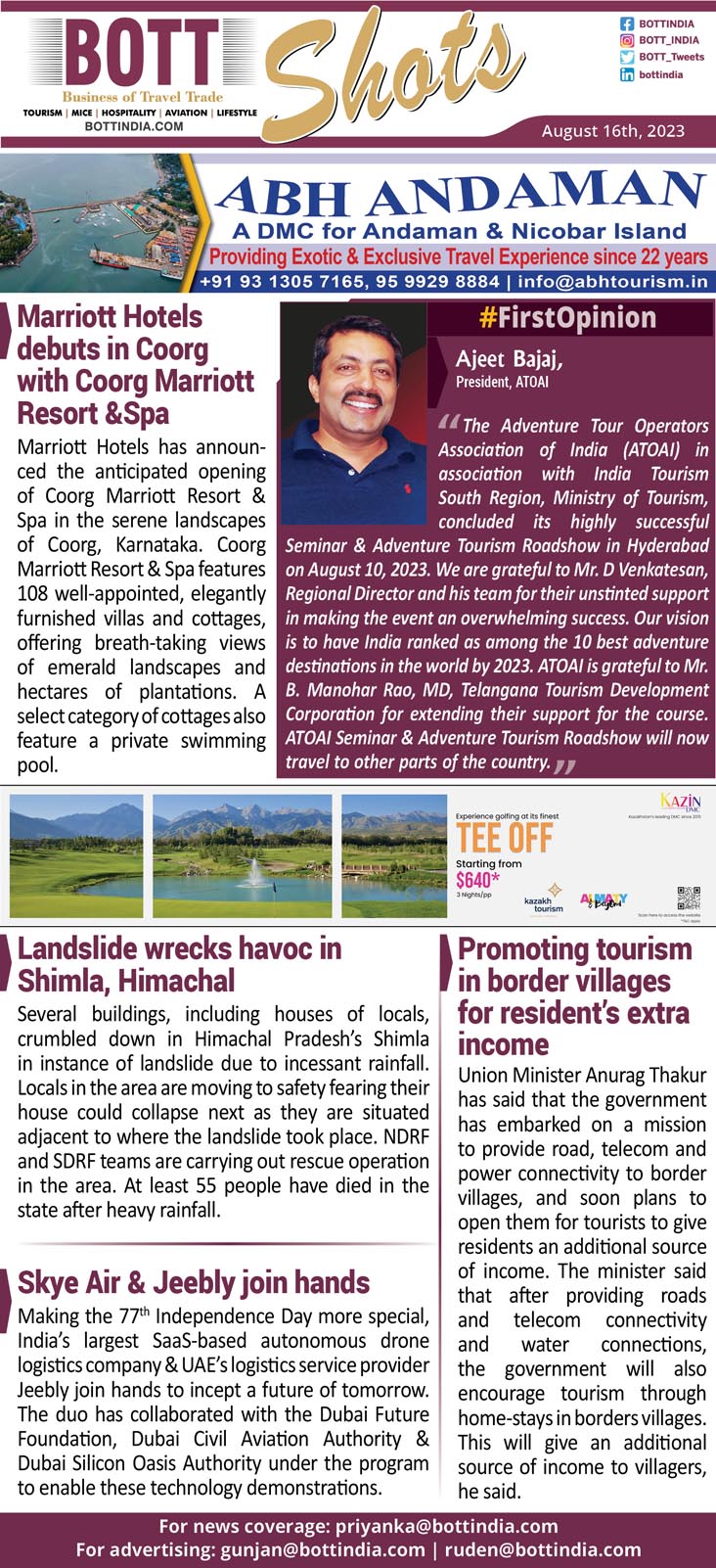 Marriott Hotels Debuts in Coorg with Coorg Marriott Resort & Spa
Marriott Hotels has announced the anticipated opening of Coorg Marriott Resort & Spa in the serene landscapes of Coorg, Karnataka. Coorg Marriott Resort & Spa features 108 well-appointed, elegantly furnished villas and cottages, offering breath-taking views of emerald landscapes and hectares of plantations. A select category of cottages also feature a private swimming pool.
Landslide wreaks havoc in Shimla, Himachal
Several buildings, including houses of locals, crumbled down in Himachal Pradesh's Shimla in instance of landslide due to incessant rainfall. Locals in the area are moving to safety fearing their house could collapse next as they are situated adjacent to where the landslide took place. NDRF and SDRF teams are carrying out rescue operation in the area. At least 55 people have died in the state after heavy rainfall.
Skye Air & Jeebly join hands
Making the 77thIndependence Day more special, India's largest SaaS-based autonomous drone logistics company & UAE's logistics service provider Jeebly join hands to incept a future of tomorrow. The duo has collaborated with the Dubai Future Foundation, Dubai Civil Aviation Authority & Dubai Silicon Oasis Authority under the program to enable these technology demonstrations.
Promoting tourism in border villages for resident's extra income
Union Minister Anurag Thakur has said that the government has embarked on a mission to provide road, telecom and power connectivity to border villages, and soon plans to open them for tourists to give residents an additional source of income. The minister said that after providing roads and telecom connectivity and water connections, the government will also encourage tourism through home-stays in borders villages. This will give an additional source of income to villagers, he said.
FirstOpinion
"The Adventure Tour Operators Association of India (ATOAI) in association with India Tourism South Region, Ministry of Tourism concluded its highly successful Seminar & Adventure Tourism Roadshow in Hyderabad on August 10, 2023. We are grateful to Mr. D Venkatesan, Regional Director and his team for their unstinted support in making the event an overwhelming success. Our vision is to have India ranked as among the 10 best adventure destinations in the world by 2023. ATOAI is grateful to Mr. B. Manohar Rao, MD, Telangana Tourism Development Corporation for extending their support for the course.ATOAI Seminar & Adventure Tourism Roadshow will now travel to other parts of the country."
Ajeet Bajaj, President, ATOAI
Follow BOTT on LinkedIn, Facebook, Twitter & Instagram
Subscribe BOTT Channels on WhatsApp & Telegram to receive real time updates