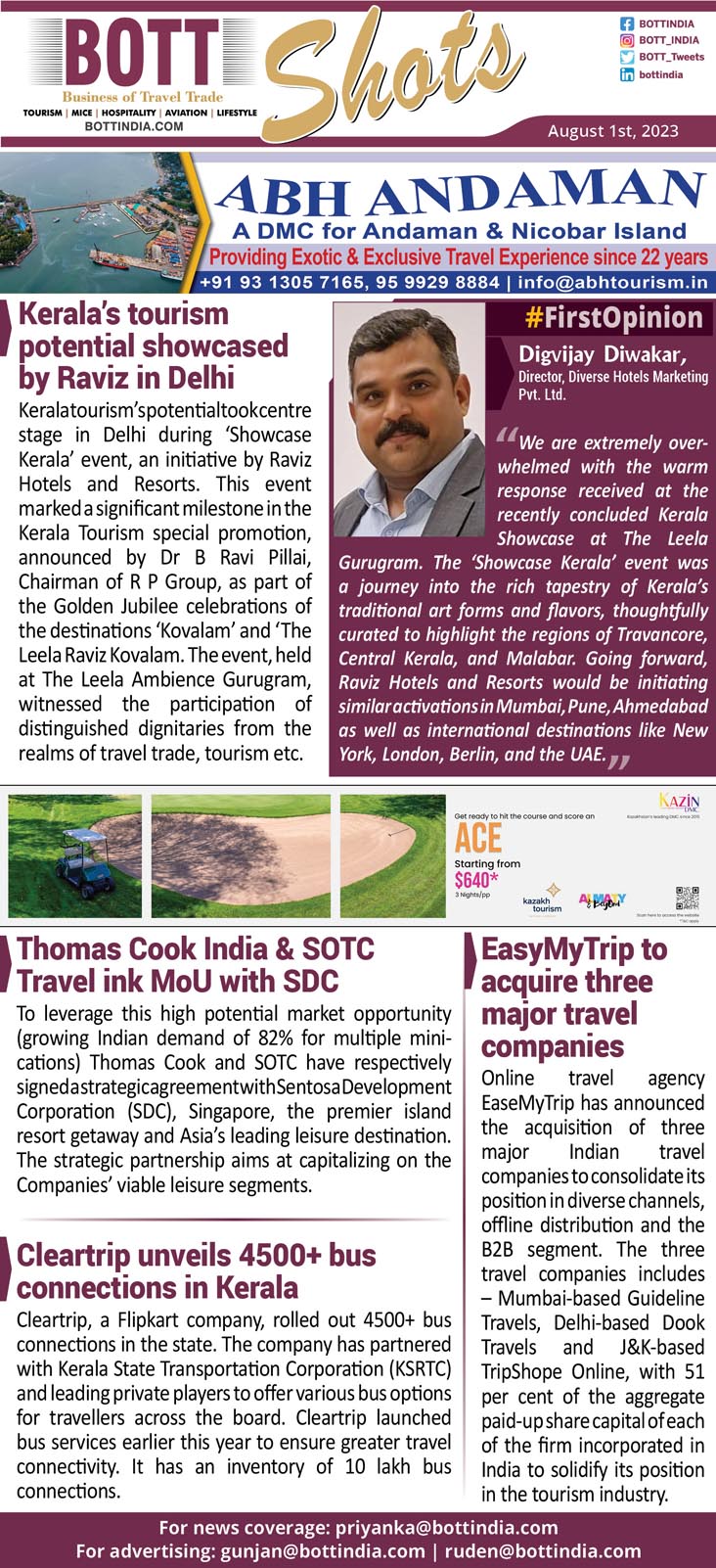 Kerala's tourism potential showcased by Raviz in Delhi
Kerala tourism's potential took centre stage in Delhi during 'Showcase Kerala' event, an initiative by Raviz Hotels and Resorts. This event marked a significant milestone in the Kerala Tourism special promotion, announced by Dr B Ravi Pillai, Chairman of R P Group, as part of the Golden Jubilee celebrations of the destinations 'Kovalam' and 'The LeelaRavizKovalam. The event, held at The Leela Ambience Gurugram, witnessed the participation of distinguished dignitaries from the realms of travel trade, tourism etc.
Thomas Cook India & SOTC Travel ink MoU with SDC
To leverage this high potential market opportunity (growing Indian demand of 82% for multiple mini-cations) Thomas Cook and SOTC have respectively signed a strategic agreement with Sentosa Development Corporation (SDC), Singapore, the premier island resort getaway and Asia's leading leisure destination. The strategic partnership aims at capitalizing on the Companies' viable leisure segments.
Cleartrip unveils 4500+ bus connections in Kerala
Cleartrip, a Flipkart company, rolled out 4500+ bus connections in the state. The company has partnered with Kerala State Transportation Corporation (KSRTC) and leading private players to offer various bus options for travellers across the board. Cleartrip launched bus services earlier this year to ensure greater travel connectivity. It has an inventory of 10 lakh bus connections.
EasyMyTrip to acquire three major travel companies
Online travel agency EaseMyTrip has announced the acquisition of three major Indian travel companies to consolidate its position in diverse channels, offline distribution and the B2B segment. The three travel companies includes – Mumbai-based Guideline Travels, Delhi-based Dook Travels and J&K-based TripShope Online, with 51 per cent of the aggregate paid-up share capital of each of the firm incorporated in India to solidify its position in the tourism industry.
#FIRST OPINION
"We are extremely over-whelmed with the warm response received at the recently concluded Kerala Showcase at The LeelaGurugram. The 'Showcase Kerala' event was a journey into the rich tapestry of Kerala's traditional art forms and flavors, thoughtfully curated to highlight the regions of Travancore, Central Kerala, and Malabar. Going forward, Raviz Hotels and Resorts would be initiating similar activations in Mumbai, Pune, Ahmedabad as well as international destinations like New York, London, Berlin, and the UAE."
DigvijayDiwakar,
Director, Diverse Hotels Marketing Pvt. Ltd.
Follow BOTT on LinkedIn, Facebook, Twitter & Instagram
Subscribe BOTT Channels on WhatsApp & Telegram to receive real time updates