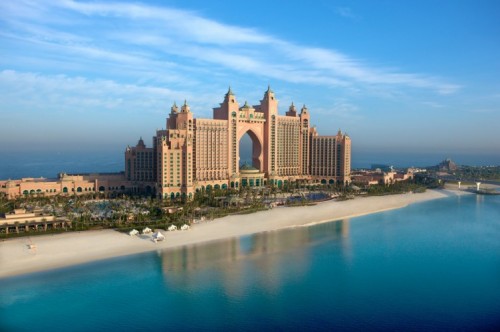 Mr. Kapil Narang, Infruit Travels (Gurgaon), Ms. Saili Bhide, Bhramati Tourism (Mumbai), Ms. Sujata Mukharjee, SOTC (Delhi), Mr. Kanav Aggarwal, Karma Holidays (Ludhiana) and Mr. Amit Jain, North Ex Travels (Delhi) emerged victorious from over 300 registrations garnered through this programme.
"We are delighted to receive such an overwhelming response from travel agents and would like to take this opportunity to congratulate all the winners. India is one of our top outbound markets and the Global Partner Booking Rewards Programme is one of the many ways we appreciate the travel agents for their continued loyalty and business. We are sure of continued support from our travel partners, and we hope to see bigger numbers in the next quarter as the incentives are even better." said Mr. Kyp Charalambous, Vice President, Sales Atlantis Dubai.
The participation is open for travel agents across the country. To earn points, agents can activate an account with a quick registration via Atlantis' dedicated Global Booking Rewards portal (atlantisresortsincentives.com) and start logging every online booking they make on the Atlantis Rewards Portal. Participants can then sit back and watch their credit grow as they earn points for each room night booked. For the first time ever – The three highest room-night booking agents will be rewarded with a 2-night, 3-day stay at Atlantis, The Palm whereas the others can redeem retail online shopping vouchers that can be used to purchase anything of their choice.
To begin the process, you must follow four simple steps:
Step 1: Register
Visit atlantisresortsincentives.com to register online and complete a simple registration form. The registration will be validated, and the participant will receive an email confirmation when the account is activated.
Step 2: Book
Participants can book any Atlantis Resort and log the bookings online through the Atlantis Rewards portal to earn points.
Step 3: Earn
Consistently earn points to stand a chance to win a 2-night, 3 days stay at Atlantis, The Palm with unlimited access to the world's largest waterpark Aquaventure and one of the most significant open-air marine habitats – The Lost Chambers Aquarium. Each room night is equivalent to a point.
One room night = One point = INR 350 on Ocean/Palm/Family rooms
One room night = One point = INR 550 on Imperial Club rooms
One room night = One point = INR 700 on Suites
Plus, you can redeem retail online vouchers in exchange for the points you earn to purchase anything of your choice. Points can be redeemed at 10-point increments (10, 20, 30 etc.) so hurry and get started today!
About Atlantis, The Palm, Dubai
Atlantis, The Palm is the first entertainment resort destination in the region and located at the center of the crescent of The Palm in Dubai. Opened in September 2008, the unique ocean-themed resort features a variety of marine and entertainment attractions, as well as 17 hectares of waterpark amusement at Atlantis Aquaventure, all within a 46-hectare site. It is home to one of the largest open-air marine habitats in the world, with over 65,000 marine animals in lagoons and displays including The Lost Chambers Aquarium, a maze of underwater corridors and passageways providing a journey through ancient Atlantis.
Follow BOTT on LinkedIn, Facebook, Twitter & Instagram
Subscribe BOTT Channels on WhatsApp & Telegram to receive real time updates