Priyanka Saxena Ray
 What are your business expectations from 2023?
As the market continues to grow, we anticipate that our business numbers will surpass the 2022 figure. With international borders now open, we are expecting an increase in foreign tourists and business travellers. Additionally, the country is hosting more global events in the coming year, which is expected to further boost the hospitality industry in India.
As a seasoned hotelier, what are the new trends, evolved expectations that you have observed in the post Covid scenario? Has the traveller become more demanding?
We have observed that post-COVID, the domestic market has become a significant driver of the hotel industry, and India has witnessed a surge in luxury weddings where there is pent-up demand. Moreover, guests have become more cautious in terms of their health and safety concerns. Guests are more tech-savvy and vigilant. They expect the highest standards of hygiene and cleanliness, with strict adherence to COVID protocols. This has led to the implementation of digital check-ins, touchless menus, and other contactless technologies.
How is your hotel prepared to handle these evolved challenges?
We have implemented strict safety protocols that include thorough cleaning and sanitization procedures, social distancing measures, and contactless technologies such as digital check-ins and touchless menus. There are different check-in desks and safety measures in place for guests and all our staff as well.
There is a new wave of independent hotel brands in the market. Do you think they pose a threat to Chain / Group Hotels?
The emergence of independent hotel brands does not pose a significant threat to chain/group hotels, as both can coexist in the market and cater to different segments of customers. As India is hosting more global events like G20 and World Cup among others, it will benefit everyone in the hospitality segment.
How important is the Weddings market for your hotel? What percentage of your business/revenue is generated from it?
Fairmont Jaipur has been one of the leading wedding destinations in the country, last year in 2022 we hosted 106 weddings reconfirms the fact. About 80% of our revenue comes from weddings, which shows the significant role that this segment plays in our business. Moreover, we believe that there is a vast potential in the weddings market, not just from tier 1 but also from tier 2 and tier 3 cities.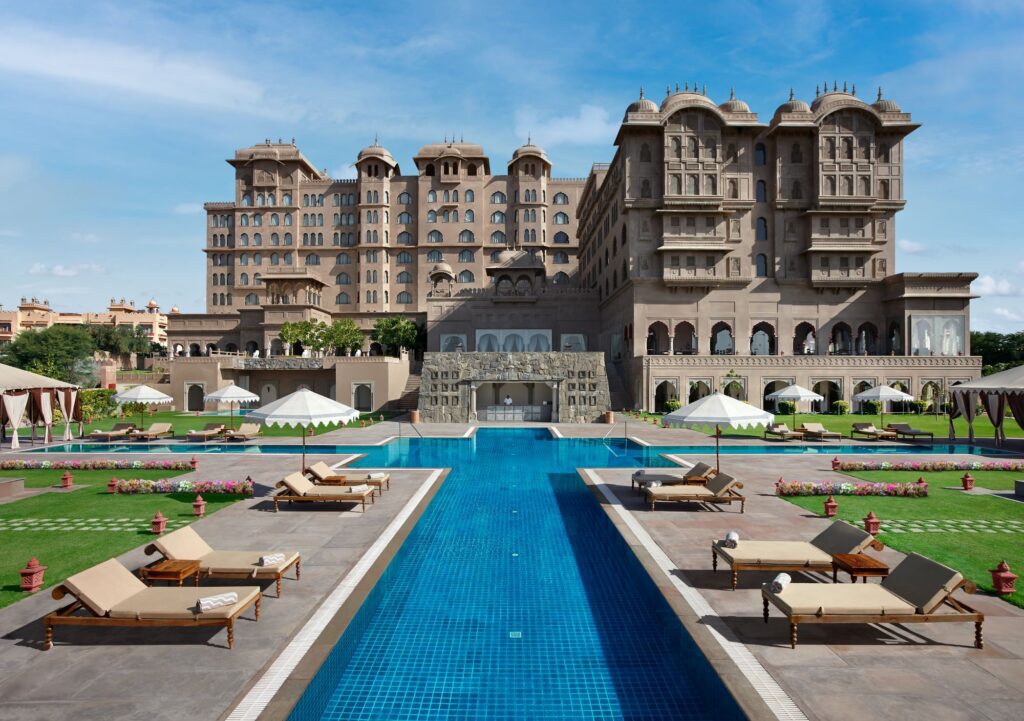 There is a growing interest from the affluent female traveller market/group and solo both. How well are you prepared to handle it?
There is a growing interest in the affluent female traveller market, both for group and solo travel. To cater to this segment, we have developed specific programs and amenities that cater to their needs and preferences.For groups we regularly have travellers on Girl-cations, or on Galentine's brunch. We provide unique experiences and activities that are tailored to the interests of these guests. We also have trained women butlers who provide personalized services and ensure that female travellers feel safe and comfortable during their stay.For solo female travellers, we have a dedicated program in place that includes safety measures, such as secure transportation, as well as special amenities in place to assist our female guests.
Jaipur is a city brimming with hospitality choices and more being added frequently. In such a scenario, how do you ensure that your hotels remain on top of the game?
There is a growing demand for hotels in Jaipur, but with the emergence of new hotels in the market, there is an increase in the supply as well. The presence of these new hotels provides guests with a variety of options that align with current market trends. As a preferred wedding destination hotel, we remain focused on delivering exceptional services to our guests.
Is there any more information that you would like to share with us?
Fairmont Jaipur is a place of grandeur and splendour, a true marvel of architecture inspired by the regal palaces of Rajasthan. The palace transports you to a world of beauty, with a stunning view of the Aravalli range and opulent interiors adorned with intricate designs and embellishments that showcase the rich cultural heritage of Rajasthan.
The team goes above and beyond to deliver the 'grandest of experiences, and as the ultimate wedding destination, the property is the perfect place to say- 'I do with your fairy-tale dream wedding turning into memories!
Follow BOTT on LinkedIn, Facebook, Twitter & Instagram
Subscribe BOTT Channels on WhatsApp & Telegram to receive real time updates