Shreya Shimpi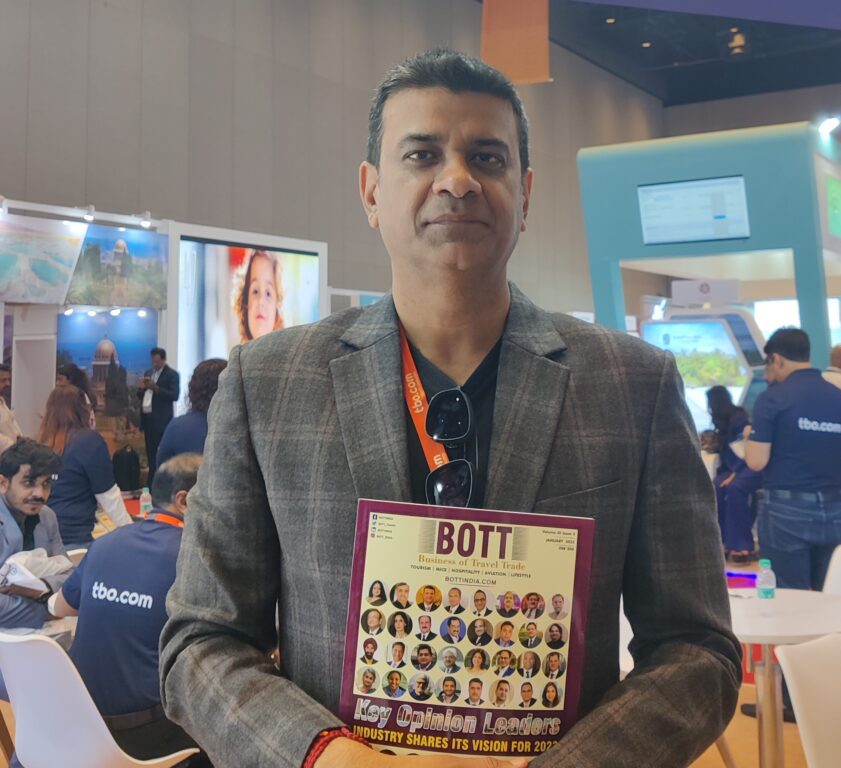 A gala event was organised at Hotel Sahara Star in Mumbai by the TBO group and was well attended by over 1000 members such as key tour operators, travel agents, hoteliers, airline industry members, bloggers, media and many others from the travel fraternity. Scrumptious food, ambrosial drinks, upbeat music and stellar entertainment made the party a grand success.
The event started with a welcome note from Ankush Nijhawan, Co-Founder and Joint Managing Director followed by a succinct presentation highlighting the journey of TBO in the last few years and the successful milestones achieved by it. The TBO success story has been truly remarkable and Mr. Nijhawan expressed his heartfelt gratitude for the support that he has been receiving from all his travel partners. He spoke with conviction about the goals he wishes to achieve in the upcoming year and urged his industry partners to continue their unwavering support. His vision for 2023 is a testimony of his ambitious style of working and thinking not just about his company but also about helping his travel partners achieve remarkable success in their endeavours.
He spoke about how the global travel and tourism industry is growing at an exponential rate and how it is essential to take more efforts to explore this industry and the plethora of opportunities that it has to offer. Post-Covid, new travel trends have ensued and with India having the largest youngest population in the world, it is now under the spotlight as an emerging market for travel. The young generation believes in spending on experiential travel. With 'YOLO' as their mantra, they are keen on exploring off-beat travel destinations, cuisines, cultures and experiences. The youth today wants to enjoy life. More people are travelling to unexplored destinations and budget is no longer a constraint for them as their capacity for spending on travel has increased with increased per capita income and more disposable income. There is easy access to credit financing which provides a 'Pay now buy later 'option.
Despite hotels and airlines still being in the stage of revival in 2022, most of the travel partners have had the best season so far. The travel recovery was more than 85 per cent in the world. Airlines and hotels are packed to capacity with millions of passengers travelling across the globe which includes corporates, students, labour, leisure travellers etc. India will have more capacity on the international side than it was before the pandemic. We are so well poised in the travel market in the world that everybody wants a piece of India. The budget which was recently announced is also very much pro-tourism and it presents a great opportunity to us as the government is investing significantly in tourism. 67 countries provide 'Visa on Arrival' to Indian tourists. Vietnam is becoming one of the most sought-after destinations given its easy accessibility, short-haul flight and facility for getting a visa on arrival.
He also spoke about India being the largest MICE seller in 2024 for the world with corporates and companies doing well.664 destination weddings happened outside India in 2019, out of which Thailand was the highest taker hosting close to 440 weddings. He urged everyone to explore the MICE and destination weddings segments as that market is going to boom and looks extremely promising. TBO dived into the cruises segment around eighteen months back and it is one of the fastest emerging niches which is picking up pace in the world. There are 780 cruises in the world including river cruises. The new India seeing Cordelia Cruises and the Cruises in Singapore will evolve to explore the cruise market.
Ankush went on to speak about Sports tourism by quoting FIFA as a classic example. India was the number three buyer for FIFA despite not being a footballing nation.9000 people from India were at Lusail out of the 80,000 people for the final match between France and Argentina. Ten per cent of that audience flew from India to watch the game despite the sky-high ticket prices. He urged everyone to explore the travel market by going beyond the Hotel and Air sector as there is a lot that can be done beyond these two businesses.
Highlighting India's tourism growth graph for future, he highlighted that 100 new airports are to be constructed by 2024 and the expected investment in India is about 90,000 crores and making our country the third largest economy. The connectivity is going to be exceptional in this new emerging India.160 million passports are there in India, and 10 per cent of people have passports.26 million people have travelled which is less than twenty per cent of people who have travelled overseas.130 million people still have aspirations to travel outside India. The first-time traveller will look at assisted travel through travel partners and travel agents.
The enterprising Co-Founder then walked us through the TBO journey from 2007 to the present. In 2017, TBO achieved the milestone of 10,000 monthly transaction buyers. In 2019, they acquired Island Hopper.2021 has been a phenomenal year for them with the launch of 'Zamzam' and 'Paxes' and a second acquisition of Gemini Tours. The key highlight of the year was that TBO ranked second in India with RMS of 13.12% as per IATA. Their employee strength increased from 705 to 1575 in 2022 along with them acquiring 'Bookabed'.
The event concluded with an award ceremony in which the travel industry partners were felicitated and awarded trophies and Certificates of Appreciation. It was indeed a memorable evening and the years ahead certainly look promising for the TBO Group.
'I anticipate 2023 to be one of the best years'
"I anticipate a great 2023. I tell people that it will probably be one of the best years one has witnessed in the last ten years,"said the dynamic and optimistic Ankush Nijhawan, Co-Founder and Managing Director, TBO as he spoke to BOTT in an exclusive chat at the recently concluded OTM held in Mumbai in which he shared some interesting insights and emerging trends in the travel industry. Here are a few excerpts from the interview.
With the revival of tourism, how has 2022 been in terms of business?
2022 was a brilliant year. A lot of people have been very happy, especially about the second half of the year. The demand was immense. Everybody has been smiling whoever I meet across India. We had some jitters in late December when the RT-PCR policy was coming back but as January has ended, it is all coming back and the world has moved on again.
What is your expectation from the year 2023?
I anticipate a great 2023. I tell people that it will probably be one of the best years one has witnessed in the last ten years. A lot of problems will get resolved such as Visas will be a little more accessible. The demand is immense and hopefully, the supply will come back now as the market is opened up again. I think it is going to be a phenomenal year.
What are the new strategies which you have planned?
We want to do our best. We will continue to add more products through the platform which will enable our partners across the world to further get more inventories and more content which will help them serve their customers better. It is a very competitive world and the guy who has the content through the platform is the person who will be the winner and that is something that we will continue to focus on.
Have you seen a change in the traveller's patterns before and after the pandemic?
Everybody wants to travel. There is no particular generation now that will not travel. As you go the younger generation, they want to do adventure and some funky things. The older generation wants to go to the typical destination like London, Paris etc. I think that India is in a beautiful spot and the demographics of the country are extremely powerful. As a young country, there is a lot of what is happening and all the segments are here to stay.
Follow BOTT on LinkedIn, Facebook, Twitter & Instagram
Subscribe BOTT Channels on WhatsApp & Telegram to receive real time updates