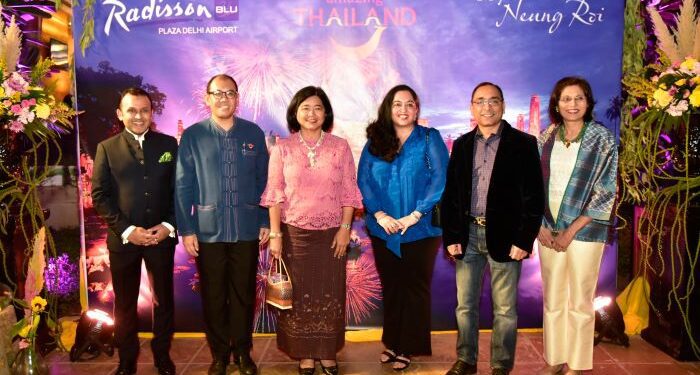 Guests including diplomats, travel media and members of the travel fraternity were invited to celebrate the magical festival of lights where candle-lit krathongs twinkled on the water creating unforgettable experiences.
It was a beautiful and picturesque evening as several floating candles, flowers and krathongs decorated the venue showcasing Thai festivals & traditions.
The Tourism Authority of Thailand launched the new tourism concept for 2022 "Amazing Thailand, Amazing New Chapters" early this year. The focus of "The Visit Thailand Year 2022 – 2023" was that Thailand is now filled with more amazing new experiences than ever before. Visit Thailand in 2022 – 2023 and make your new chapter the very best of your life.
This year, the must-awaited Loy Krathong had a vibrant and colourful look and feel, with bright décor in hues of yellow and pink depicting the Amazing Thailand colours. The theme for the event was "Amazing New Chapters: From A-to-Z Thailand has it all" highlighting the fact that Thailand has a lot to offer for every kind of traveller. Like the 26 Roman alphabets, Thailand has a plethora of tourism products that can be denoted by each alphabet. For example, A for Adventure, B for Beaches, C for Culture, etc.
The evening was inaugurated with a welcome speech by H.E Pattarat Hongtong Ambassador of Thailand to India, who thanked the guests for joining the event and celebrating the Thai festival of lights with Team
Thailand.
The event was graced with Thai cultural dance performances and a Thai-Indo fusion dance depicting the strong cultural and religious links between India & Thailand. The beautiful Loy Krathong procession followed this. The floating of krathong ceremony was led by Her Excellency and members of the Royal Thai
Embassy & Thai Navel Attaché. The guests were invited to release the candle and incense-lit krathongs into the water thereby paying respect to the water goddess and making a wish for the future.
Guests at the event learnt the art of traditional Krathong making and decoration which they floated into the water. The event included demonstrations of a popular Thai Salad dish – Som Tum and Thai Snack MaHor which was greatly relished by the guests.
Follow BOTT on LinkedIn, Facebook, Twitter & Instagram
Subscribe BOTT Channels on WhatsApp & Telegram to receive real time updates