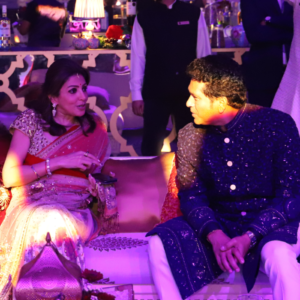 The event took place at Al Joud Ballroom, Hilton Dubai Al Habtoor City. 
A major real estate and hospitality stakeholder in the United Arab Emirates (UAE), Al Habtoor City is a multi-use development in Dubai incorporating five-star hotels, three-rise luxury residential towers and a water-themed Dragone theatre, with a major focus on the Indian tourism and hospitality market as well as Indian diaspora, visitors and cultural enthusiasts.
"Al Habtoor City Hotels Dubai aims to become the preferred destination for the most discerning Indian travelers. 44 floors tall, the Hilton Dubai Al Habtoor City is located in the heart of Dubai, and is ideal for events and vacations across the spectrum. It was our pleasure to host Sachin Tendulkar and Rahat Fateh Ali Khan," said Farah Bootwala – PR and Sponsorships Manager, Al Habtoor City Hotel Collection.
In India, Red Dot Representations has been appointed to represent the Al Habtoor City Hotel Collection by Hilton. Recently, as part of its outreach efforts for the Indian market, Ab Habtoor City hosted an Indian Bazaar and food night showcasing the diverse spread of Indian cuisine and gorgeous Indian décor that are reminiscent of Rajasthan's melas.