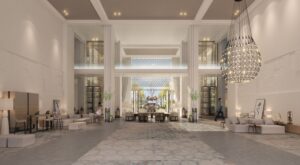 Designed with a majestic sense of style and developed by Eagle Hills, Palace Resort Fujairah is set to become the brand's ultimate beach getaway guaranteeing an unforgettable stay at their beachfront oasis enjoying an outstanding array of world-class facilities and exceptional amenities. Sit back, relax and unwind on a beach lounger nestled among the pristine sands of the private beach, where the city meets the sea, and every view is one to savour.
"Emaar Hospitality Group is setting its sights on the leading destinations within the UAE and this resort will mark its second opening in this Emirate. This is an important milestone in our journey, as we further expand our luxury portfolio with the country to cater to international visitors and residents of the UAE who have grown to know and love our brand."– Mark Kirby, Head of Emaar Hospitality Group
The resort will feature 167 rooms and suites set by the beachfront featuring contemporary architecture and Arabesque patterns, a testament to a city embracing the future while staying true to its heritage. The hotel will be set on a prime piece of coastline on the Gulf of Oman, known for its beautiful sands, vibrant sea life and serene mountainous environment.
"With its majestic landscape combined with a rich heritage, Fujairah is fast emerging as a tourist haven that lures the most discerning travellers. We look forward to welcoming guests to experience premium luxury at Palace Beach Resort Fujairah."– Mark Kirby, Head of Emaar Hospitality Group
Soak in the sun, take a dip, or simply savor the awe-inspiring views at the picturesque pool area, surrounded by the mountains and just footsteps from the sea. Your little ones can also make a splash and get in on the fun at the Kids' Pool. Our little guests can take part in a whole host of entertaining and educational activities at the Qix Club, where they combine fun, creativity and learning to ensure children between the ages of 4 and 12 are immersed in an enjoyable and attentively supervised environment.
Ewaan serves a signature blend of Arabic and International cuisines throughout the day, against a backdrop of intricate wooden paneling, luxurious furnishings and flamboyant accessories. Local ingredients are sourced for rich dishes served from live cooking stations and buffets.
For a unique and memorable coffee experience, allow our baristas to share the secrets of the perfect cup of coffee or the tales behind the Moroccan Tea at the Al Bayt Lounge. In the evening relax outdoors over flavored shisha or traditional Karak tea. Additionally, an ocean-facing signature restaurant will open its doors in Q4 2022;  a unique destination, blending Orientalflavours and locally sourced ingredients.
Set to open in Summer 2022, The Spa at Palace Beach Resort Fujairah is a haven for relaxation and rejuvenation in an intimate setting with three treatment rooms, where the expert team of therapists offers the finest treatment methods and ingredients to soothe the body and mind. Find the perfect balance between relaxation and activity during your stay, and pop into our fully equipped gym, featuring the latest state-of-the-art equipment to help you get the best out of your workout. Bringing together a leisurely refined experience, Palace Beach Resort will be 'where life happens' and memories are created.
Follow BOTT on LinkedIn, Facebook, Twitter & Instagram
Subscribe BOTT Channels on WhatsApp & Telegram to receive real time updates