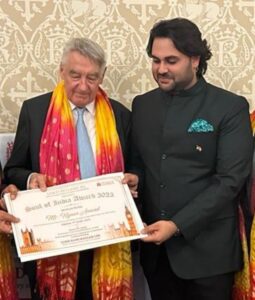 The award ceremony took place on June 9, 2023, at the House of Lords in the Parliament of the United Kingdom, London. Lord Bellamy KC, the Undersecretary of State for Justice, United Kingdom, had the privilege of presenting the award to Mr. Nipun Anand.
Mr. Nipun Anand has been leading Pradhaan Air Express, India's youngest cargo airline, and has played an instrumental role in raising awareness about the enormous potential of the Indian logistics sector. His efforts have also been focused on promoting its recognition on a global scale. Over the past few years, Mr. Anand has assisted several international airlines in launching their businesses in India. Additionally, he manages Teleport India, the logistics wing of Air Asia.
The monumental ceremony served as a platform to honor Mr. Nipun Anand's remarkable contributions to nation-building and his role in revolutionizing the concept of social commerce. Through his endeavors, he has facilitated the growth and global identity of numerous business ventures.
The award ceremony was a grand affair, attended by achievers from various walks of life and industries. The event served as a testament to the outstanding achievements and inspirational journeys of these remarkable individuals.
Follow BOTT on LinkedIn, Facebook, Twitter & Instagram
Subscribe BOTT Channels on WhatsApp & Telegram to receive real time updates