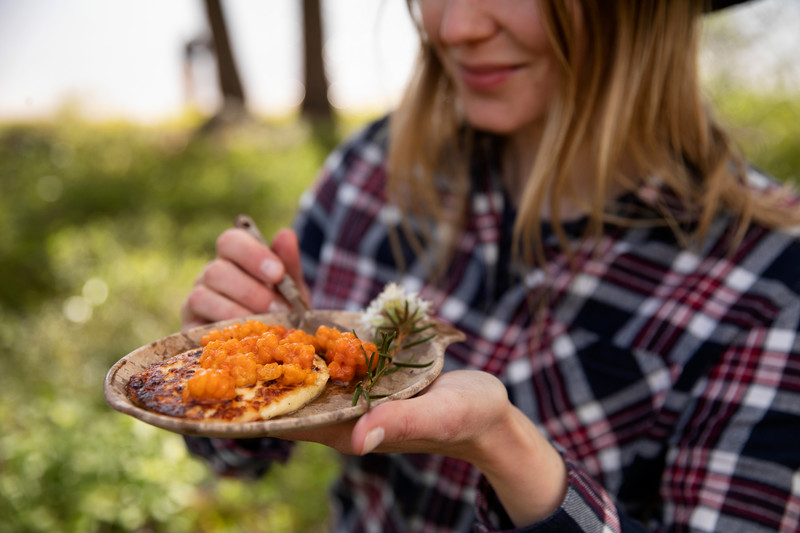 Here, the creative chefs fish, hunt, and forage wild berries, herbs, and mushrooms to prepare fine-dining dinners often served under the Midnight Sun. The culinary adventure in the last wilderness of Europe can truly be a once-in-a-lifetime experience. Or have you ever tasted smoked reindeer heart, slow-cooked bear roast, fresh king crab from the Arctic Ocean, reindeer fat fried potatoes, or Lappish cheese served with fresh cloudberries? In Lapland, you can!
Lapland, the true gem of the North with its breathtaking landscapes with thousands of lakes and rivers, is known for its pure nature and world-class hiking. But only some know that the allure also extends to the plates of visitors. Lapland offers exceptional dining experiences that blend local cuisine with the stunning Arctic surroundings. The region's culinary offerings rely heavily on locally foraged wild ingredients such as cloudberries, blueberries, and lingonberries used in desserts, jams, and sauces. While mushrooms in Lapland have traditionally been regarded as food for reindeer, they are now being widely used in delicious ways. The trendy herb spruce is foraged already in the early summer from 'Christmas trees' to bring distinctive tastes to savoury dishes and sweet desserts and even to local beer brewed in the Arctic Circle.
The culture of the indigenous Sámi people is ever present in the region's cuisine. Sámi delicacies include delicacies such as gáffevuostá or leipäjuusto, the squeaky cheese often served with cloudberry jam and suovas, the salty, cold-smoked reindeer meat. Reindeer meat in itself is one of the highlights of Lappish cuisine – it is lean, tender, and rich in flavour. While lichen, the main nourishment of a reindeer, on the most beautiful plates of the fine dining restaurants in the region. And to top things off Lapland's numerous lakes and rivers are prominent with fish that have become a steady part of the local cuisine. Salmon, Arctic char, and whitefish are commonly enjoyed after being prepared using traditional methods such as smoking, grilling, or slow cooking.
The creative chefs of Lapland take pride in hunting and foraging themselves, ensuring the food enjoyed in this unique setting, such as a traditional hut on an open fire, is fresh. The northernmost region of Finland is a unique summer travel destination for all foodies looking to explore Lappishcuisine under the Midnight Sun. Whether in or above the Arctic Circle – one may taste and smell the pure nature on the plate!
TOP 10 delicious places to visit in Lapland this summer, a list curated by Visit Finland: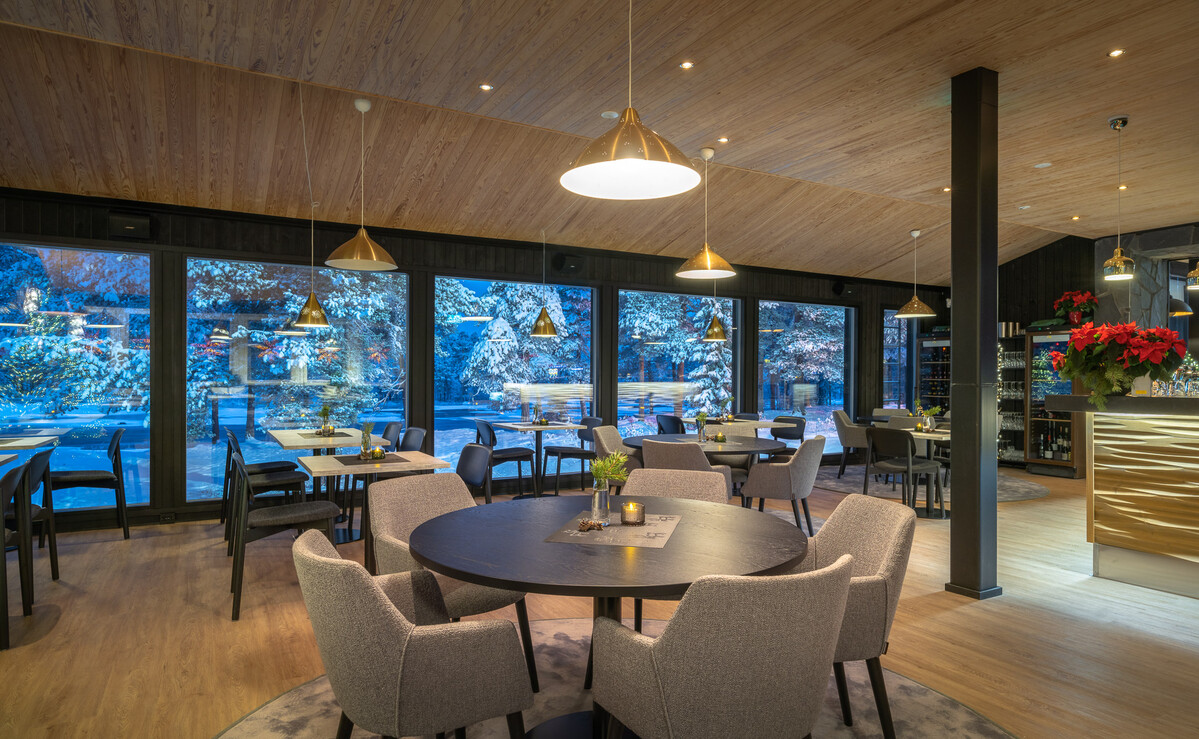 Dine finely in Inari. In Aanaar – a restaurant with roots deep in the tundra of Inari, a story of the local heritage is told through award-winning cuisine with plenty of flavours from the northern wilderness. With views over the rapids of River Juutua, Aanaar caters to those even more on the finer side of dining. Dishes such as MEAHCCEVÁNDDARDEAPMI with smoked reindeer heart, mustard cream and rye, ANÁRA ČUOVŽŽA with local whitefish, seasonal roots, fennel and almond and BOHCCO MIN VUGIIN with grilled reindeer, reindeer fat fried potatoes, reindeer blood pudding, cep and lingonberry sauce, Aanaar is truly an experience of the wilderness to all your senses
https://www.restaurantaanaar.fi/
  Eat straight from the wild. Glowing Ember, a fine-dining restaurant  caters to private groups, is led by Joel Manninen, a young shooting star on the cuisine sky. "The idea behind the restaurant started when I was pigeon hunting three years ago. I shot the birds in the morning and as I served them with respect and pride in the evening, I realised this was something special and something I want to do," Joel says. Private dining experiences are served in a cosy hut in Rovaniemi. He cooks in front of the guests on an open fire.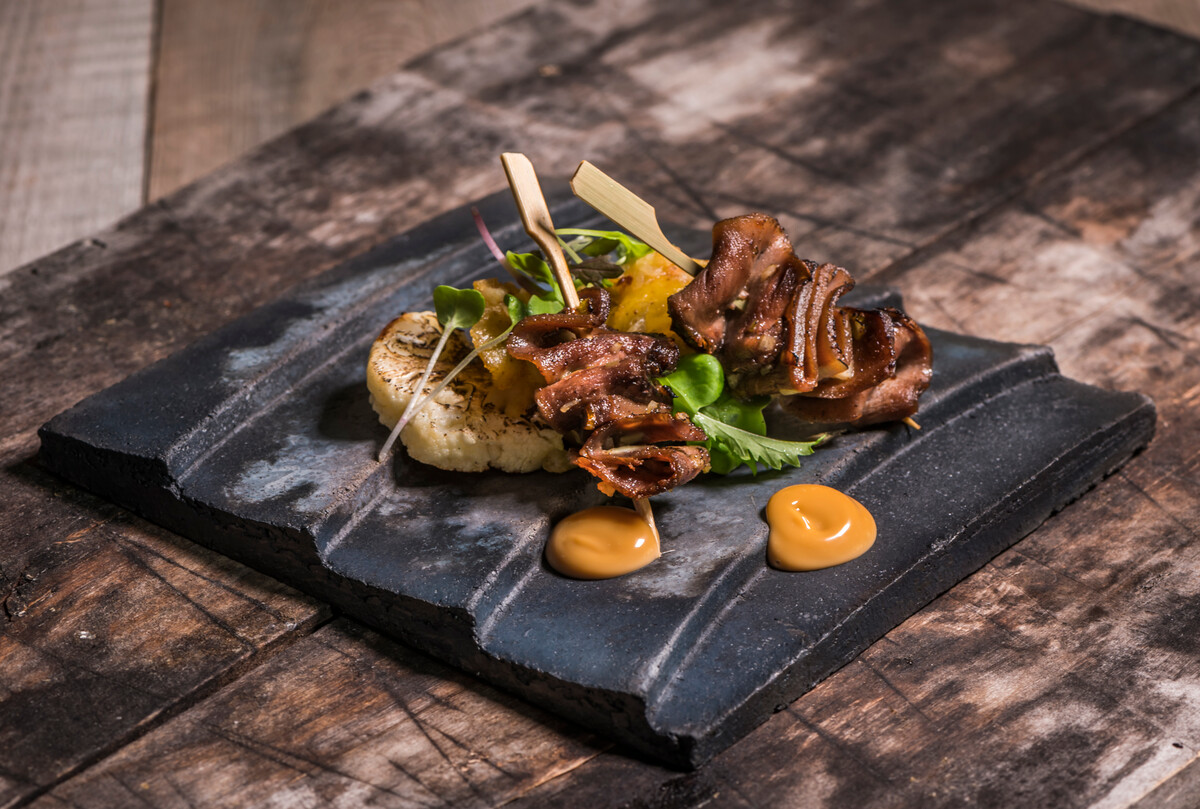 Ceramics and cocktails. With Jarmo Pitkänen, Maître Rôtisseur and Ceramic Artist, every meal is a unique experience. Each party and chef's table with Pitkänen is certain to have every little detail attended to. When it comes to food, flavour and the tableware – inspiration is found in the nature of the North and prepared by the chef. At Tundra, the idea is that the different courses of the meal form a unified experience along with the breathtaking surroundings of his home studio. And the artistic experience is formed by the interaction between the environment, the food and the design. Something which becomes visible on Jarmo's plates that are full of local ingredients that the artist picked themselves for you to enjoy.
  Enjoy the traditional Lappish. Restaurant Deatnu in Utsjoki specialises in traditional Lappish cuisine with meals and portions prepared according to season, using a wide selection of high-quality local ingredients such as berries, mushrooms, game, fish and reindeer. Restaurant Deatnu is located in Holiday Village Valle which is family-owned and operated with roots strongly in the area and in the indigenous Sámi culture. Overnight stays in the pristine Arctic scenery and the vast quietness of Utsjoki are strongly recommended.
https://www.holidayvillagevalle.fi/en/restaurant/
  Forget the everyday mundane. Join Sonja Lassila, Wilderness Guide and once-in-life lawyer, on impeccable outdoor food and nature in spectacular Inari. Sonja offers tasty open-fire dinners and cooking classes, courses on where one can learn to prepare 'a bit better' hiking food, and brunches in nature – while tailored guided trips and hikes to nature are readily available. Wilderness skill courses, mushroom picking courses, nature knowledge, fishing trips, employee get-togethers and other experiences are designed and catered to your needs.
  Taste the Arctic. A visit to restaurant Nili in Rovaniemi is a combination of tastes, scents and atmosphere. In the restaurant you can watch skilled and cheerful staff through the open kitchen shutters, while they prepare your scrumptious meal with pure Lappish ingredients. Specialities include slow cooked bear roast, pan-fried willow grouse from Enontekiö and elk. Or even better, why not go for Chef's surprise menu – a four-course menu with the best regional ingredients? Finish your meal with Lappish cheese prepared in a cream and served with cloudberries.
  Have award-winning coffee by the open fire. Join Campfire Barista to enjoy a cup of awarded artisan coffee by the fire in Levi. HaliPuu's Campfire Barista brings you the flavours of Lapland with a modern twist. The Demeter certified artisan coffee beans from Metsäpaahtimo roastery combined with crystal clear well water, the fresh air and the smoky heat of the campfire will make for the best specialty coffee north of the Arctic Circle. All freshly hand made while you watch! You will be well taken care of, Campfire Barista won the Global Culinary Travel Awards award for 'Best Focus on Wine & Beverages in Culinary Travel' in 2022.
https://www.halipuu.com/campfire-barista/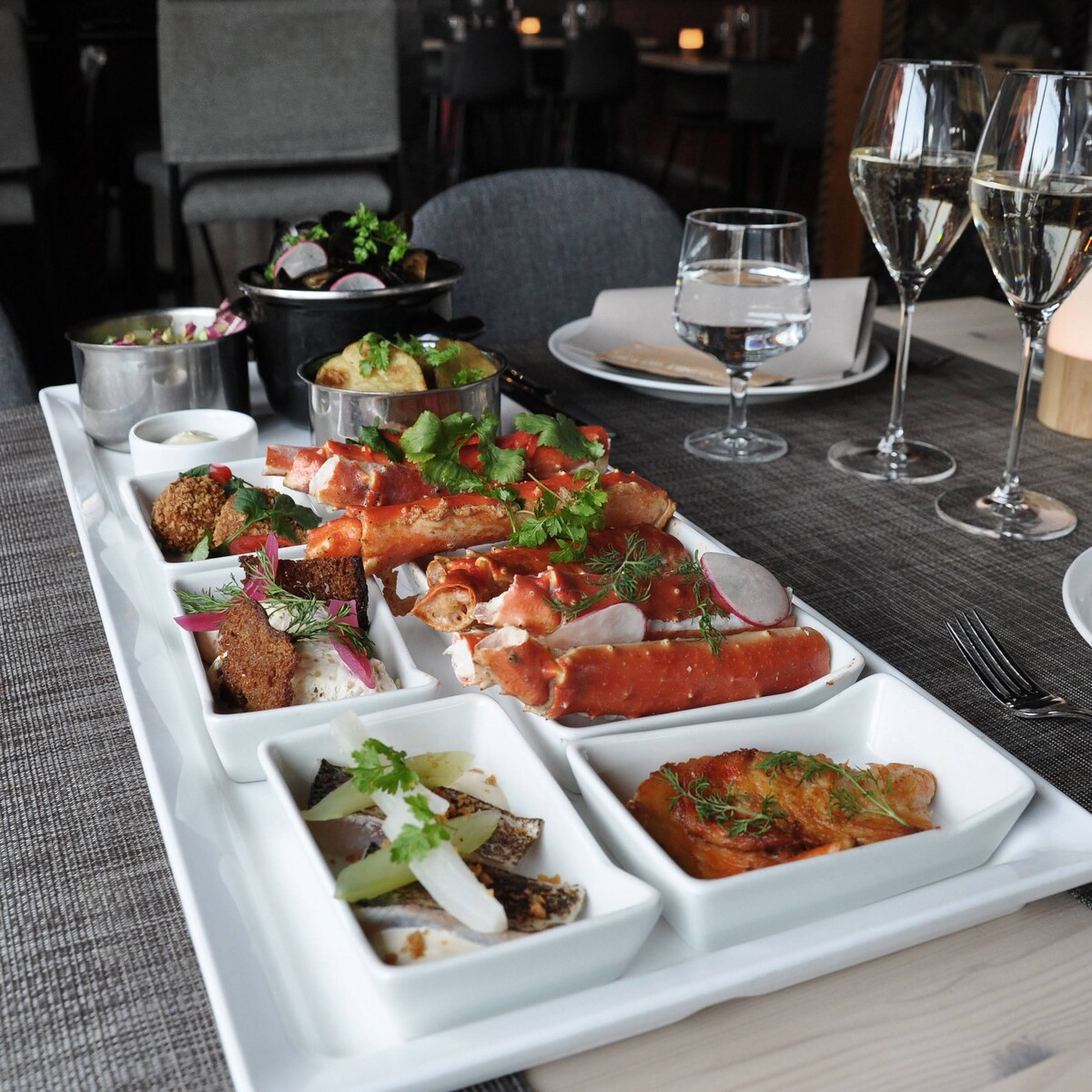 Get to King Crab House. Did you know you can also have fresh seafood in Lapland? With the Arctic Ocean quite close by, King Crab House in Levi offers hungry visitors fresh and local food boasting Arctic seafood, local meats and juicy vegetarian options with a Lappish twist. The crab is straight from the North Norwegian coast and at King Crab House you can do more than just its legs. Here you can also try its delicious roe and exciting tail!
  Talk to Jo. Jolie Lounge & Café in Äkäslompolo in Ylläs is home to homemade seasonal food, unique drinks and baked goods with a dash of wild food. In Jolies kitchen Jo and Eija generally cook and bake everything from scratch and dishes such as smoked reindeer pasta are made to order. The menu, which changes eight times a year, has something for everyone, flexible eaters to vegetarians and vegans alike, people with dietary restrictions and vegans alike. Just make sure to talk to owner Jo, originally a lawyer from Switzerland, while you have a cup of Joe! This life story is worth a listen.
https://jolieloungecafe.fi/en/
Island hop to a summer barbecue. Restaurant Savu Rafla in legendary Kotisaari Island offers dining experiences that feel like the good old days! Located near Rovaniemi, a legendary lumberjack town, where the Ounasjoki and Kemijoki rivers were used as floating channels for the log industry from the late 1800 century to the end of 1980, Kotisaari Island was a traditional stronghold of the Lumberjacks in Kemijoki river, just a boat ride away from the city centre. Now the old boathouse has been renovated into Savurafla Kotisaari, a restaurant that caters BBQ adding a Lappish twist.
https://www.visitrovaniemi.fi/news/savurafla-kotisaari-island-restaurant-like-in-the-good-old-days/
Follow BOTT on LinkedIn, Facebook, Twitter & Instagram
Subscribe BOTT Channels on WhatsApp & Telegram to receive real time updates