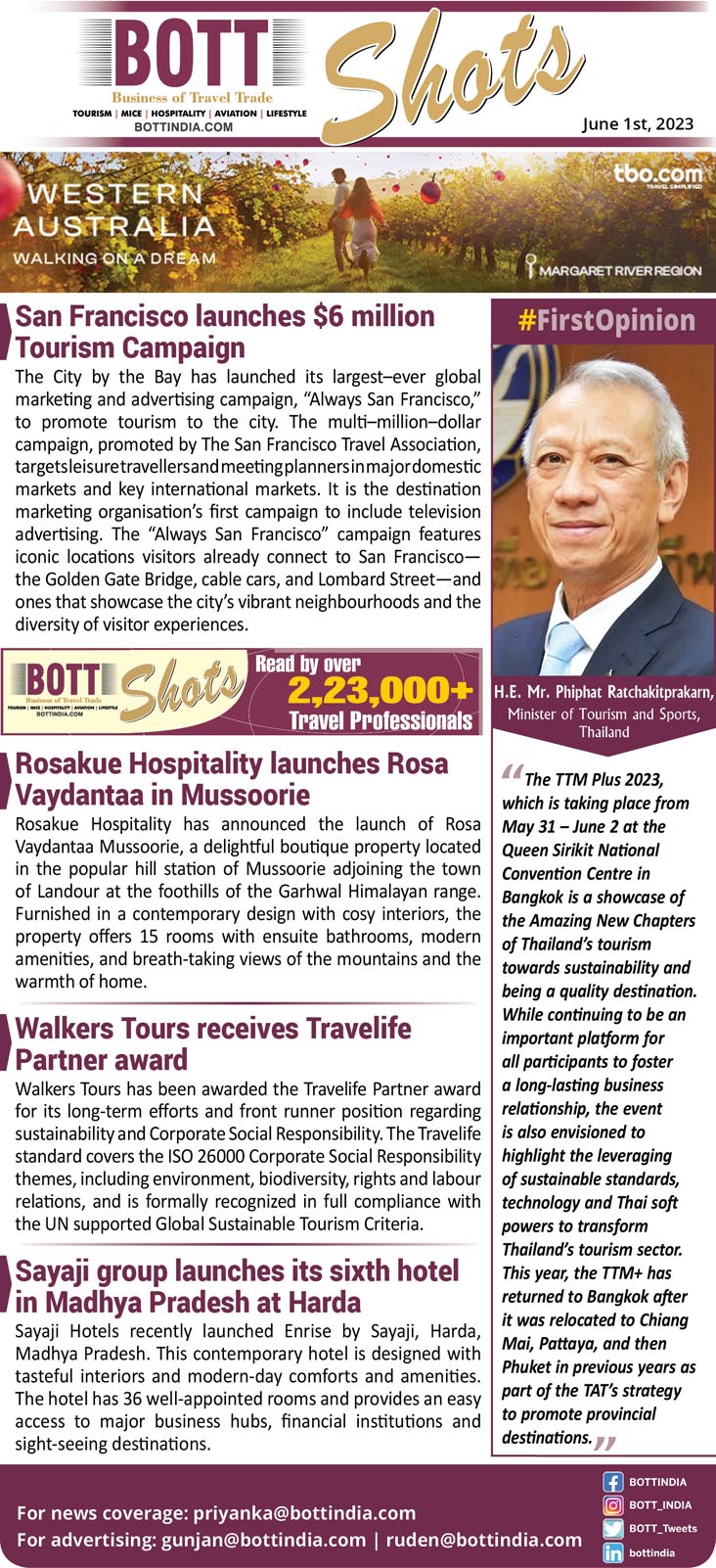 San Francisco launches $6 million Tourism Campaign
The City by the Bay has launched its largest–ever global marketing and advertising campaign, "Always San Francisco," to promote tourism to the city. The multi–million–dollar campaign, promoted by The San Francisco Travel Association, targets leisure travellers and meeting planners in major domestic markets and key international markets. It is the destination marketing organisation's first campaign to include television advertising. The "Always San Francisco" campaign features iconic locations visitors already connect to San Francisco—the Golden Gate Bridge, cable cars, and Lombard Street—and ones that showcase the city's vibrant neighbourhoods and the diversity of visitor experiences.
Rosakue Hospitality launches Rosa Vaydantaa in Mussoorie
Rosakue Hospitality has announced the launch of Rosa VaydantaaMussoorie, a delightful boutique property located in the popular hill station of Mussoorie adjoining the town of Landour at the foothills of the Garhwal Himalayan range. Furnished in a contemporary design with cosy interiors, the property offers 15 rooms with ensuite bathrooms, modern amenities, and breath-taking views of the mountains and the warmth of home.
Walkers Tours receives Travelife Partner award
Walkers Tours has been awarded the Travelife Partner award for its long-term efforts and front runner position regarding sustainability and Corporate Social Responsibility. The Travelife standard covers the ISO 26000 Corporate Social Responsibility themes, including environment, biodiversity, rights and labour relations, and is formally recognized in full compliance with the UN supported Global Sustainable Tourism Criteria.
Sayaji group launches its sixth hotel in Madhya Pradesh at Harda
Sayaji Hotels recently launched Enrise by Sayaji, Harda, Madhya Pradesh. This contemporary hotel is designed with tasteful interiors and modern-day comforts and amenities. The hotel has 36 well-appointed rooms and provides an easy access to major business hubs, financial institutions and sight-seeing destinations.
FIRST OPINION
"The TTM Plus 2023, which is taking place from May 31 – June 2 at the Queen Sirikit National Convention Centre in Bangkok is a showcase of the Amazing New Chapters of Thailand's tourism towards sustainability and being a quality destination. While continuing to be an important platform for all participants to foster a long-lasting business relationship, the event is also envisioned to highlight the leveraging of sustainable standards, technology and Thai soft powers to transform Thailand's tourism sector. This year, the TTM+ has returned to Bangkok after it was relocated to Chiang Mai, Pattaya, and then Phuket in previous years as part of the TAT's strategy to promote provincial destinations."
H.E. Mr. PhiphatRatchakitprakarn, Minister of Tourism and Sports, Thailand
Follow BOTT on LinkedIn, Facebook, Twitter & Instagram
Subscribe BOTT Channels on WhatsApp & Telegram to receive real time updates