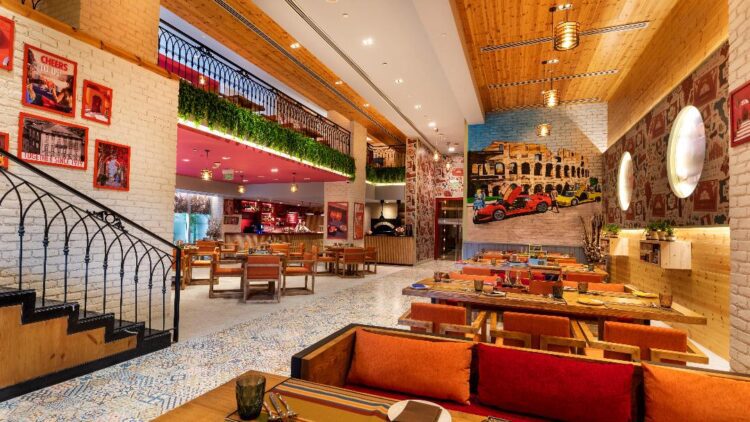 Located at the lobby level with a seating capacity of over 100 guests, L'Osteria Bella is the only exclusive Italian contemporary restaurant in Aerocity (the hospitality district of New Delhi) that boasts authentic flavours of contemporary Italy. Surrounded by upscale hotels and multi-national corporations, L'Osteria Bella's causal and trendy setting are a refreshing change that sets it apart from the formal and swish vicinity.
Spread across two levels with two private dining rooms, an open interactive kitchen counter, and a trendy bar the restaurant exhibits an eclectic décor with quirky design elements. Bold and inviting colours, Italian Pop art and trendy memorabilia invigorate the ambience. The intricately patterned mosaic floor contrast with the straight-lined furniture. The Italian-themed inspired murals and retro Italian travel posters in monochromatic frames accentuate the Italian vibe and spirit. Contemporary pendant lamps, natural wood panelling and bold furniture with striking upholstery add to the character and vibrant mood of the restaurant while the Monstera leaves panels seamlessly attempt to embrace the outdoor with the indoors.
Speaking on the opening,  Amit Rana, General Manager Holiday Inn Aerocity said " We are delighted to present L' Osteria Bella in its brand new avatar and look forward to welcoming guests. Despite an overhaul of the restaurant, our driving principle remains simple – to ensure that each guest has a memorable dining experience and leaves the restaurant happy with a desire to return. All our efforts are geared towards becoming the foremost choice for Italian cuisine."
"Italian food is all about simplicity, natural flavours, and freshness and this is what we have endeavoured through our new menu. While retaining many classics, we have reinvented many recipes and played with textures, flavours and presentation," said Chef Sumit Sabharwal, Executive Chef Holiday Inn Aerocity.
The new a la carte menu is a medley of classic and contemporary recipes with an array of veg and non-veg options including iconic pasta recipes, traditional and innovative pizzas and decadent desserts. Guests will be able to enjoy a grand buffet during weekends with special kids menu and live entertainment. Weekly chef specials, seasonal and festive promotions, executive lunches and special offerings for ladies' groups will be a part of restaurant offerings.
Aside from food and service, the restaurant is also expected to find favour from social media enthusiasts who will find spaces and corners that are visually stimulating and that spark conversation.
Average meal for two: Rs 2500
Opening hours: Lunch & Dinner ( 12.00 noon – 23.59 hrs)
Follow BOTT on LinkedIn, Facebook, Twitter & Instagram
Subscribe BOTT Channels on WhatsApp & Telegram to receive real time updates