Priyanka Saxena Ray
The International LGBTQ+ Travel Association is the global leader in advancing LGBTQ+ travel and a proud Affiliate Member of the United Nations World Tourism Organization. IGLTA's mission is to provide information and resources for LGBTQ+ travellers and expand LGBTQ+ tourism globally by demonstrating its significant social and economic impact. IGLTA global network includes 12,000 LGBTQ+ and LGBTQ+ welcoming accommodations, destinations, service providers, travel agents, tour operators, events, and travel media in 80 countries.
"IGLTA, which was formed 40 years ago in 1983, was very much an underground organization, and the tourism professionals that started it were basically trying to find safe and welcoming travel experiences for their gay clientele. Fast forwarding the years, we're still sort of doing the same thing today but on a much grander scale. From being Florida based, we are now doing business in about 80 countries and our membership includes travel agents and gay guest house owners, like it did in 1983, but also owners of all types of accommodations. We have tour operators, tourism boards, airlines, cruise lines, and universities that focus on tourism because we do a lot of research projects and then we also started our foundation, around seven years ago and it's become the catalyst to doing more educational symposiums like what we're doing here in Delhi," shared John, adding, "So we're connecting buyers and suppliers and media globally that are interested in LGBTQ travel so they can do business together. And then our website is a platform to promote our members to consumers. Although we're not a travel agent, we don't book travel. But as an association, we're connecting tourism professionals all over the world together."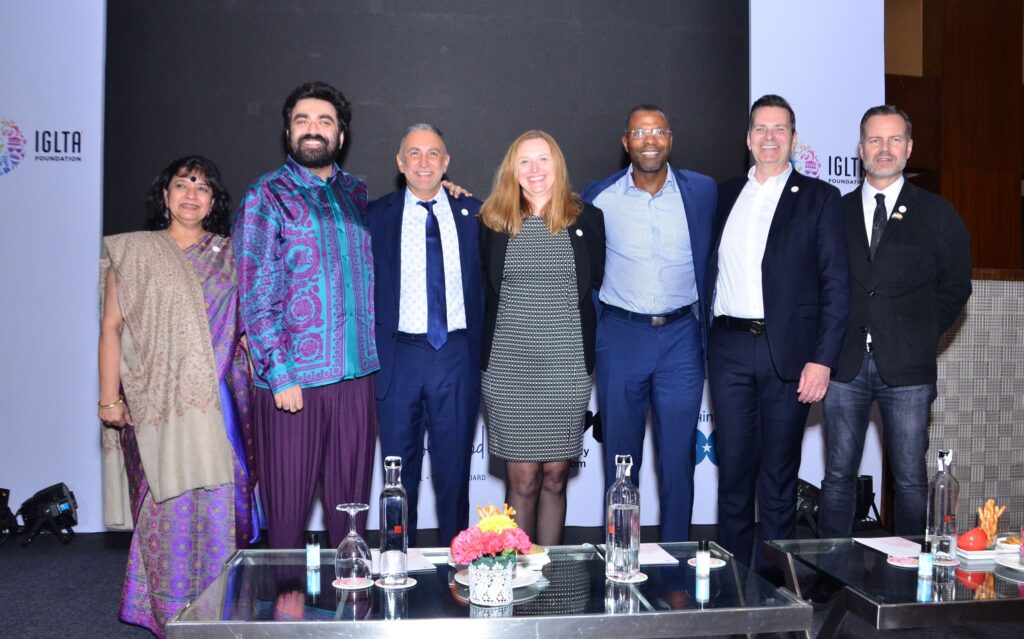 As part of its ongoing efforts to support IGLTA's global travel community, the IGLTA Foundation is enhancing its outreach in strategic emerging destinations. In 2020, the Foundation formed a task force comprised of travel professionals in India and those who promote travel to its many cities and cultural sites, which led to this educational symposium.
"Through IGLTA Foundation efforts like our India Initiative, we can increase understanding of global LGBTQ+ tourism," said John, adding, "We are so excited to discuss the opportunities for LGBTQ+ travel to and from India, given the huge projections for the country's tourism growth. It is essential that this growth values all travellers and makes them feel genuinely welcome."
Topics of the symposium included best practices for LGBTQ+ tourism and practical advice for creating more inclusive hospitality offerings. Among the speakers were IGLTA President/CEO John Tanzella and VP-Communications LoAnn Halden; Keshav Suri, Executive Director, The Lalit Suri Hospitality Group; Rudrani Chhetri, LGBTQIA+ Rights Activist and Founder, MitrTrust; Don Heflin, Minister Counsellor for Consular Affairs, U.S. Embassy; Jonathan Heimer, Minister Counsellor for Commercial Affairs, U.S. Embassy; Tom Kiely, President/CEO, Visit West Hollywood; Elliott Ferguson, President/CEO, Destination DC; Fred Dixon, President/CEO, NYC & Company; as well as representatives from Lemon Tree Hotels, Serene Journeys, and The Lalit Suri Hospitality Group.
"We are delighted to partner with IGLTA for this first-ever symposium on expanding LGBTQ+ tourism. It is a great opportunity to engage and explore the potential of pink tourism. As per World Bank data, the inclusion of an able and talented workforce from the LGBTQIA + community and the 'Power of Pink Money' can contribute up to 1.7% to the growth of Indian GDP," said Keshav Suri.
"The reason India was chosen by our board of directors is because it is an emerging destination for LGBTQ tourism. We have a lot of interest from our members, like tour operators wanting to sell travel to India. But they don't necessarily know what suppliers here, in India, can provide to offer the best welcoming experiences for LGBTQ people. So, we've taken upon ourselves to go ahead and start establishing relationships here in India so that the IGLTA members can experience the offerings in India," John concluded.
Follow BOTT on LinkedIn, Facebook, Twitter & Instagram
Subscribe BOTT Channels on WhatsApp & Telegram to receive real time updates