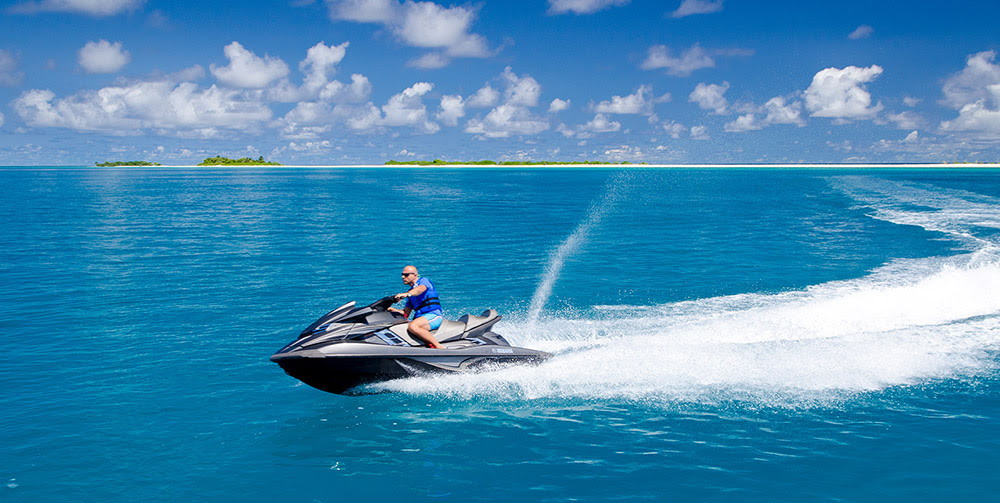 If you're looking to experience all kinds of watersports, check with the resort or guesthouse before making the booking as some of them choose to offer their guests complete tranquillity without the sound of motorized engines that propel many a ride on the water. However, such properties would still offer relaxing canoe rides, wind surfing, snorkeling and diving.
For group fun, opt for bouncy banana rides with friends and family, or go solo and trim the waves on a jet ski. For the serious water sports enthusiasts, choose from kite surfing, parasailing or just navigating solo around the reefs on a catamaran.
Looking for some more fun in the waters? Of course, there's more on offer in the Maldives!
Go Surfing!
As the average water temperature in the island nation is around 28-degrees Celsius, surfing conditions are ideal from mid-February to November, although the best months to go surfing are March through May and September through the end of November.
With North Male' Atoll being the first to be discovered for its waves, it is the most popular with surfers. It is also the most accessible because of the large number of resorts and due to its close proximity to the international airport. Some famous surf locations in the atoll include Cokes at Thulusdhoo, Lhohis, at Lhohifushi island, Jailbreaks, Honky's, Male' Island Point, Sultans and Ninjas, all along the eastern rim of the atoll.
In the southern group of the atoll chain, Huvadhoo Atoll offers the coolest waves in the country with Beacons, Tiger Stripes, Castaways, Blue Bowls, Airports, Five Islands, Two Ways, Love Charms and Antiques are some of the well-known surf points in the atoll.
Wakeboarding and kitesurfing
Wakeboarding and kite surfing provide a higher adrenaline boost as you cut through the water while experimenting with different twists and manoeuvres over the lagoon's sparkling waters. Jet skiing is for the truly daring, while flyboarding is a thrill-seeker's dream.
Parasailing
The excitement of flying through the air while softly gliding over islands and reefs when parasailing is quite incomparable! Opt for parasailing and get a unique bird's eye view of the beautiful waters and also feel a sense of quiet and peace up in the air.
Fishing
Although fishing may sound rather routine, it is more than that in the Maldives. Many of the resorts and guesthouses provide options for night fishing and big game fishing. For a memorable experience, try out a local fishing vessel to experience close up, the pole and line fishing that the Maldives is so famous for. All these options are sure to offer you that adrenaline rush that you seek to feel refreshed and rejuvenated!
Follow BOTT on LinkedIn, Facebook, Twitter & Instagram
Subscribe BOTT Channels on WhatsApp & Telegram to receive real time updates