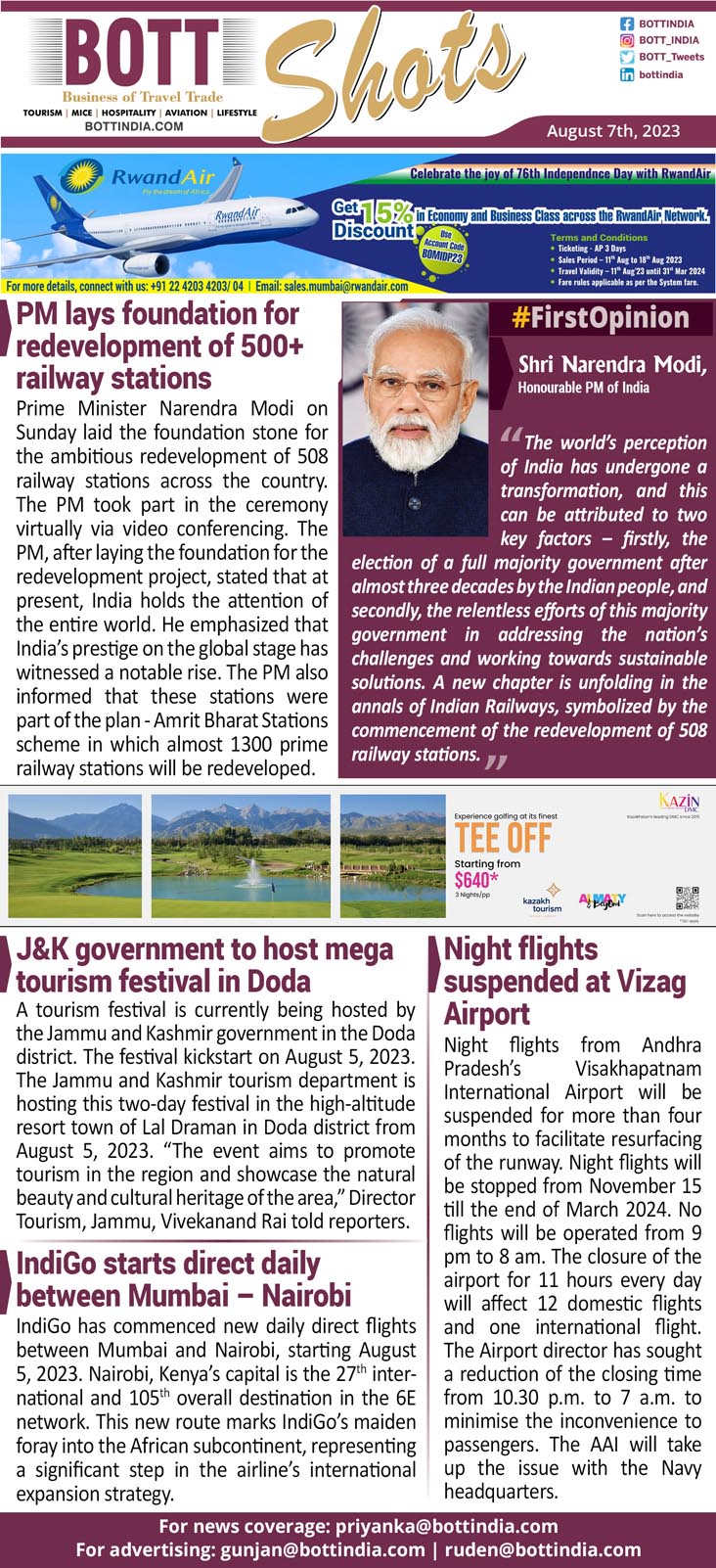 PM lays foundation for redevelopment of 500+ railway stations
Prime Minister Narendra Modi on Sunday laid the foundation stone for the ambitious redevelopment of 508 railway stations across the country. The PM took part in the ceremony virtually via video conferencing. The PM, after laying the foundation for the redevelopment project, stated that at present, India holds the attention of the entire world. He emphasized that India's prestige on the global stage has witnessed a notable rise. The PM also informed that these stations were part of the plan – Amrit Bharat Stations scheme in which almost 1300 prime railway stations will be redeveloped.
J&K government to host mega tourism festival in Doda
A tourism festival is currently being hosted by the Jammu and Kashmir government in the Doda district. The festival kickstart on August 5, 2023. The Jammu and Kashmir tourism department is hosting this two-day festival in the high-altitude resort town of Lal Draman in Doda district from August 5, 2023. The event aims to promote tourism in the region and showcase the natural beauty and cultural heritage of the area," Director Tourism, Jammu, Vivekanand Rai told reporters.
IndiGo starts direct daily between Mumbai – Nairobi
IndiGo has commenced new daily direct flights between Mumbai and Nairobi, starting August 5, 2023. Nairobi, Kenya's capital is the 27th international and 105th overall destination in the 6E network. This new route marks IndiGo's maiden foray into the African subcontinent, representing a significant step in the airline's international expansion strategy.
Night flights suspended at Vizag Airport
Night flights from Andhra Pradesh's Visakhapatnam International Airport will be suspended for more than four months to facilitate resurfacing of the runway. Night flights will be stopped from November 15 till the end of March 2024. No flights will be operated from 9 pm to 8 am. The closure of the airport for 11 hours every day will affect 12 domestic flights and one international flight.The Airport director has sought a reduction of the closing time from 10.30 p.m. to 7 a.m. to minimise the inconvenience to passengers. The AAI will take up the issue with the Navy headquarters.
#FirstOpinion
"The world's perception of India has undergone a transformation, and this can be attributed to two key factors – firstly, the election of a full majority government after almost three decades by the Indian people, and secondly, the relentless efforts of this majority government in addressing the nation's challenges and working towards sustainable solutions. A new chapter is unfolding in the annals of Indian Railways, symbolized by the commencement of the redevelopment of 508 railway stations."
Shri Narendra Modi, Honourable PM of India
Follow BOTT on LinkedIn, Facebook, Twitter & Instagram
Subscribe BOTT Channels on WhatsApp & Telegram to receive real time updates