The event was further enriched by the remarkable collaboration with renowned personality Sushant Divgikar, popularly known as 'Rani Ko-He-Nur' who added an extra touch of inspiration to the festivities.
Building upon its commitment to fostering an inclusive work environment, IndiGo has implemented several initiatives to promote Diversity, Equality, and Inclusion (DE&I). The airline has an LGBT+ Employee Resource Group (ERG) where employees from the community can thrive authentically and contribute to the organisation's success.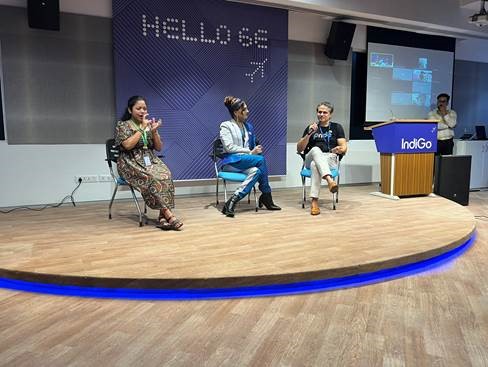 As part of its commitment to diversity and inclusion, IndiGo also actively engages in partnerships with NGOs aimed at recruiting and empowering talented individuals from the LGBT+ community and candidates from the Person With Disability (PWD) community. These partnerships promote diversity at all levels within the organization, further enriching the IndiGo family.
To amplify the message of Pride Month, IndiGo dedicated the fifth issue of its DEI magazine, 'All Aboard,' to Pride celebrations. This special edition features inspiring stories of LGBT+ team members, highlighting their achievements and the progress of the community in creating a more inclusive society. Additionally, IndiGo's in-flight magazine, 'Hello 6E,' also dedicates this month's edition to the LGBT+ community, emphasizing the airline's commitment to creating a safe workspace for all employees. 
About IndiGo
IndiGo is amongst the fastest-growing low-cost carriers in the world. IndiGo has a simple philosophy: offer fares that are affordable, flights that are on time, offering a courteous, hassle-free travel experience and an unparalleled network. With its fleet of over 300 aircraft, the airline is operating over 1800 daily flights and connecting 78 domestic destinations and 26 international destinations. For more information, please visit https://www.goindigo.in/ or download our mobile app. You can also connect with us on Facebook, Twitter, and Instagram.
Follow BOTT on LinkedIn, Facebook, Twitter & Instagram
Subscribe BOTT Channels on WhatsApp & Telegram to receive real time updates