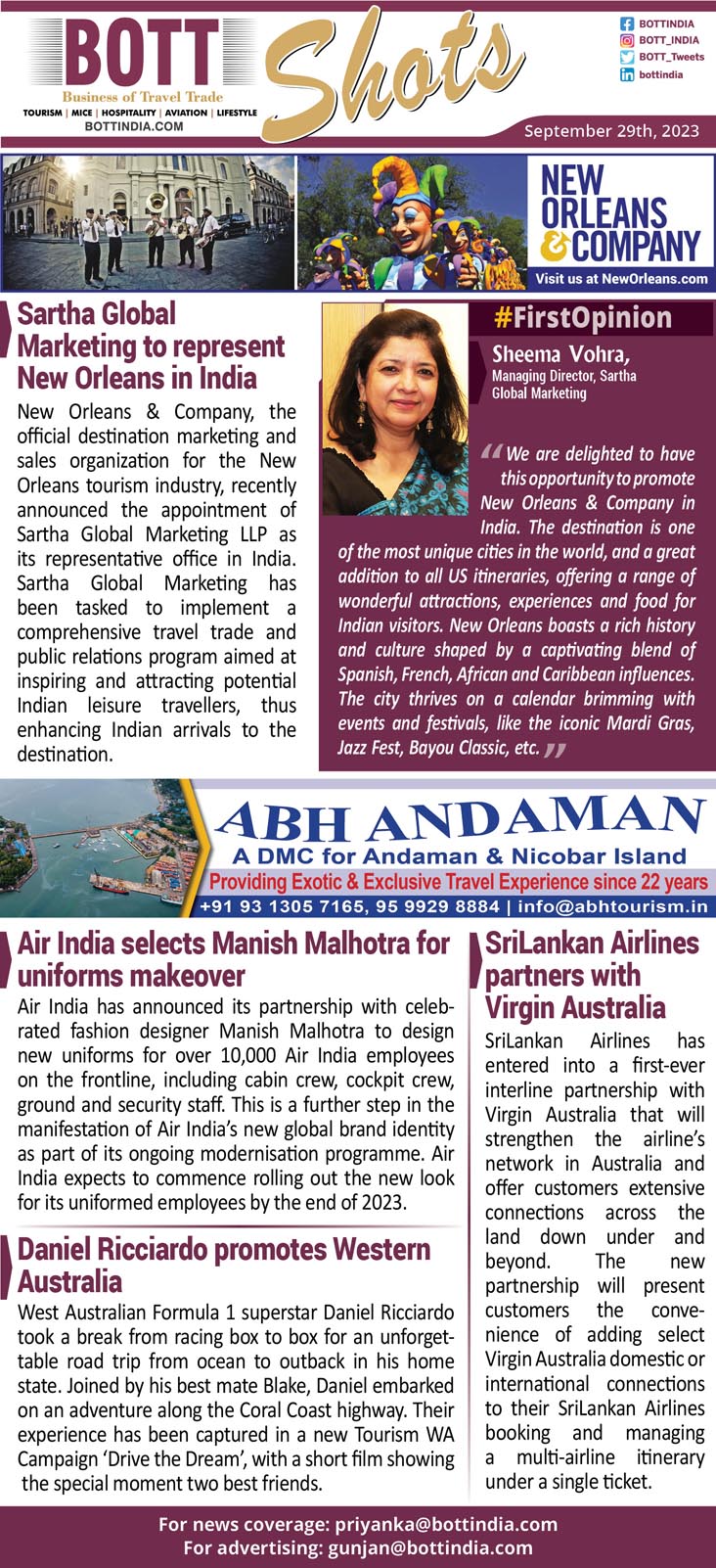 Sartha Global Marketing to represent New Orleans in India
New Orleans & Company, the official destination marketing and sales organization for the New Orleans tourism industry, recently announced the appointment of Sartha Global Marketing LLP as its representative office in India. Sartha Global Marketing has been tasked to implement a comprehensive travel trade and public relations program aimed at inspiring and attracting potential Indian leisure travellers, thus enhancing Indian arrivals to the destination.
Air India selects Manish Malhotra for uniforms makeover
Air India has announced its partnership with celebrated fashion designer Manish Malhotra to design new uniforms for over 10,000 Air India employees on the frontline, including cabin crew, cockpit crew, ground and security staff. This is a further step in the manifestation of Air India's new global brand identity as part of its ongoing modernisation programme. Air India expects to commence rolling out the new look for its uniformed employees by the end of 2023.
Daniel Ricciardo promotes Western Australia
West Australian Formula 1 superstar Daniel Ricciardo took a break from racing box to box for an unforgettable road trip from ocean to outback in his home state. Joined by his best mate Blake, Daniel embarked on an adventure along the Coral Coast highway. Their experience has been captured in a new Tourism WA Campaign 'Drive the Dream', with a short film showingthe special moment two best friends.
SriLankan Airlines partners with Virgin Australia
SriLankan Airlines has entered into a first-ever interline partnership with Virgin Australia that will strengthen the airline's network in Australia and offer customers extensive connections across the land down under and beyond. The new partnership will present customers the convenience of adding select Virgin Australia domestic or international connections to their SriLankan Airlines booking and managing a multi-airline itinerary under a single ticket.
#FirstOpinion
"We are delighted to have this opportunity to promote New Orleans & Company in India. The destination is one of the most unique cities in the world, and a great addition to all US itineraries, offering a range of wonderful attractions, experiences and food for Indian visitors. New Orleans boasts a rich history and culture shaped by a captivating blend of Spanish, French, African and Caribbean influences. The city thrives on a calendar brimming with events and festivals, like the iconic Mardi Gras, Jazz Fest, Bayou Classic, etc."
Sheema Vohra,
Managing Director, Sartha Global Marketing
Follow BOTT on LinkedIn, Facebook, Twitter & Instagram
Subscribe BOTT Channels on WhatsApp & Telegram to receive real time updates