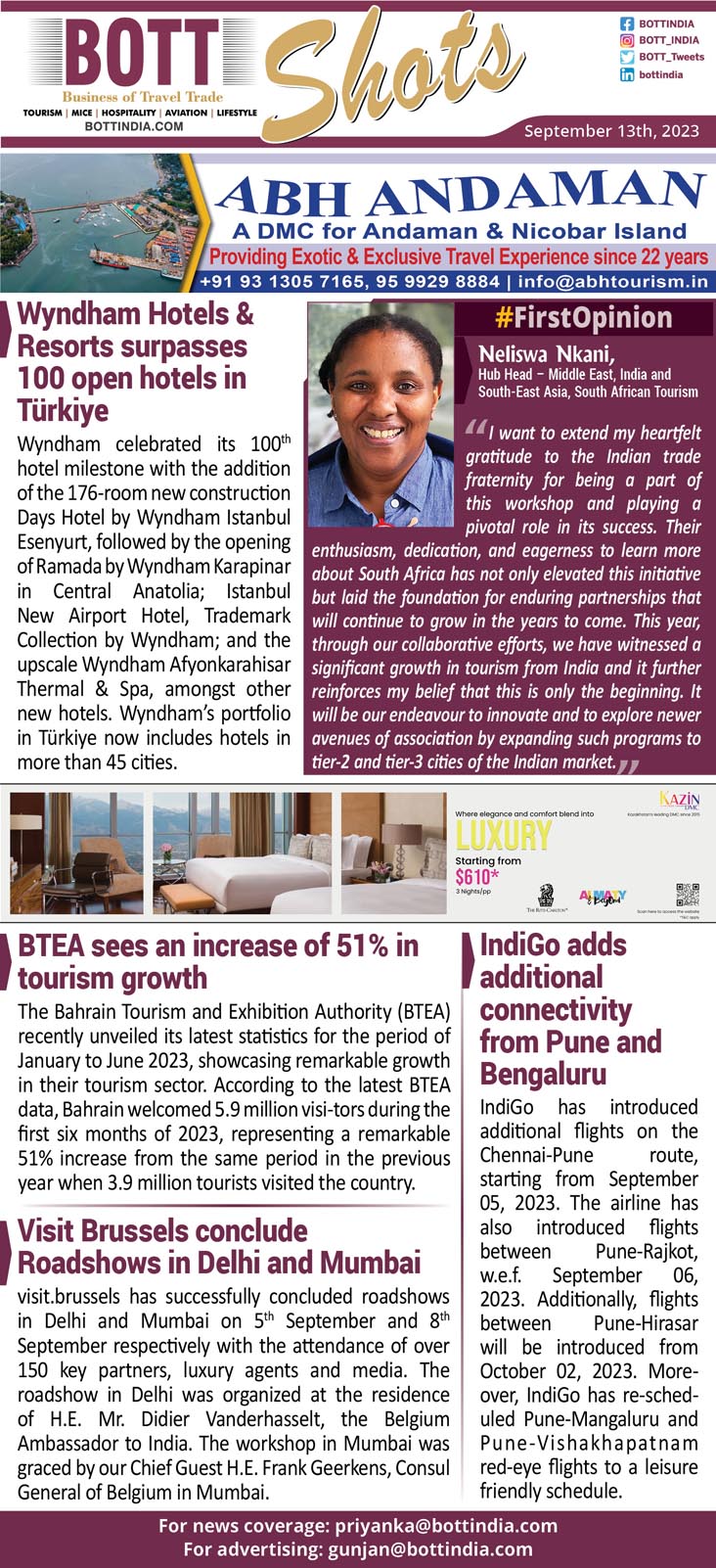 Wyndham Hotels & Resorts surpasses 100 open hotels in Türkiye
Wyndham celebrated its 100th hotel milestone with the addition of the 176-room new construction Days Hotel by Wyndham Istanbul Esenyurt, followed by the opening of Ramada by Wyndham Karapinar in Central Anatolia; Istanbul New Airport Hotel, Trademark Collection by Wyndham; and the upscale Wyndham Afyonkarahisar Thermal & Spa, amongst other new hotels. Wyndham's portfolio in Türkiye now includes hotels in more than 45 cities.
Visit Brussels conclude Roadshows in Delhi and Mumbai
visit. Brussels has successfully concluded roadshows in Delhi and Mumbai on 5th September and 8th September respectively with the attendance of over 150 key partners, luxury agents and media. The roadshow in Delhi was organized at the residence of H.E. Mr. Didier Vanderhasselt, the Belgium Ambassador to India. The workshop in Mumbai was graced by our Chief Guest H.E. Frank Geerkens, Consul General of Belgium in Mumbai.
BTEA sees an increase of 51% in tourism growth
The Bahrain Tourism and Exhibition Authority (BTEA) recently unveiled its latest statistics for the period of January to June 2023, showcasing remarkable growth in their tourism sector. According to the latest BTEA data, Bahrain welcomed 5.9 million visitors during the first six months of 2023, representing a remarkable 51% increase from the same period in the previous year when 3.9 million tourists visited the country.
IndiGo adds additional connectivity from Pune and Bengaluru
IndiGo has introduced additional flights on the Chennai-Pune route, starting from September 05, 2023. The airline has also introduced flights between Pune-Rajkot, w.e.f. September 06, 2023. Additionally, flights between Pune and Harasar will be introduced from October 02, 2023. Moreover, IndiGo has re-scheduled Pune-Mangaluru and Pune-Vishakhapatnam red-eye flights to a leisure-friendly schedule.
#FirstOpinion
"I want to extend my heartfelt gratitude to the Indian trade fraternity for being a part of this workshop and playing a pivotal role in its success. Their enthusiasm, dedication, and eagerness to learn more about South Africa has not only elevated this initiative but laid the foundation for enduring partnerships that will continue to grow in the years to come. This year, through our collaborative efforts, we have witnessed a significant growth in tourism from India and it further reinforces my belief that this is only the beginning. It will be our endeavour to innovate and to explore newer avenues of association by expanding such programs to tier-2 and tier-3 cities of the Indian market."
NeliswaNkani,
Hub Head – Middle East, India and South-East Asia, South African Tourism
Follow BOTT on LinkedIn, Facebook, Twitter & Instagram
Subscribe BOTT Channels on WhatsApp & Telegram to receive real time updates