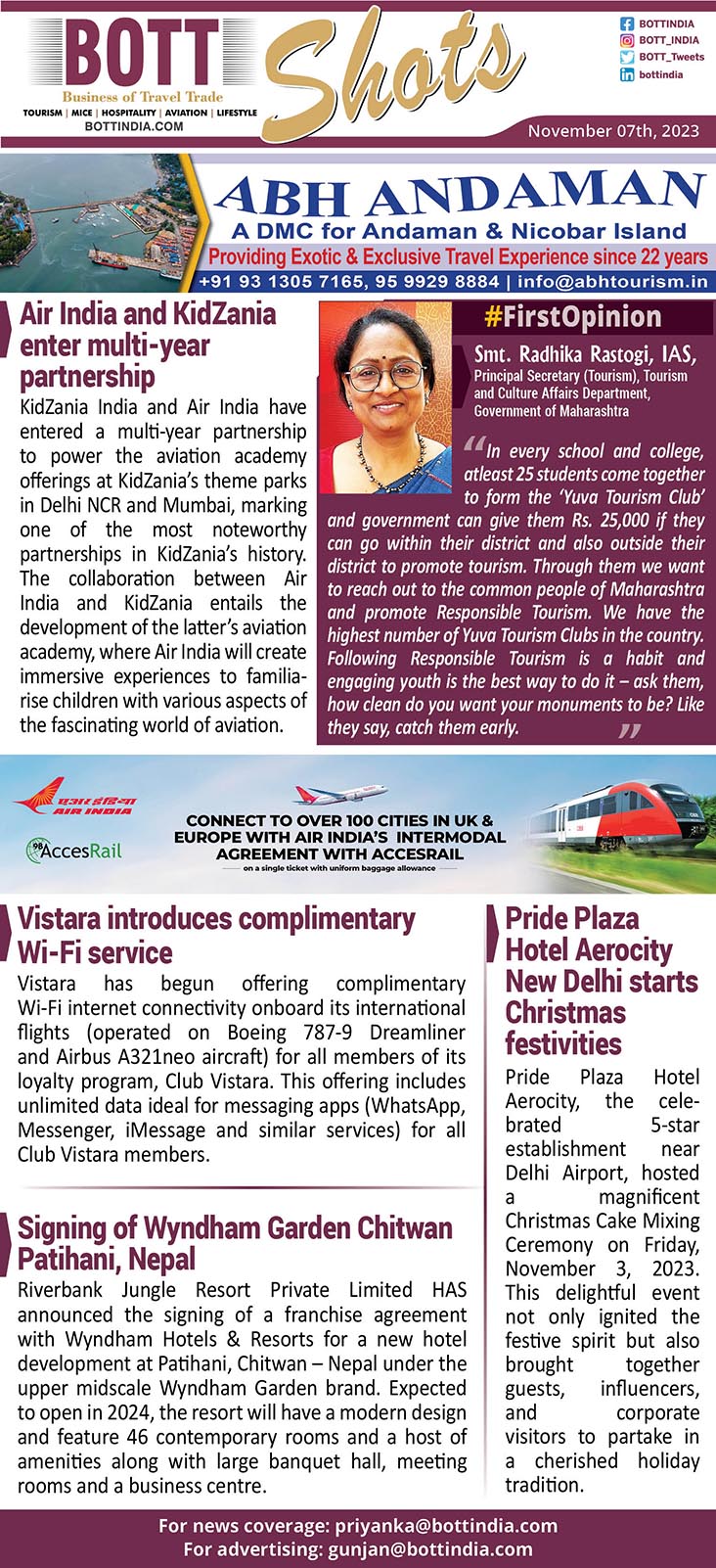 Air India and KidZania enter multi-year partnership
KidZania India and Air India have entered a multi-year partnership to power the aviation academy offerings at KidZania's theme parks in Delhi NCR and Mumbai, marking one of the most noteworthy partnerships in KidZania's history. The collaboration between Air India and KidZania entails the development of the latter's aviation academy, where Air India will create immersive experiences to familiarise children with various aspects of the fascinating world of aviation.
Vistara introduces complimentary Wi-Fi service
Vistara has begun offering complimentary Wi-Fi internet connectivity onboard its international flights (operated on Boeing 787-9 Dreamliner and Airbus A321neo aircraft) for all members of its loyalty program, Club Vistara. This offering includes unlimited data ideal for messaging apps (WhatsApp, Messenger, iMessage and similar services) for all Club Vistara members.
Signing of Wyndham Garden Chitwan Patihani, Nepal
Riverbank Jungle Resort Private Limited HAS announced the signing of a franchise agreement with Wyndham Hotels & Resorts for a new hotel development at Patihani, Chitwan – Nepal under the upper midscale Wyndham Garden brand. Expected to open in 2024, the resort will have a modern design and feature 46 contemporary rooms and a host of amenities along with large banquet hall, meeting rooms and a business centre.
Pride Plaza Hotel Aerocity New Delhi starts Christmas festivities
Pride Plaza Hotel Aerocity, the celebrated 5-star establishment near Delhi Airport, hosted a magnificent Christmas Cake Mixing Ceremony on Friday, November 3, 2023. This delightful event not only ignited the festive spirit but also brought together guests, influencers, and corporate visitors to partake in a cherished holiday tradition.
#FirstOpinion
"In every school and college, atleast 25 students come together to form the 'Yuva Tourism Club' and government can give them Rs. 25,000 if they can go within their district and also outside their district to promote tourism. Through them we want to reach out to the common people of Maharashtra and promote Responsible Tourism. We have the highest number of Yuva Tourism Clubs in the country. Following Responsible Tourism is a habit and engaging youth is the best way to do it – ask them, how clean do you want your monuments to be? Like they say, catch them early."
Smt. Radhika Rastogi, IAS,
Principal Secretary (Tourism), Tourism and Culture Affairs Department, Government of Maharashtra
Follow BOTT on LinkedIn, Facebook, Twitter & Instagram
Subscribe BOTT Channels on WhatsApp & Telegram to receive real time updates