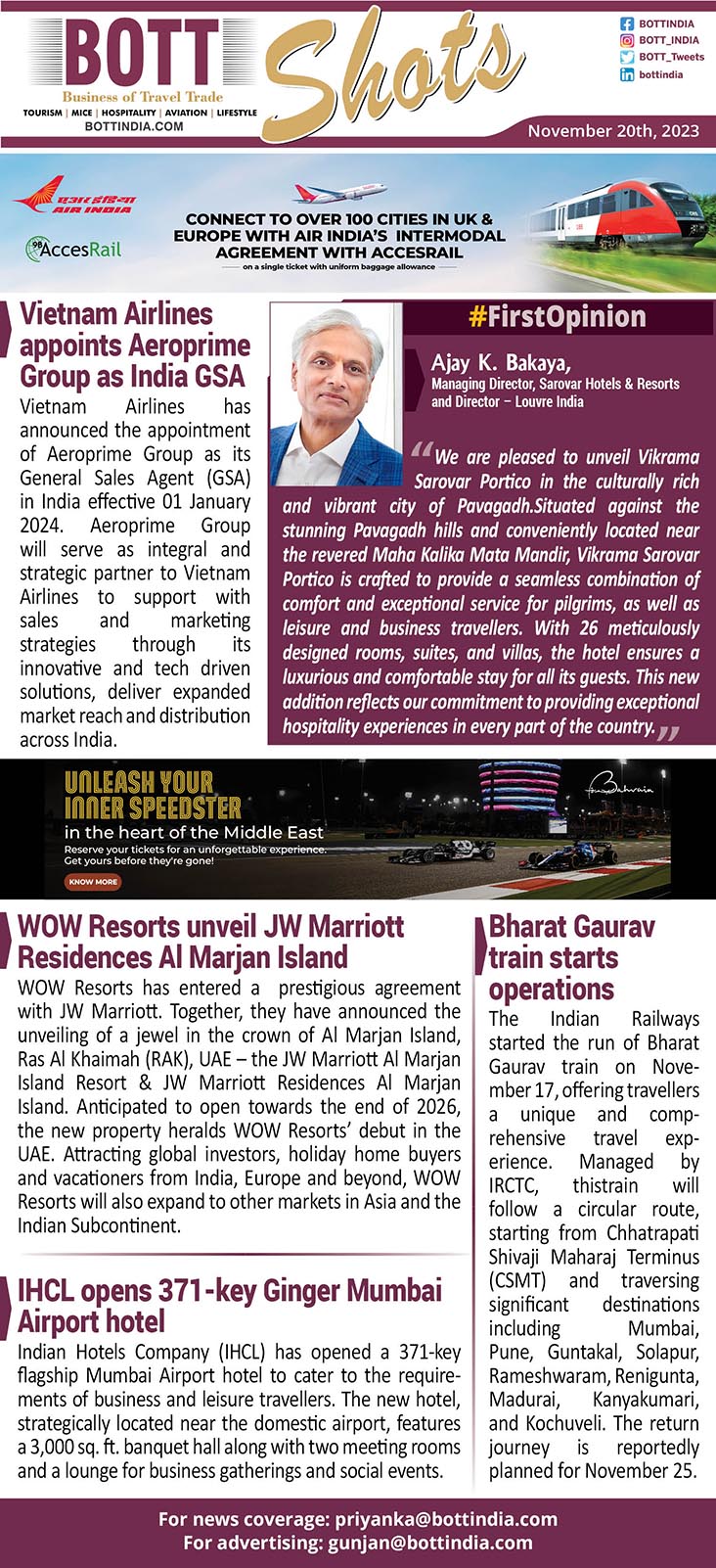 Vietnam Airlines appoints Aeroprime Group as India GSA
Vietnam Airlines has announced the appointment of Aeroprime Group as its General Sales Agent (GSA) in India effective 01 January 2024. Aeroprime Group will serve as an integral and strategic partner to Vietnam Airlines to support with sales and marketing strategies through its innovative and tech-driven solutions, and deliver expanded market reach and distribution across India.
WOW Resorts unveil JW Marriott Residences Al Marjan Island
WOW Resorts has entered a prestigious agreement with JW Marriott. Together, they have announced the unveiling of a jewel in the crown of Al Marjan Island, Ras Al Khaimah (RAK), UAE – the JW Marriott Al Marjan Island Resort & JW Marriott Residences Al Marjan Island. Anticipated to open towards the end of 2026, the new property heralds WOW Resorts' debut in the UAE.Attracting global investors, holiday home buyers and vacationers from India, Europe and beyond, WOW Resorts will also expand to other markets in Asia and the Indian Subcontinent.
IHCL opens 371-key Ginger Mumbai Airport hotel
Indian Hotels Company (IHCL) has opened a 371-key flagship Mumbai Airport hotel to cater to the requirements of business and leisure travellers. The new hotel, strategically located near the domestic airport, features a 3,000 sq. ft. banquet hall along with two meeting rooms and a lounge for business gatherings and social events.
Bharat Gaurav train starts operations
The Indian Railways started the run of Bharat Gaurav train on November 17, offering travellers a unique and comprehensive travel experience. Managed by IRCTC, this train will follow a circular route, starting from Chhatrapati Shivaji Maharaj Terminus (CSMT) and traversing significant destinations including Mumbai, Pune, Guntakal, Solapur, Rameshwaram, Renigunta, Madurai, Kanyakumari, and Kochuveli. The return journey is reportedly planned for November 25.
#FirstOpinion
"We are pleased to unveil Vikrama Sarovar Portico in the culturally rich and vibrant city of Pavagadh. Situated against the stunning Pavagadh hills and conveniently located near the revered Maha Kalika Mata Mandir, Vikrama Sarovar Portico is crafted to provide a seamless combination of comfort and exceptional service for pilgrims, as well as leisure and business travellers. With 26 meticulously designed rooms, suites, and villas, the hotel ensures a luxurious and comfortable stay for all its guests. This new addition reflects our commitment to providing exceptional hospitality experiences in every part of the country."
Ajay K. Bakaya,
Managing Director, Sarovar Hotels & Resorts and Director – Louvre India
Follow BOTT on LinkedIn, Facebook, Twitter & Instagram
Subscribe BOTT Channels on WhatsApp & Telegram to receive real time updates