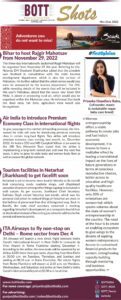 Bihar to host Rajgir Mahotsav from November 29, 2022
The three-day internationally acclaimed Rajgir Mahotsav will be organised from November 29 this year. Referring to this, Nalanda DM Shashank Shubhankar added that the schedule was finalised in consultation with the state tourism development department, which is also the co-host of Mahotsav. He further added that the artist names would also soon be announced by the tourism department. The DM, while revealing details of the events that will be included in this year's Mahotsav, stated that the seven-day 'Gram Shri Mela', is aimed at promoting rural art, which would also be organised within the Mahotsav area. He informed that book fair, food mela, fun zone, agriculture mela would also be organised.
Air India to introduce Premium Economy Class in international flights
To give passengers the comfort of travelling overseas, the Tata-owned Air India will soon be introducing premium economy class in certain long-haul flights. Tata airline will introduce premium economy class starting next month, i.e., December 2022. Air India's CEO and MD Campbell Wilson at an event by the JRD Tata Memorial Trust stated that the airline is implementing a long-term revival plan and over the next five years, it aims to grow its wide-body and narrow-body fleet as well as expand the global network.
Tourism facilities in Netarhat (Jharkhand) to get facelift soon
Netarhat is set to become more tourist-friendly as its overall look comprising roads, roadside shops, and dilapidated unusable structures among other things is going to be tuned in with nature. As per sources, Jharkhand Chief Secretary Sukhdev Singh visited Netarhat last month, which was his personal visit when he noticed things at Netarhat are more in the fashion of piecemeal than that of integrated way. Back in Ranchi, the state chief secretary convened a meeting regarding Netarhat's development as a composite tourist hub or destination instead of becoming just a tourist address to the sunset and sunrise points.
ITA Airways to fly non-stop on Delhi – Rome sector from Dec 4
ITA Airways will launch a new direct flight between Indira Gandhi International Airport in New Delhi to Leonardo da Vinci Airport in Rome Fiumicino starting December 4. According to the airline, the new route will be operated by an Airbus A330 three times per week, departing from New Delhi at 03:50 a.m. on Tuesdays, Thursdays, and Sundays and landing at 08:10 a.m. in Rome Fiumicino. The return flights from Rome Fiumicino will depart at 2:10 p.m. on Mondays, Wednesdays, and Saturdays and arrive at New Delhi's Indira Gandhi International Airport at 02:00 a.m. local time.
#FirstOpinion
"Women entrepreneurship offers a viable pathway to create jobs and fuel India's economic development. It is known to have a multiplier effect by leading a translational impact on the lives of future generations in terms of conscious reproductive choices, better access to education and high-quality healthcare facilities. However, only 20% of enterprises are
women-led, which speaks volumes about the state of women's entrepreneurship in
the country. The need of the hour is to create an enabling ecosystem to give wings to the dreams of aspiring women entrepreneurs. Access to customised financial products for women, strengthening capacity building through mentoring and business opportunities."
Priyanka Chaudhary Raina, CoFounder, maate (a sustainable vegan baby-care brand)
Follow BOTT on LinkedIn, Facebook, Twitter & Instagram
Subscribe BOTT Channels on WhatsApp & Telegram to receive real time updates