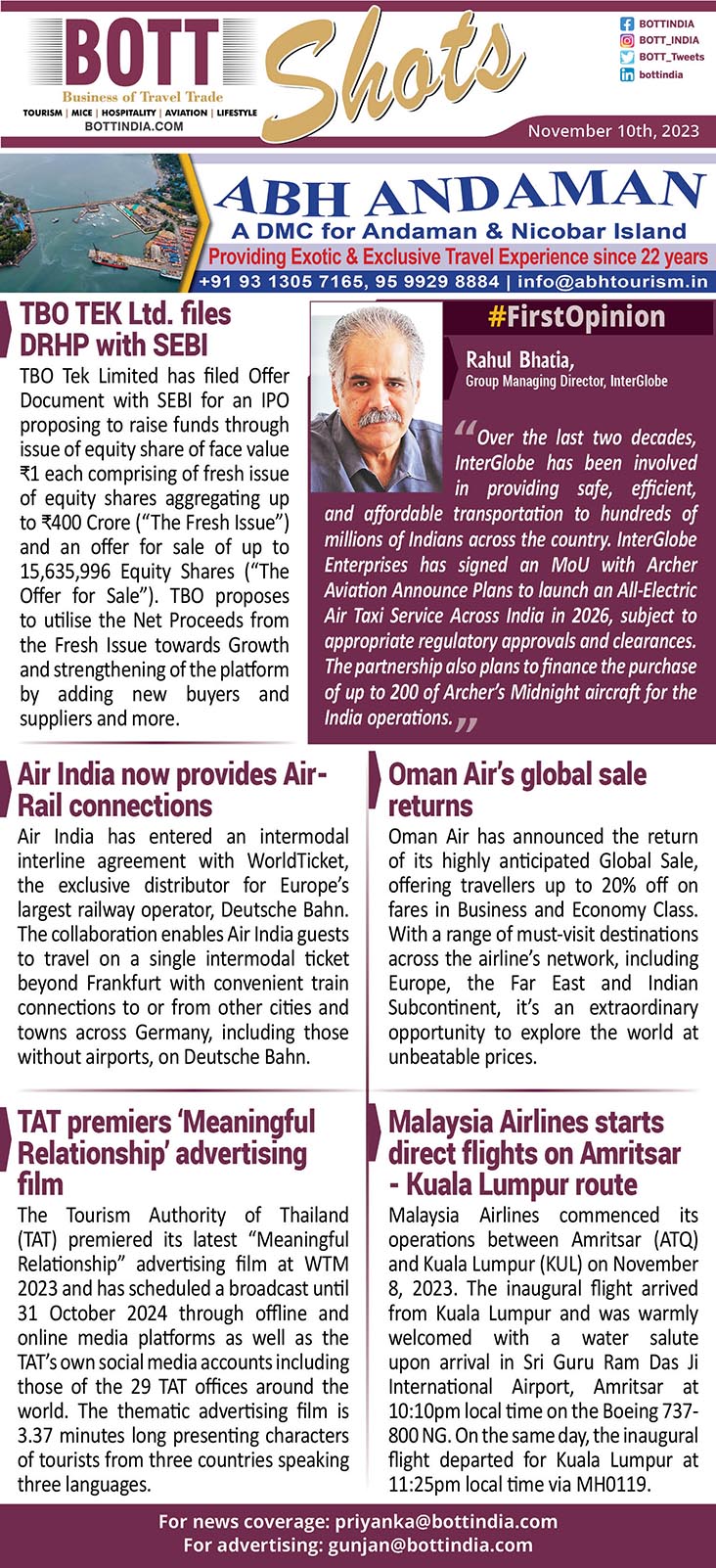 TBO TEK Ltd. files DRHP with SEBI
TBO Tek Limited has filed Offer Document with SEBI for an IPO proposing to raise funds through issue of equity share of face value ₹ 1 each comprising of fresh issue of equity shares aggregating up to Rs. 400 Crore ("The Fresh Issue") and an offer for sale of up to 15,635,996 Equity Shares ("The Offer for Sale"). TBO proposes to utilise the Net Proceeds from the Fresh Issue towards Growth and strengthening of the platform by adding new buyers and suppliers and more.
Air India now provides Air-Rail connections
Air India has entered an intermodal interline agreement with WorldTicket, the exclusive distributor for Europe's largest railway operator, Deutsche Bahn. The collaboration enables Air India guests to travel on a single intermodal ticket beyond Frankfurt with convenient train connections to or from other cities and towns across Germany, including those without airports, on Deutsche Bahn.
TAT premiers 'Meaningful Relationship' advertising film
The Tourism Authority of Thailand (TAT) premiered its latest "Meaningful Relationship" advertising film at WTM 2023 and has scheduled a broadcast until 31 October 2024 through offline and online media platforms as well as the TAT's own social media accounts including those of the 29 TAT offices around the world. The thematic advertising film is 3.37 minutes long presenting characters of tourists from three countries speaking three languages.
Oman Air's global sale returns
Oman Air has announced the return of its highly anticipated Global Sale, offering travellers up to 20% off on fares in Business and Economy Class. With a range of must-visit destinations across the airline's network, including Europe, the Far East and Indian Subcontinent, it's an extraordinary opportunity to explore the world at unbeatable prices.
Malaysia Airlines starts direct flights on Amritsar – Kuala Lumpur route
Malaysia Airlines commenced its operations between Amritsar (ATQ) and Kuala Lumpur (KUL) on November 8, 2023. The inaugural flight arrived from Kuala Lumpur and was warmly welcomed with a water salute upon arrival in Sri Guru Ram Das Ji International Airport, Amritsar at 10:10 pm local time on the Boeing 737-800 NG. The inaugural flight departed for Kuala Lumpur on the same day at 11:25 pm local time via MH0119.
#FirstOpinion
"Over the last two decades, InterGlobe has been involved in providing safe, efficient, and affordable transportation to hundreds of millions of Indians across the country. InterGlobe Enterprises has signed an MoU with Archer Aviation to Announce Plans to launch an All-Electric Air Taxi Service Across India in 2026, subject to appropriate regulatory approvals and clearances.The partnership also plans to finance the purchase of up to 200 of Archer's Midnight aircraft for the India operations."
Rahul Bhatia,
Group Managing Director, InterGlobe
Follow BOTT on LinkedIn, Facebook, Twitter & Instagram
Subscribe BOTT Channels on WhatsApp & Telegram to receive real time updates