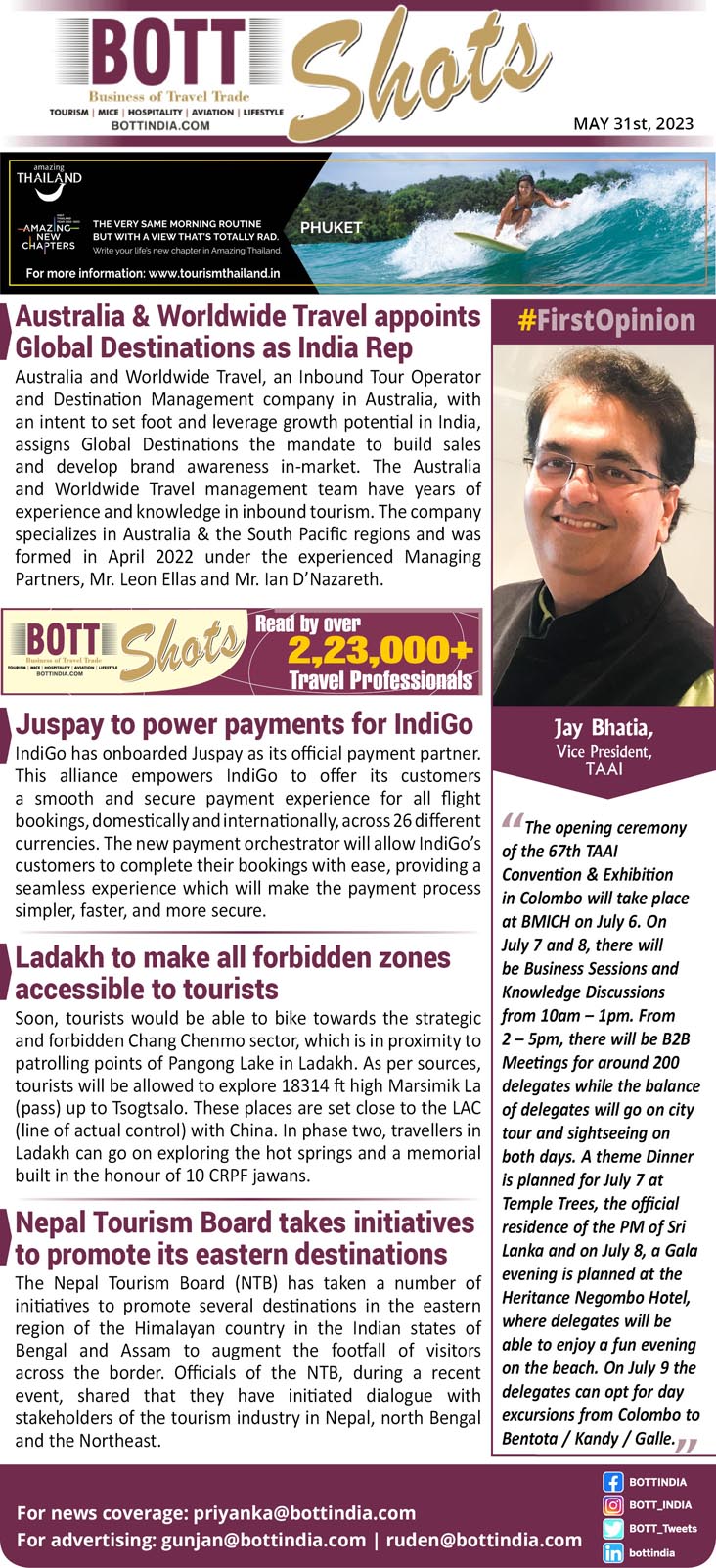 Australia & Worldwide Travel appoints Global Destinations as India Rep
Australia and Worldwide Travel, an Inbound Tour Operator and Destination Management company in Australia, with an intent to set foot and leverage growth potential in India, assigns Global Destinations the mandate to build sales and develop brand awareness in-market. The Australia and Worldwide Travel management team have years of experience and knowledge in inbound tourism. The company specializes in Australia & the South Pacific regions and was formed in April 2022 under the experienced Managing Partners, Mr. Leon Ellas and Mr. Ian D'Nazareth.
Juspay to power payments for IndiGo
IndiGo has onboardedJuspay as its official payment partner. This alliance empowers IndiGo to offer its customers a smooth and secure payment experience for all flight bookings, domestically and internationally, across 26 different currencies. The new payment orchestrator will allow IndiGo's customers to complete their bookings with ease, providing a seamless experience which will make the payment process simpler, faster, and more secure.
Ladakh to make all forbidden zones accessible to tourists
Soon, tourists would be able to bike towards the strategic and forbidden Chang Chenmo sector, which is in proximity to patrolling points of Pangong Lake in Ladakh. As per sources, tourists will be allowed to explore 18314 ft high Marsimik La (pass) up to Tsogtsalo. These places are set close to the LAC (line of actual control) with China. In phase two, travellers in Ladakh can go on exploring the hot springs and a memorial built in the honour of 10 CRPF jawans.
Nepal Tourism Board takes initiatives to promote its eastern destinations
The Nepal Tourism Board (NTB) has taken a number of initiatives to promote several destinations in the eastern region of the Himalayan country in the Indian states of Bengal and Assam to augment the footfall of visitors across the border. Officials of the NTB, during a recent event, shared that they have initiated dialogue with stakeholders of the tourism industry in Nepal, north Bengal and the Northeast.
FIRST OPINION
"The opening ceremony of the 67th TAAI Convention & Exhibition in Colombo will take place at BMICH on July 6. On July 7 and 8, there will be Business Sessions and Knowledge Discussions from 10am – 1pm. From 2 – 5pm, there will be B2B Meetings for around 200 delegates while the balance of delegates will go on city tour and sightseeing on both days. A theme Dinner is planned for July 7 at Temple Trees, the official residence of the PM of Sri Lanka and on July 8, a Gala evening is planned at the Heritance Negombo Hotel, where delegates will be able to enjoy a fun evening on the beach. On July 9 the delegates can opt for day excursions from Colombo to Bentota / Kandy / Galle."
Jay Bhatia, Vice President, TAAI
Follow BOTT on LinkedIn, Facebook, Twitter & Instagram
Subscribe BOTT Channels on WhatsApp & Telegram to receive real time updates