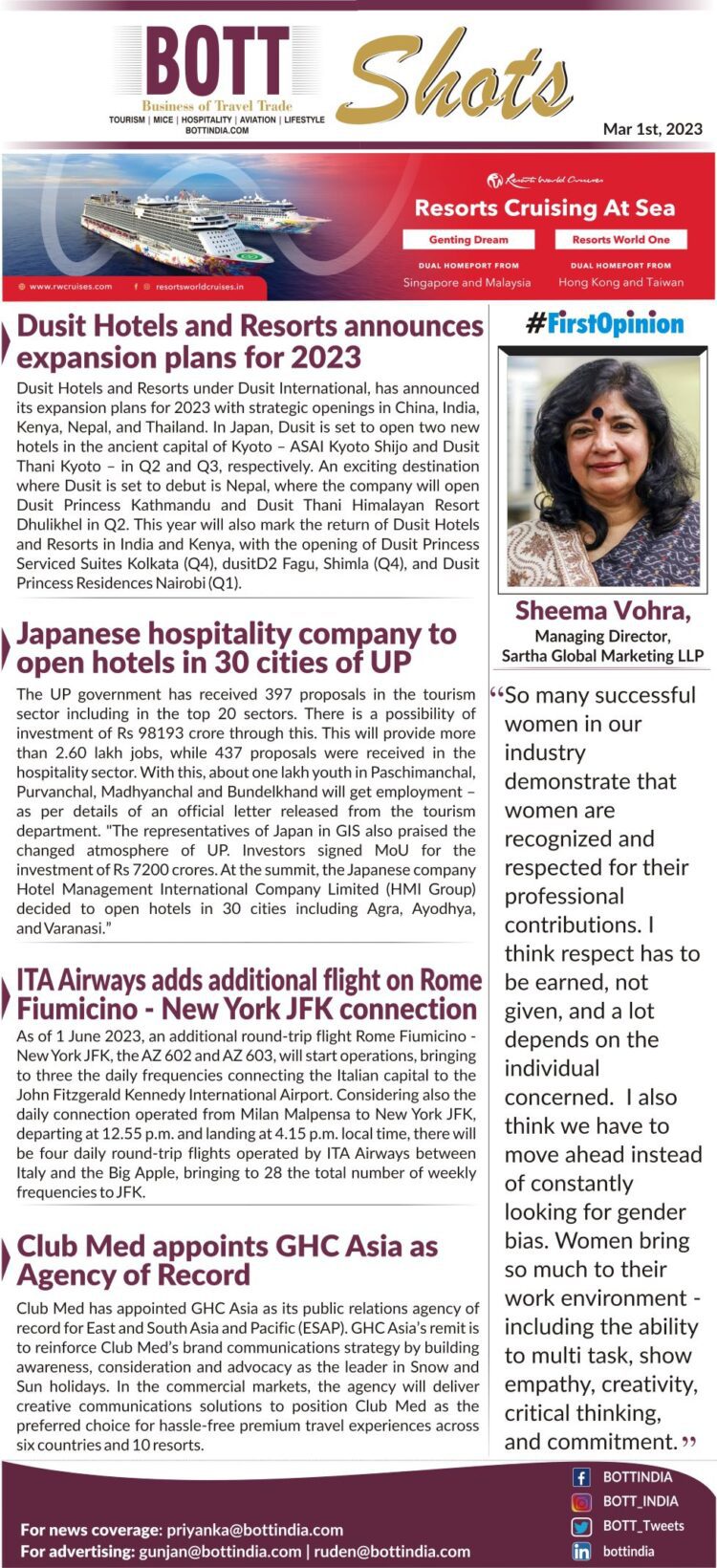 Dusit Hotels and Resorts announces expansion plans for 2023
Dusit Hotels and Resorts under Dusit International, has announced its expansion plans for 2023 with strategic openings in China, India, Kenya, Nepal, and Thailand. In Japan, Dusit is set to open two new hotels in the ancient capital of Kyoto – ASAI Kyoto Shijo and Dusit Thani Kyoto – in Q2 and Q3, respectively. An exciting destination where Dusit is set to debut is Nepal, where the company will open Dusit Princess Kathmandu and Dusit Thani Himalayan Resort Dhulikhel in Q2. This year will also mark the return of Dusit Hotels and Resorts in India and Kenya, with the opening of Dusit Princess Serviced Suites Kolkata (Q4), dusitD2 Fagu, Shimla (Q4), and Dusit Princess Residences Nairobi (Q1).
Japanese hospitality company to open hotels in 30 cities of UP
The UP government has received 397 proposals in the tourism sector including in the top 20 sectors. There is a possibility of investment of Rs 98193 crore through this. This will provide more than 2.60 lakh jobs, while 437 proposals were received in the hospitality sector. With this, about one lakh youth in Paschimanchal, Purvanchal, Madhyanchal and Bundelkhand will get employment – as per details of an official letter released from the tourism department. "The representatives of Japan in GIS also praised the changed atmosphere of UP. Investors signed MoU for the investment of Rs 7200 crores. At the summit, the Japanese company Hotel Management International Company Limited (HMI Group) decided to open hotels in 30 cities including Agra, Ayodhya, and Varanasi."
ITA Airways adds additional flight on Rome Fiumicino – New York JFK connection
As of 1 June 2023, an additional round-trip flight Rome Fiumicino – New York JFK, the AZ 602 and AZ 603, will start operations, bringing to three the daily frequencies connecting the Italian capital to the John Fitzgerald Kennedy International Airport. Considering also the daily connection operated from Milan Malpensa to New York JFK, departing at 12.55 p.m. and landing at 4.15 p.m. local time, there will be four daily round-trip flights operated by ITA Airways between Italy and the Big Apple, bringing to 28 the total number of weekly frequencies to JFK.
Club Med appoints GHC Asia as Agency of Record
Club Med has appointed GHC Asia as its public relations agency of record for East and South Asia and Pacific (ESAP). GHC Asia's remit is to reinforce Club Med's brand communications strategy by building awareness, consideration and advocacy as the leader in Snow and Sun holidays. In the commercial markets, the agency will deliver creative communications solutions to position Club Med as the preferred choice for hassle-free premium travel experiences across six countries and 10 resorts.
#FirstOpinion
"So many successful women in our industry demonstrate that women are recognized and respected for their professional contributions. I think respect has to be earned, not given, and a lot depends on the individual concerned.  I also think we have to move ahead instead of constantly looking for gender bias. Women bring so much to their work environment – including the ability to multi task, show empathy, creativity, critical thinking, and commitment."
Sheema Vohra, Managing Director, Sartha Global Marketing LLP
Follow BOTT on LinkedIn, Facebook, Twitter & Instagram
Subscribe BOTT Channels on WhatsApp & Telegram to receive real time updates