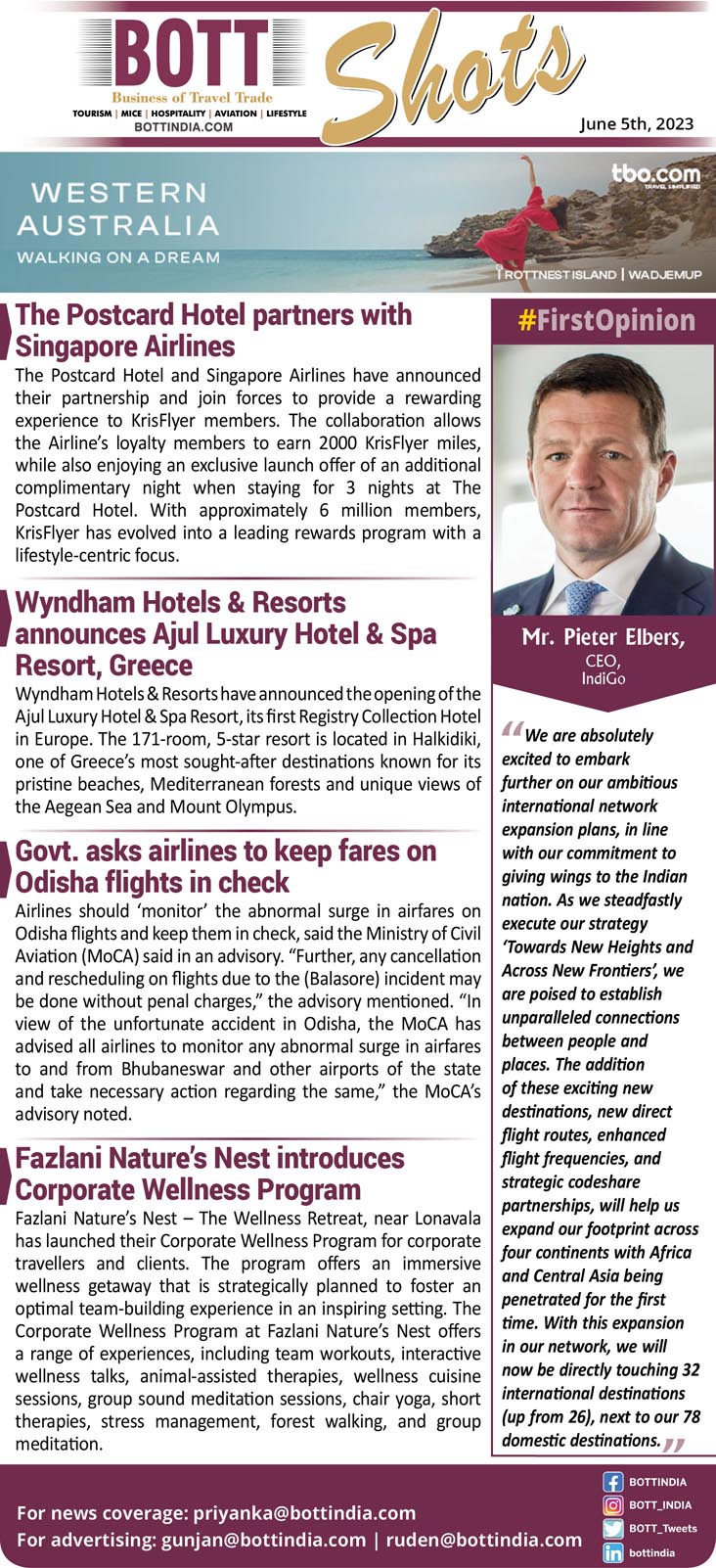 The Postcard Hotel partners with Singapore Airlines
The Postcard Hotel and Singapore Airlines have announced their partnership and join forces to provide arewarding experience to KrisFlyer members. The collaboration allows the Airline's loyalty members to earn 2000 KrisFlyer miles,while also enjoying an exclusive launch offer of an additional complimentary night when staying for 3 nights at The Postcard Hotel. With approximately 6 million members,KrisFlyer has evolved into a leading rewards program with a lifestyle-centric focus.
Wyndham Hotels & Resorts announces Ajul Luxury Hotel & Spa Resort, Greece
Wyndham Hotels & Resorts have announced the opening of the Ajul Luxury Hotel & Spa Resort, its first Registry Collection Hotel in Europe. The 171-room, 5-star resort is located in Halkidiki, one of Greece's most sought-after destinations known for its pristine beaches, Mediterranean forests and unique views of the Aegean Sea and Mount Olympus.
Govt. asks airlines to keep fares on Odisha flights in check
Airlines should 'monitor' the abnormal surge in airfares on Odisha flights and keep them in check, said the Ministry of Civil Aviation (MoCA) said in an advisory. "Further, any cancellation and rescheduling on flights due to the (Balasore) incident may be done without penal charges," the advisory mentioned. "In view of the unfortunate accident in Odisha, the MoCA has advised all airlines to monitor any abnormal surge in airfares to and from Bhubaneswar and other airports of the state and take necessary action regarding the same," the MoCA's advisory noted.
Fazlani Nature's Nest introduces Corporate Wellness Program
Fazlani Nature's Nest – TheWellness Retreat, near Lonavala has launched their Corporate Wellness Program for corporate travellers and clients. The program offers an immersive wellness getaway that is strategically planned to foster an optimal team-building experience in an inspiring setting.The Corporate Wellness Program at Fazlani Nature's Nest offers a range of experiences, including team workouts, interactive wellness talks, animal-assisted therapies, wellness cuisine sessions, group sound meditation sessions, chair yoga, short therapies, stress management, forest walking, and group meditation.
#FirstOpinion
"We are absolutely excited to embark further on our ambitious international network expansion plans, in line with our commitment to giving wings to the Indian nation. As we steadfastly execute our strategy 'Towards New Heights and Across New Frontiers', we are poised to establish unparalleled connections between people and places. The addition of these exciting new destinations, new direct flight routes, enhanced flight frequencies, and strategic codeshare partnerships, will help us expand our footprint across four continents with Africa and Central Asia being penetrated for the first time. With this expansion in our network, we will now be directly touching 32 international destinations (up from 26), next to our 78 domestic destinations."
Follow BOTT on LinkedIn, Facebook, Twitter & Instagram
Subscribe BOTT Channels on WhatsApp & Telegram to receive real time updates