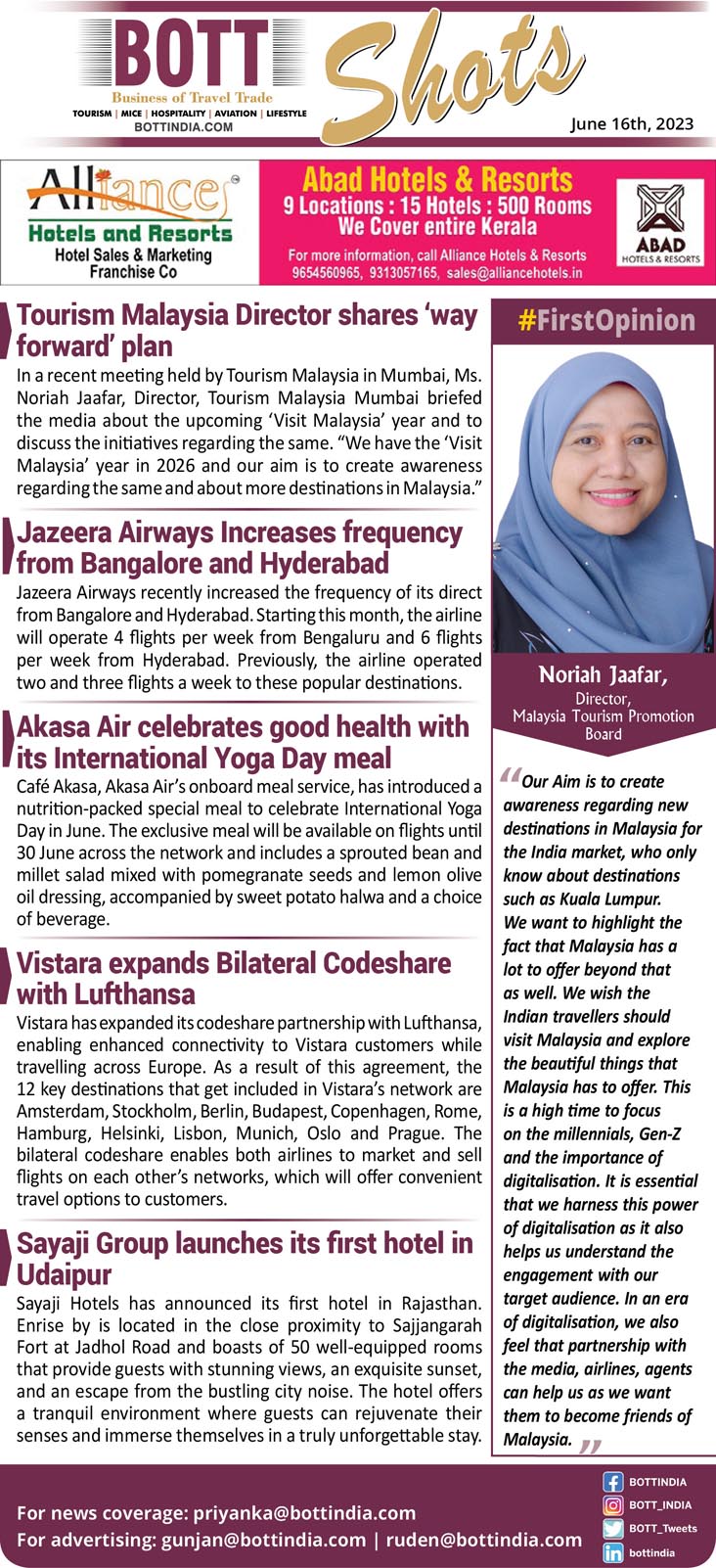 Tourism Malaysia Director shares 'way forward' plan
In a recent meeting held by Tourism Malaysia in Mumbai, Ms. Noriah Jaafar, Director, Tourism Malaysia Mumbai briefed the media about the upcoming 'Visit Malaysia' year and to discuss the initiatives regarding the same. "We have the 'Visit Malaysia' year in 2026 and our aim is to create awareness regarding the same and about more destinations in Malaysia."
Jazeera Airways Increases frequency from Bangalore and Hyderabad
Jazeera Airways recently increased the frequency of its direct from Bangalore and Hyderabad. Starting this month, the airline will operate 4 flights per week from Bengaluru and 6 flights per week from Hyderabad. Previously, the airline operated two and three flights a week to these popular destinations.
Akasa Air celebrates good health with its International Yoga Day meal
Café Akasa, Akasa Air's onboard meal service, has introduced a nutrition-packed special meal to celebrate International Yoga Day in June. The exclusive meal will be available on flights until 30 June across the network and includes a sprouted bean and millet salad mixed with pomegranate seeds and lemon olive oil dressing, accompanied by sweet potato halwa and a choice of beverage.
Vistara expands Bilateral Codeshare with Lufthansa
Vistarahas expanded its codeshare partnership with Lufthansa, enabling enhanced connectivity to Vistara customers while travelling across Europe. As a result of this agreement, the 12 key destinations that get included in Vistara's network are Amsterdam, Stockholm, Berlin, Budapest, Copenhagen, Rome, Hamburg, Helsinki, Lisbon, Munich, Oslo and Prague. The bilateral codeshare enables both airlines to market and sell flights on each other's networks, which will offer convenient travel options to customers.
Sayaji Group launches its first hotel in Udaipur
Sayaji Hotels has announced its first hotel in Rajasthan. Enrise by is located in the close proximity to Sajjangarah Fort at Jadhol Road and boasts of 50 well-equipped rooms that provide guests with stunning views, an exquisite sunset, and an escape from the bustling city noise. The hotel offers a tranquil environment where guests can rejuvenate their senses and immerse themselves in a truly unforgettable stay.
#FirstOpinion
"Our Aim is to create awareness regarding new destinations in Malaysia for the India market, who only know about destinations such as Kuala Lumpur. We want to highlight the fact that Malaysia has a lot to offer beyond that as well. We wish the Indian travellers should visit Malaysia and explore the beautiful things that Malaysia has to offer. This is a high time to focus on the millennials, Gen-Z and the importance of digitalisation. It is essential that we harness this power of digitalisation as it also helps us understand the engagement with our target audience. In an era of digitalisation, we also feel that partnership with the media, airlines, agents can help us as we want them to become friends of Malaysia."
Noriah Jaafar, Director, Malaysia Tourism Promotion Board
Follow BOTT on LinkedIn, Facebook, Twitter & Instagram
Subscribe BOTT Channels on WhatsApp & Telegram to receive real time updates