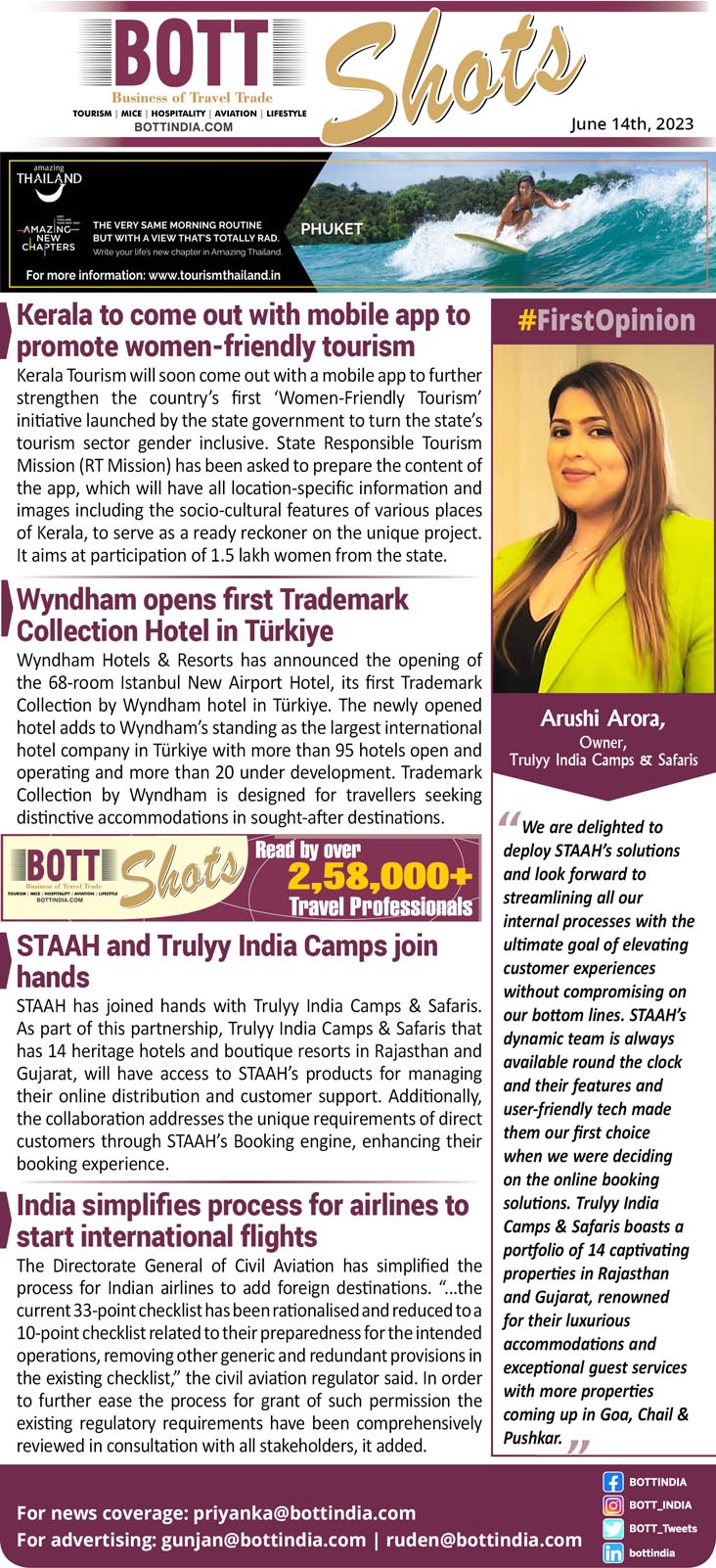 Kerala to come out with mobile app to promote women-friendly tourism
Kerala Tourism will soon come out with a mobile app to further strengthen the country's first 'Women-Friendly Tourism' initiative launched by the state government to turn the state's tourism sector gender inclusive. State Responsible Tourism Mission (RT Mission) has been asked to prepare the content of the app, which will have all location-specific information and images including the socio-cultural features of various places of Kerala, to serve as a ready reckoner on the unique project. It aims at participation of 1.5 lakh women from the state.
Wyndham opens first Trademark Collection Hotel in Türkiye
Wyndham Hotels & Resorts has announced the opening of the 68-room Istanbul New Airport Hotel, its first Trademark Collection by Wyndham hotel in Türkiye. The newly opened hotel adds to Wyndham's standing as the largest international hotel company in Türkiye with more than 95 hotels open and operating and more than 20 under development. Trademark Collection by Wyndham is designed for travellers seeking distinctive accommodations in sought-after destinations.
STAAH and Trulyy India Camps join hands
STAAH has joined hands with Trulyy India Camps & Safaris. As part of this partnership, Trulyy India Camps & Safaris that has 14 heritage hotels and boutique resorts in Rajasthan and Gujarat, will have access to STAAH's products for managing their online distribution and customer support. Additionally, the collaboration addresses the unique requirements of direct customers through STAAH's Booking engine, enhancing their booking experience.
India simplifies process for airlines to start international flights
The Directorate General of Civil Aviation has simplified the process for Indian airlines to add foreign destinations. "…the current 33-point checklist has been rationalised and reduced to a 10-point checklist related to their preparedness for the intended operations, removing other generic and redundant provisions in the existing checklist," the civil aviation regulator said. In order to further ease the process for grant of such permission the existing regulatory requirements have been comprehensively reviewed in consultation with all stakeholders, it added.
#FirstOpinion
"We are delighted to deploy STAAH's solutions and look forward to streamlining all our internal processes with the ultimate goal of elevating customer experiences without compromising on our bottom lines. STAAH's dynamic team is always available round the clock and their features and user-friendly tech made them our first choice when we were deciding on the online booking solutions. Trulyy India Camps & Safaris boasts a portfolio of 14 captivating properties in Rajasthan and Gujarat, renowned for their luxurious accommodations and exceptional guest services with more properties coming up in Goa, Chail&Pushkar."
-Arushi Arora, Owner, Trulyy India Camps & Safaris
Follow BOTT on LinkedIn, Facebook, Twitter & Instagram
Subscribe BOTT Channels on WhatsApp & Telegram to receive real time updates