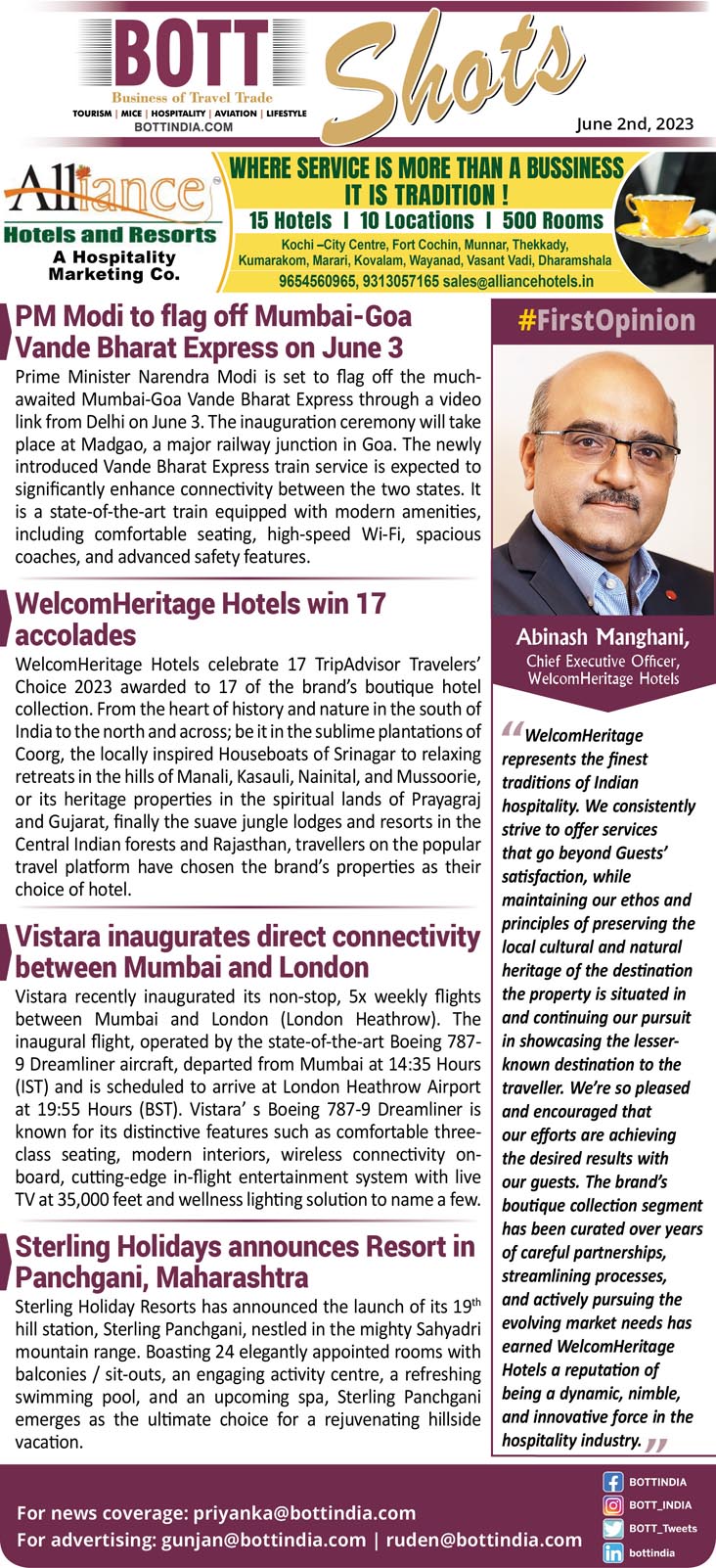 PM Modi to flag off Mumbai-Goa Vande Bharat Express on June 3
Prime Minister Narendra Modi is set to flag off the much-awaited Mumbai-Goa Vande Bharat Express through a video link from Delhi on June 3. The inauguration ceremony will take place at Madgao, a major railway junction in Goa. The newly introduced Vande Bharat Express train service is expected to significantly enhance connectivity between the two states. It is a state-of-the-art train equipped with modern amenities, including comfortable seating, high-speed Wi-Fi, spacious coaches, and advanced safety features.
WelcomHeritage Hotels win 17 accolades
WelcomHeritage Hotels celebrate 17 TripAdvisor Travelers' Choice 2023 awarded to 17 of the brand's boutique hotel collection. From the heart of history and nature in the south of India to the north and across; be it in the sublime plantations of Coorg, the locally inspired Houseboats of Srinagar to relaxing retreats in the hills of Manali, Kasauli, Nainital, and Mussoorie, or its heritage properties in the spiritual lands of Prayagraj and Gujarat, finally the suave jungle lodges and resorts in the Central Indian forests and Rajasthan, travellers on the popular travel platform have chosen the brand's properties as their choice of hotel.
Vistara inaugurates direct connectivity between Mumbai and London
Vistara recently inaugurated its non-stop, 5x weekly flights between Mumbai and London (London Heathrow). The inaugural flight, operated by the state-of-the-art Boeing 787-9 Dreamliner aircraft, departed from Mumbai at 14:35 Hours (IST) and is scheduled to arrive at London Heathrow Airport at 19:55 Hours (BST). Vistara' s Boeing 787-9 Dreamliner is known for its distinctive features such as comfortable three-class seating, modern interiors, wireless connectivity on-board, cutting-edge in-flight entertainment system with live TV at 35,000 feet and wellness lighting solution to name a few.
Sterling Holidays announces Resort in Panchgani, Maharashtra 
Sterling Holiday Resorts has announced the launch of its 19th hill station, Sterling Panchgani, nestled in the mighty Sahyadri mountain range. Boasting 24 elegantly appointed rooms with balconies / sit-outs, an engaging activity centre, a refreshing swimming pool, and an upcoming spa, Sterling Panchgani emerges as the ultimate choice for a rejuvenating hillside vacation.
FIRST OPINION
"WelcomHeritage represents the finest traditions of Indian hospitality. We consistently strive to offer services that go beyond Guests' satisfaction, while maintaining our ethos and principles of preserving the local cultural and natural heritage of the destination the property is situated in and continuing our pursuit in showcasing the lesser-known destination to the traveller. We're so pleased and encouraged that our efforts are achieving the desired results with our guests. The brand's boutique collection segment has been curated over years of careful partnerships, streamlining processes, and actively pursuing the evolving market needs has earned WelcomHeritage Hotels a reputation of being a dynamic, nimble, and innovative force in the hospitality industry."
AbinashManghani, Chief Executive Officer, WelcomHeritage Hotels
Follow BOTT on LinkedIn, Facebook, Twitter & Instagram
Subscribe BOTT Channels on WhatsApp & Telegram to receive real time updates