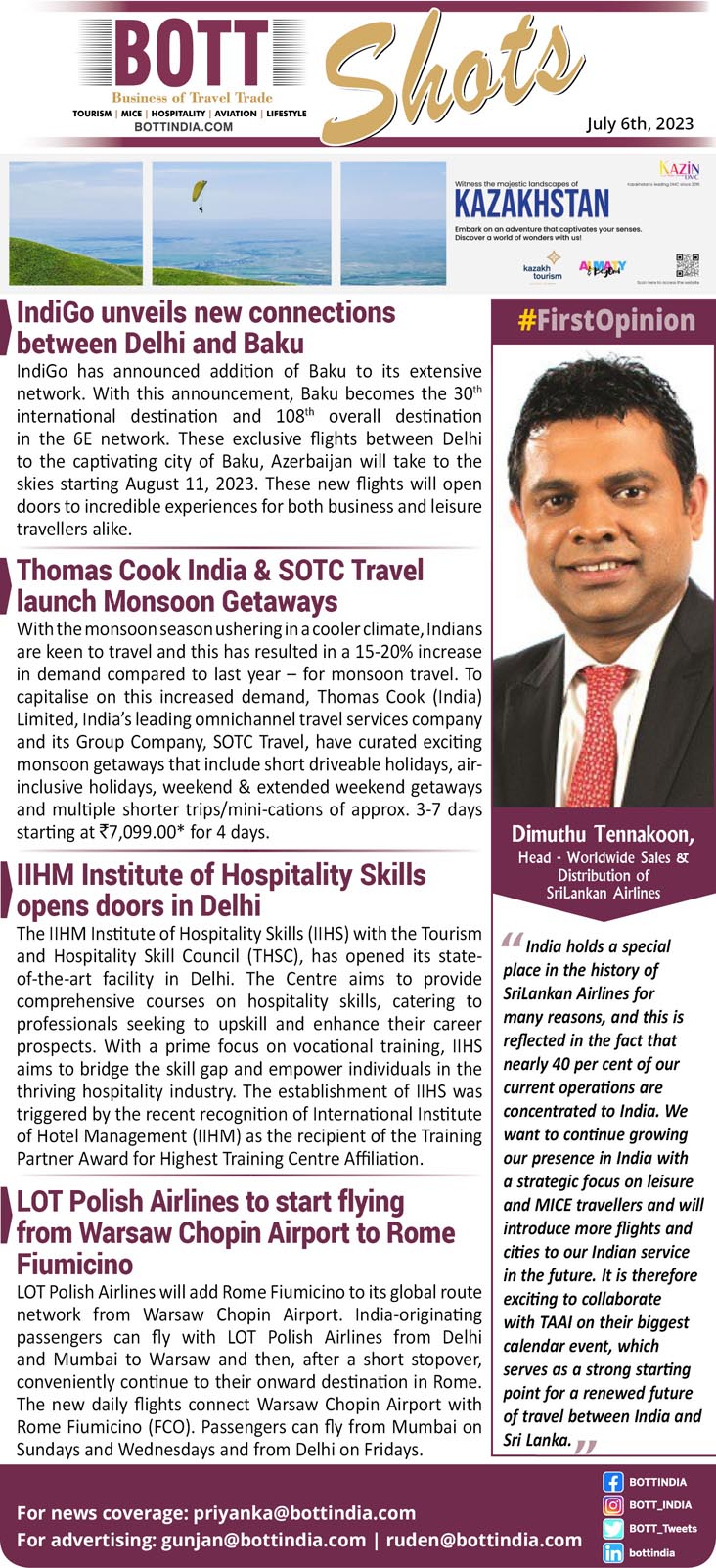 IndiGo unveils new connections between Delhi and Baku
IndiGo has announced addition of Baku to its extensive network. With this announcement, Baku becomes the 30th international destination and 108th overall destination in the 6E network. These exclusive flights between Delhi to the captivating city of Baku, Azerbaijan will take to the skies starting August 11, 2023. These new flights will open doors to incredible experiences for both business and leisure travellers alike.
Thomas Cook India & SOTC Travel launch Monsoon Getaways
With the monsoon season ushering in a cooler climate, Indians are keen to travel and this has resulted in a 15-20% increase in demand compared to last year – for monsoon travel. To capitalise on this increased demand, Thomas Cook (India) Limited, India's leading omnichannel travel services company and its Group Company, SOTC Travel, have curated exciting monsoon getaways that include short driveable holidays, air-inclusive holidays, weekend & extended weekend getaways and multiple shorter trips/mini-cations of approx. 3-7 days starting at Rs. 7,099.00* for 4 days.
IIHM Institute of Hospitality Skills opens doors in Delhi
The IIHM Institute of Hospitality Skills (IIHS) with the Tourism and Hospitality Skill Council (THSC), has opened its state-of-the-art facility in Delhi. The Centre aims to provide comprehensive courses on hospitality skills, catering to professionals seeking to upskill and enhance their career prospects. With a prime focus on vocational training, IIHS aims to bridge the skill gap and empower individuals in the thriving hospitality industry.The establishment of IIHS was triggered by the recent recognition of International Institute of Hotel Management (IIHM) as the recipient of the Training Partner Award for Highest Training Centre Affiliation.
LOT Polish Airlines to start flying from Warsaw Chopin Airport to Rome Fiumicino
LOT Polish Airlines will add Rome Fiumicino to its global route network from Warsaw Chopin Airport. India-originating passengers can fly with LOT Polish Airlines from Delhi and Mumbai to Warsaw and then, after a short stopover, conveniently continue to their onward destination in Rome.The new daily flights connect Warsaw Chopin Airport with Rome Fiumicino (FCO). Passengers can fly from Mumbai on Sundays and Wednesdays and from Delhi on Fridays.
#FirstOpinion
"India holds a special place in the history of SriLankan Airlines for many reasons, and this is reflected in the fact that nearly 40 per cent of our current operations are concentrated to India. We want to continue growing our presence in India with a strategic focus on leisure and MICE travellers and will introduce more flights and cities to our Indian service in the future. It is therefore exciting to collaborate with TAAI on their biggest calendar event, which serves as a strong starting point for a renewed future of travel between India and Sri Lanka."
 DimuthuTennakoon, Head – Worldwide Sales & Distribution of SriLankan Airlines
Follow BOTT on LinkedIn, Facebook, Twitter & Instagram
Subscribe BOTT Channels on WhatsApp & Telegram to receive real time updates