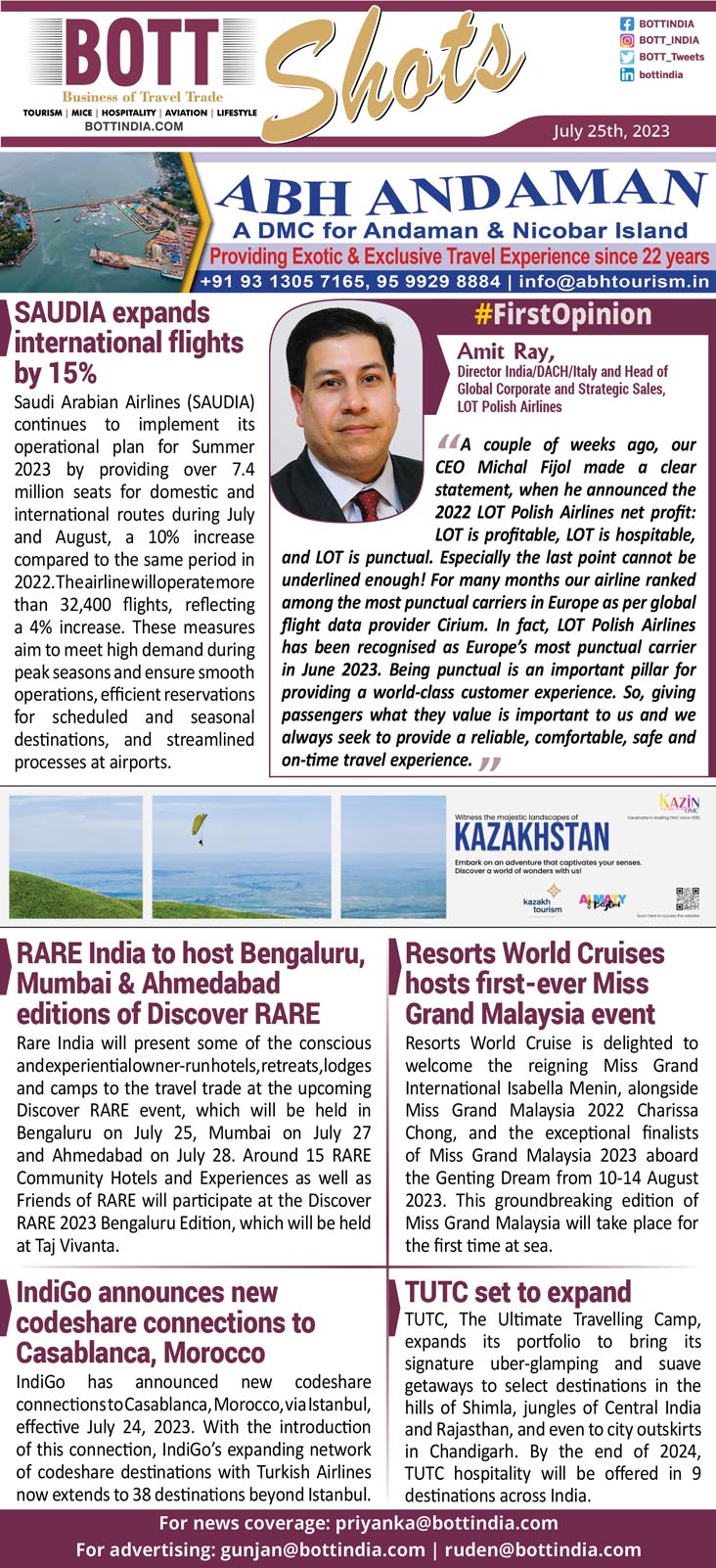 SAUDIA expands international flights by 15%
Saudi Arabian Airlines (SAUDIA) continues to implement its operational plan for Summer 2023 by providing over 7.4 million seats for domestic and international routes during July and August, a 10% increase compared to the same period in 2022. The airline will operate more than 32,400 flights, reflecting a 4% increase. These measures aim to meet high demand during peak seasons and ensure smooth operations, efficient reservations for scheduled and seasonal destinations, and streamlined processes at airports.
RARE India to host Bengaluru, Mumbai & Ahmedabad editions of Discover RARE
Rare India will present some of the conscious and experiential owner-run hotels, retreats, lodges and camps to the travel trade at the upcoming Discover RARE event, which will be held in Bengaluru on July 25, Mumbai on July 27 and Ahmedabad on July 28. Around 15 RARE Community Hotels and Experiences as well as Friends of RARE will participate at the Discover RARE 2023 Bengaluru Edition, which will be held at Taj Vivanta.
IndiGo announces new codeshare connections to Casablanca, Morocco
IndiGo has announced new codeshare connections to Casablanca, Morocco, via Istanbul, effective July 24, 2023. With the introduction of this connection, IndiGo's expanding network of codeshare destinations with Turkish Airlines now extends to 38 destinations beyond Istanbul.
Resorts World Cruises hosts first-ever Miss Grand Malaysia event
Resorts World Cruise is delighted to welcome the reigning Miss Grand International Isabella Menin, alongside Miss Grand Malaysia 2022 Charissa Chong, and the exceptional finalists of Miss Grand Malaysia 2023 aboard the Genting Dream from 10-14 August 2023. This groundbreaking edition of Miss Grand Malaysia will take place for the first time at sea.
TUTC set to expand
TUTC, The Ultimate Travelling Camp, expands its portfolio to bring its signature uber-glamping and suave getaways to select destinations in the hills of Shimla, jungles of Central India and Rajasthan, and even to city outskirts in Chandigarh. By the end of 2024, TUTC hospitality will be offered in 9 destinations across India.
#FirstOpinion
"A couple of weeks ago, our CEO Michal Fijol made a clear statement, when he announced the 2022 LOT Polish Airlines net profit: LOT is profitable, LOT is hospitable, and LOT is punctual. Especially the last point cannot be underlined enough! For many months our airline ranked among the most punctual carriers in Europe as per global flight data provider Cirium. In fact, LOT Polish Airlines has been recognised as Europe's most punctual carrier in June 2023. Being punctual is an important pillar for providing a world-class customer experience. So, giving passengers what they value is important to us and we always seek to provide a reliable, comfortable, safe and on-time travel experience."
Amit Ray, Director India/DACH/Italy and Head of Global Corporate and Strategic Sales, LOT PolishAirlines
Follow BOTT on LinkedIn, Facebook, Twitter & Instagram
Subscribe BOTT Channels on WhatsApp & Telegram to receive real time updates