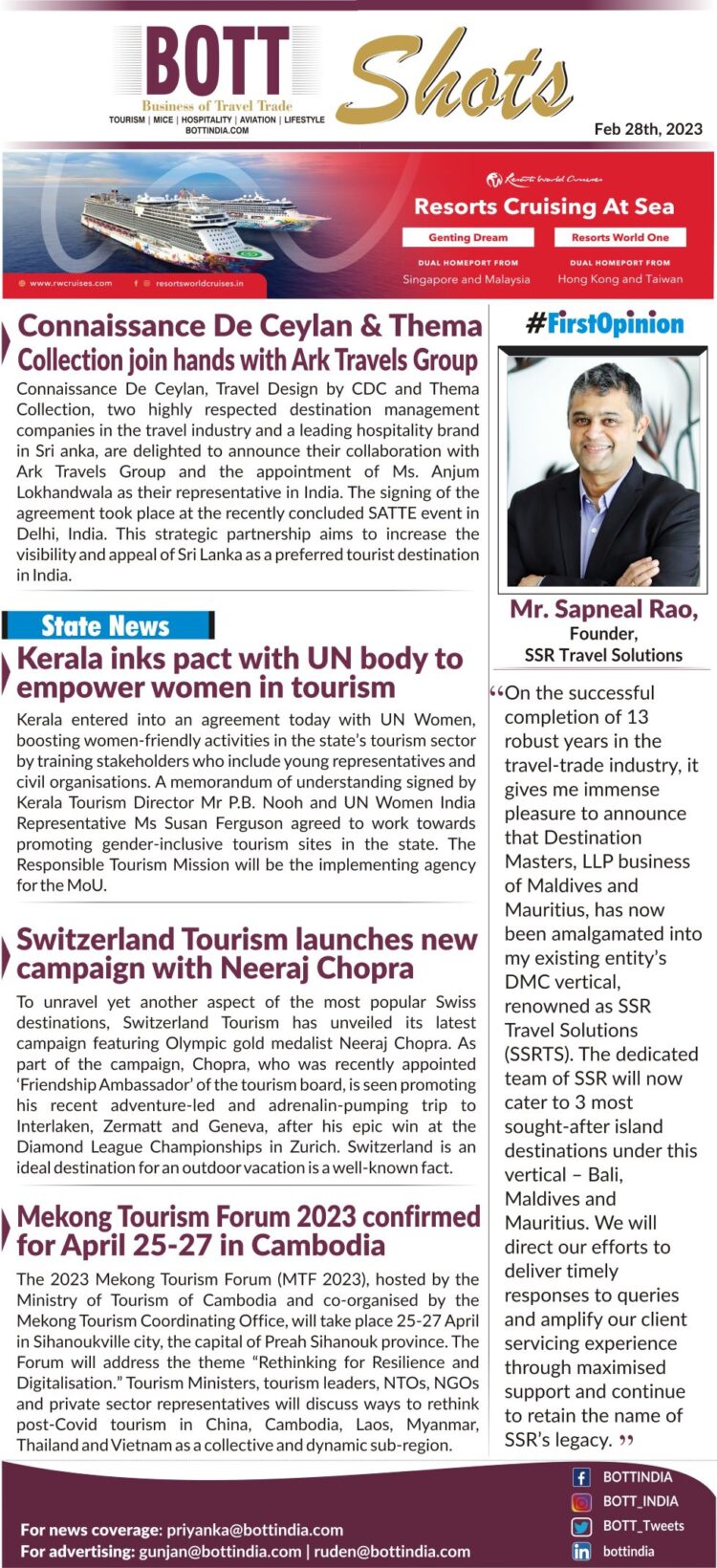 Connaissance De Ceylan&ThemaCollection join hands with Ark Travels Group
Connaissance De Ceylan, Travel Design by CDC and Thema Collection, two highly respected
destination management companies in the travel industry and a leading hospitality brand in Sri
Lanka, are delighted to announce their collaboration with Ark Travels Group and theappointment of Ms.Anjum Lokhandwala as their representative in India.The signing of the agreement took place at the recently concluded SATTE event in Delhi, India.This strategic partnership aims to increase the visibility and appeal of Sri Lanka as a preferredtourist destination in India.
State News
Kerala inks pact with UN body to empower women in tourism
Kerala entered into an agreement today with UN Women, boosting women-friendly activities in the state's tourism sector by training stakeholders who include young representatives and civil organisations.A memorandum of understanding signed by Kerala Tourism Director Mr P.B. Nooh and UN Women India Representative Ms Susan Ferguson agreed to work towards promoting gender-inclusive tourism sites in the state. The Responsible Tourism Mission will be the implementing agency for the MoU.
Switzerland Tourism launches new campaign with Neeraj Chopra
To unravel yet another aspect of the most popular Swiss destinations, Switzerland Tourism has unveiled its latest campaign featuring Olympic gold medalist Neeraj Chopra. As part of the campaign, Chopra, who was recently appointed 'Friendship Ambassador' of the tourism board, is seen promoting his recent adventure-led and adrenalin-pumping trip to Interlaken, Zermatt and Geneva, after his epic win at the Diamond League Championships in Zurich. Switzerland is an ideal destination for an outdoor vacation is a well-known fact.
Mekong Tourism Forum 2023 confirmed for April 25-27 in Cambodia
The 2023 Mekong Tourism Forum (MTF 2023), hosted by the Ministry of Tourism of Cambodia and co-organised by the Mekong Tourism Coordinating Office, will take place 25-27 April in Sihanoukville city, the capital of Preah Sihanouk province. The Forum will address the theme "Rethinking for Resilience and Digitalisation."Tourism Ministers, tourism leaders, NTOs, NGOs and private sector representatives will discuss ways to rethink post-Covid tourism in China, Cambodia, Laos, Myanmar, Thailand and Vietnam as a collective and dynamic sub-region
#FirstOpinion
"On the successful completion of 13 robust years in the travel-trade industry, it gives me immense pleasure to announce that Destination Masters, LLP business of Maldives and Mauritius, has now been amalgamated into my existing entity's DMC vertical, renowned as SSR Travel Solutions (SSRTS). The dedicated team of SSR will now cater to 3 most sought-after island destinations under this vertical – Bali, Maldives and Mauritius. We will direct our efforts to deliver timely responses to queries and amplify our client servicing experience through maximised support and continue to retain the name of SSR's legacy."
Sapneal Rao, Founder, SSR Travel Solutions
Follow BOTT on LinkedIn, Facebook, Twitter & Instagram
Subscribe BOTT Channels on WhatsApp & Telegram to receive real time updates