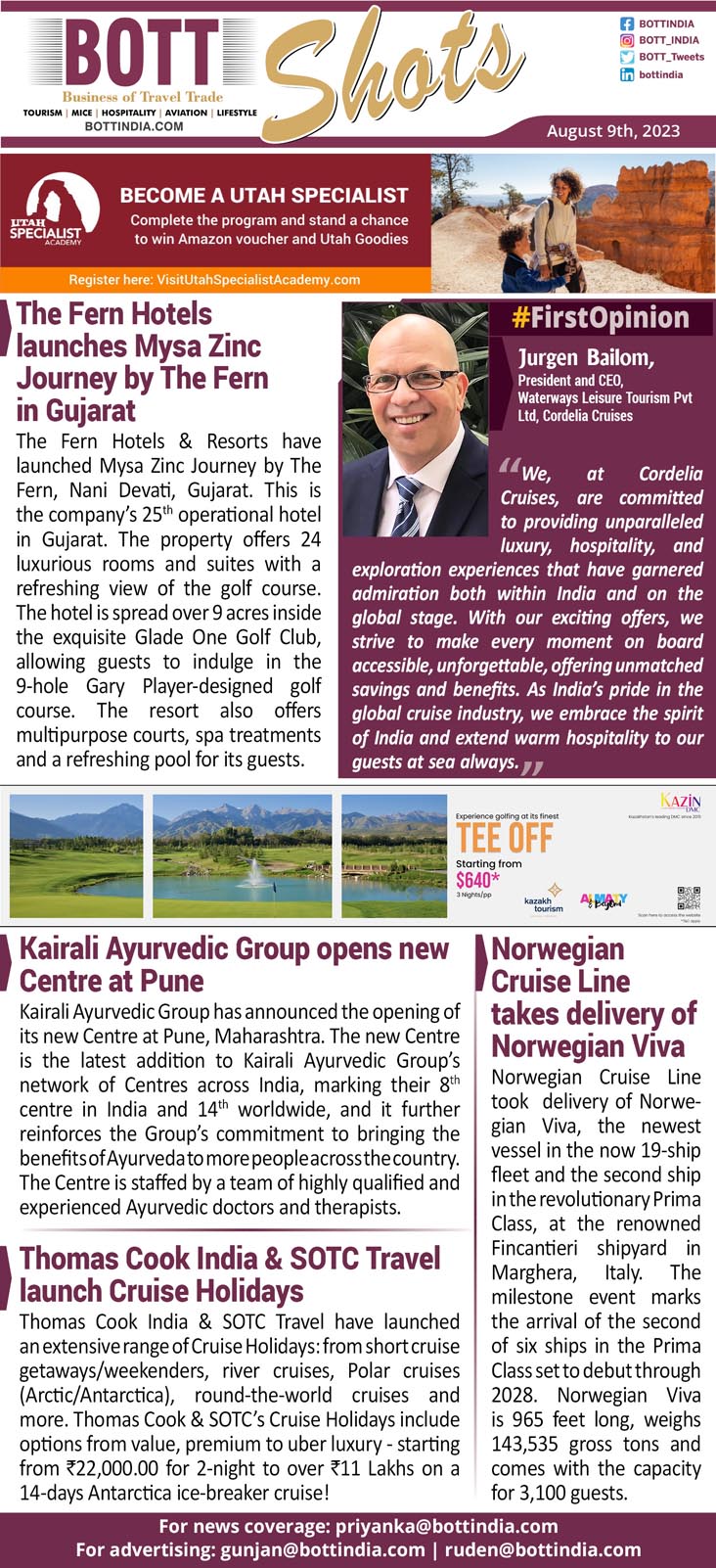 The Fern Hotels launches Mysa Zinc Journey by The Fern in Gujarat
The Fern Hotels & Resorts have launched Mysa Zinc Journey by The Fern, NaniDevati, Gujarat. This is the company's 25thoperational hotel in Gujarat. The property offers 24 luxurious rooms and suites with a refreshing view of the golf course. The hotel is spread over 9 acres inside the exquisite Glade One Golf Club, allowing guests to indulge in the 9-hole Gary Player-designed golf course. The resort also offers multipurpose courts, spa treatments and a refreshing pool for its guests.
Kairali Ayurvedic Group opens new Centre at Pune
Kairali Ayurvedic Group has announced the opening of its new Centre at Pune, Maharashtra. The new Centre is the latest addition to KairaliAyurvedic Group's network of Centres across India, marking their 8th centre in India and 14th worldwide, and it further reinforces the Group's commitment to bringing the benefits of Ayurveda to more people across the country. The Centre is staffed by a team of highly qualified and experienced Ayurvedic doctors and therapists.
Thomas Cook India & SOTC Travel launch Cruise Holidays
Thomas Cook India & SOTC Travel have launched an extensive range of Cruise Holidays: from short cruise getaways/weekenders, river cruises, Polar cruises (Arctic/Antarctica), round-the-world cruises and more. Thomas Cook & SOTC's Cruise Holidays include options from value, premium to uber luxury – starting from Rs. 22,000.00* for 2-night to over Rs. 11 Lakhs* on a 14-days Antarctica ice-breaker cruise!
Norwegian Cruise Line takes delivery of Norwegian Viva
Norwegian Cruise Line took delivery of Norwegian Viva, the newest vessel in the now 19-ship fleet and the second ship in the revolutionary Prima Class, at the renowned Fincantieri shipyard in Marghera, Italy. The milestone event marks the arrival of the second of six ships in the Prima Class set to debut through 2028. Norwegian Viva is 965 feet long, weighs 143,535 gross tons and comes with the capacity for 3,100 guests.
#FirstOpinion
"We, at Cordelia Cruises, are committed to providing unparalleled luxury, hospitality, and exploration experiences that have garnered admiration both within India and on the globalstage. With our exciting offers, we strive to make every moment on board accessible, unforgettable, offering unmatched savings and benefits. As India's pride in the global cruise industry, we embrace the spirit of India and extend warm hospitality to our guests at seaways."
JurgenBailom, President and CEO, Waterways Leisure Tourism Pvt Ltd, Cordelia Cruises
Follow BOTT on LinkedIn, Facebook, Twitter & Instagram
Subscribe BOTT Channels on WhatsApp & Telegram to receive real time updates