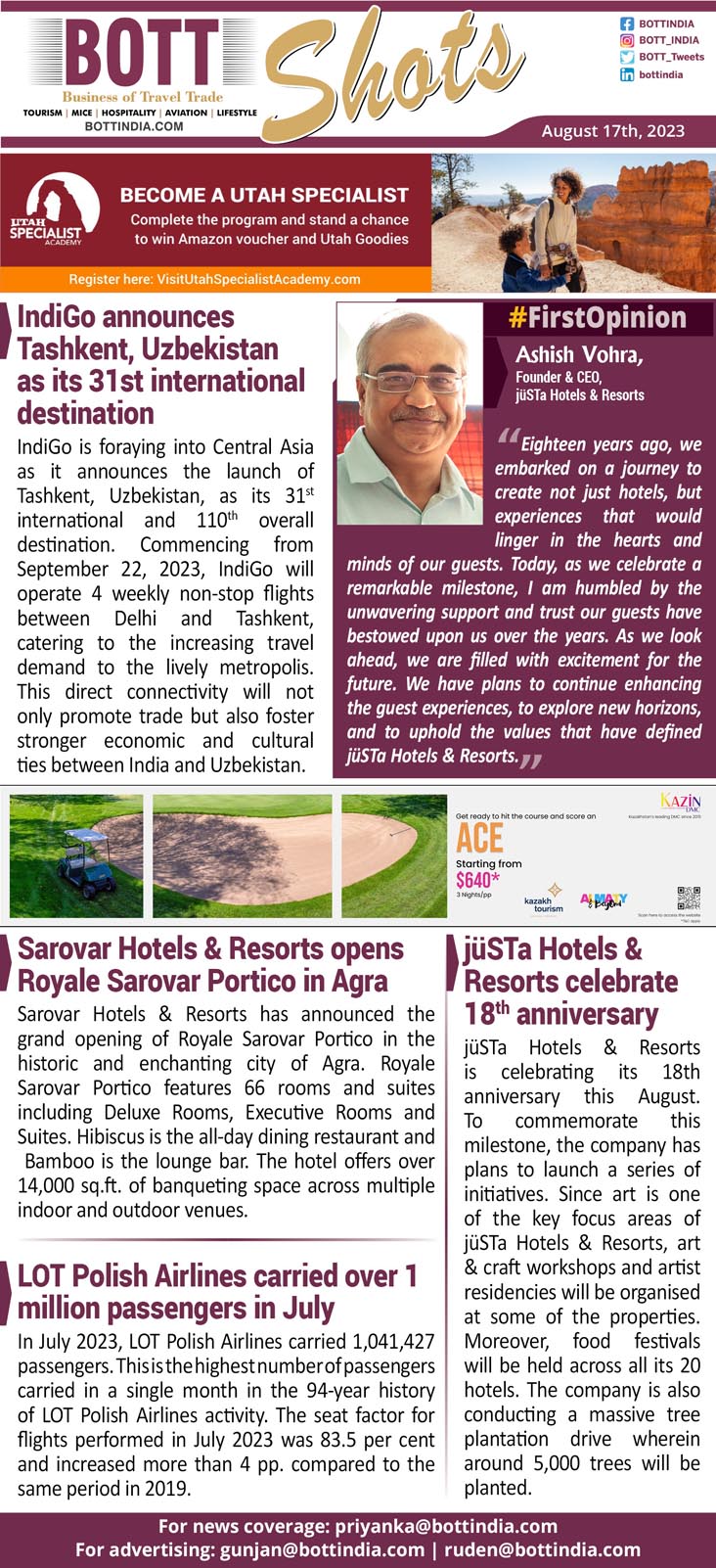 IndiGo announces Tashkent, Uzbekistan as its 31st international destination
IndiGo is foraying into Central Asia as it announces the launch of Tashkent, Uzbekistan, as its 31st international and 110th overall destination. Commencing from September 22, 2023, IndiGo will operate 4 weekly non-stop flights between Delhi and Tashkent, catering to the increasing travel demand to the lively metropolis. This direct connectivity will not only promote trade but also foster stronger economic and cultural ties between India and Uzbekistan.
Sarovar Hotels & Resorts opens Royale Sarovar Portico in Agra
Sarovar Hotels & Resorts has announced the grand opening of Royale Sarovar Portico in the historic and enchanting city of Agra. Royale Sarovar Portico features 66 rooms and suites including Deluxe Rooms, Executive Rooms and Suites. Hibiscus is the all-day dining restaurant and Bamboo is the lounge bar. The hotel offers over 14,000 sq.ft. of banqueting space across multiple indoor and outdoor venues.
jüSTa Hotels & Resorts celebrate 18th anniversary
jüSTa Hotels & Resorts is celebrating its 18th anniversary this August. To commemorate this milestone, the company has plans to launch a series of initiatives. Since art is one of the key focus areas of jüSTa Hotels & Resorts, art & craft workshops and artist residencies will be organised at some of the properties. Moreover, food festivals will be held across all its 20 hotels. The company is also conducting a massive tree plantation drive wherein around 5,000 trees will be planted.
LOT Polish Airlines carried over 1 million passengers in July
In July 2023, LOT Polish Airlines carried 1,041,427 passengers. This is the highest number of passengers carried in a single month in the 94-year history of LOT Polish Airlines activity. The seat factor for flights performed in July 2023 was 83.5 per cent and increased more than 4 pp. compared to the same period in 2019.
#First Opinion
"Eighteen years ago, we embarked on a journey to create not just hotels, but experiences that would linger in the hearts and minds of our guests. Today, as we celebrate a remarkable milestone, I am humbled by the unwavering support and trust our guests have bestowed upon us over the years. As we look ahead, we are filled with excitement for the future. We have plans to continue enhancing the guest experiences, to explore new horizons, and to uphold the values that have defined jüSTa Hotels & Resorts."
Ashish Vohra, Founder & CEO, jüSTa Hotels & Resorts
Follow BOTT on LinkedIn, Facebook, Twitter & Instagram
Subscribe BOTT Channels on WhatsApp & Telegram to receive real time updates