Air India's firm orders include 34 A350-1000, six A350-900, 20 Boeing 787 Dreamliners and 10 Boeing 777X widebody aircraft, as well as 140 Airbus A320neo, 70 Airbus A321neo and 190 Boeing 737MAX narrowbody aircraft.
Chandrasekaran, Chairman of Tata Sons and Air India, said: "This landmark step further positions Air India for long-term growth and success that, we have every hope, will come together to represent the best of modern aviation to the world."
Campbell Wilson, CEO & MD, Air India, said: "Our ambitious fleet renewal and expansion programme will see Air India operate the most advanced and fuel-efficient aircraft across our route network within five years. We are proud to be working with all our partners in this journey to rebuild a global airline which reflects India taking a more confident posture around the world."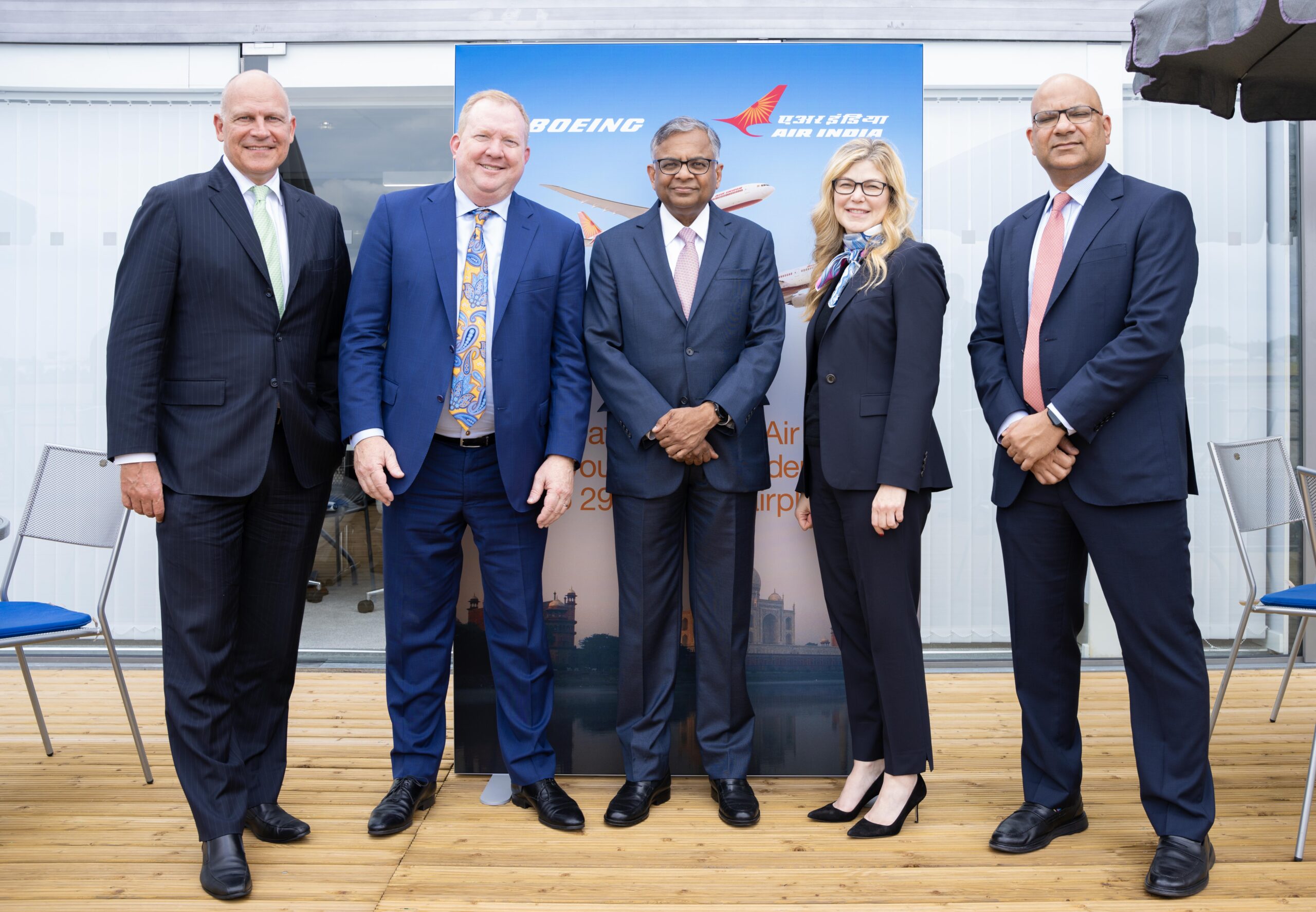 Satair, an Airbus company, and Boeing Global Services will support Air India with a broad range of solutions, including parts and maintenance provisioning, digital applications, and modification services.
The Airbus A350 will lead the deliveries of the new aircraft later this year, with the bulk of the order to arrive from mid-2025 onwards.
Air India has already started taking delivery of 11 leased B777 and 25 A320 aircraft to accelerate its fleet and network expansion.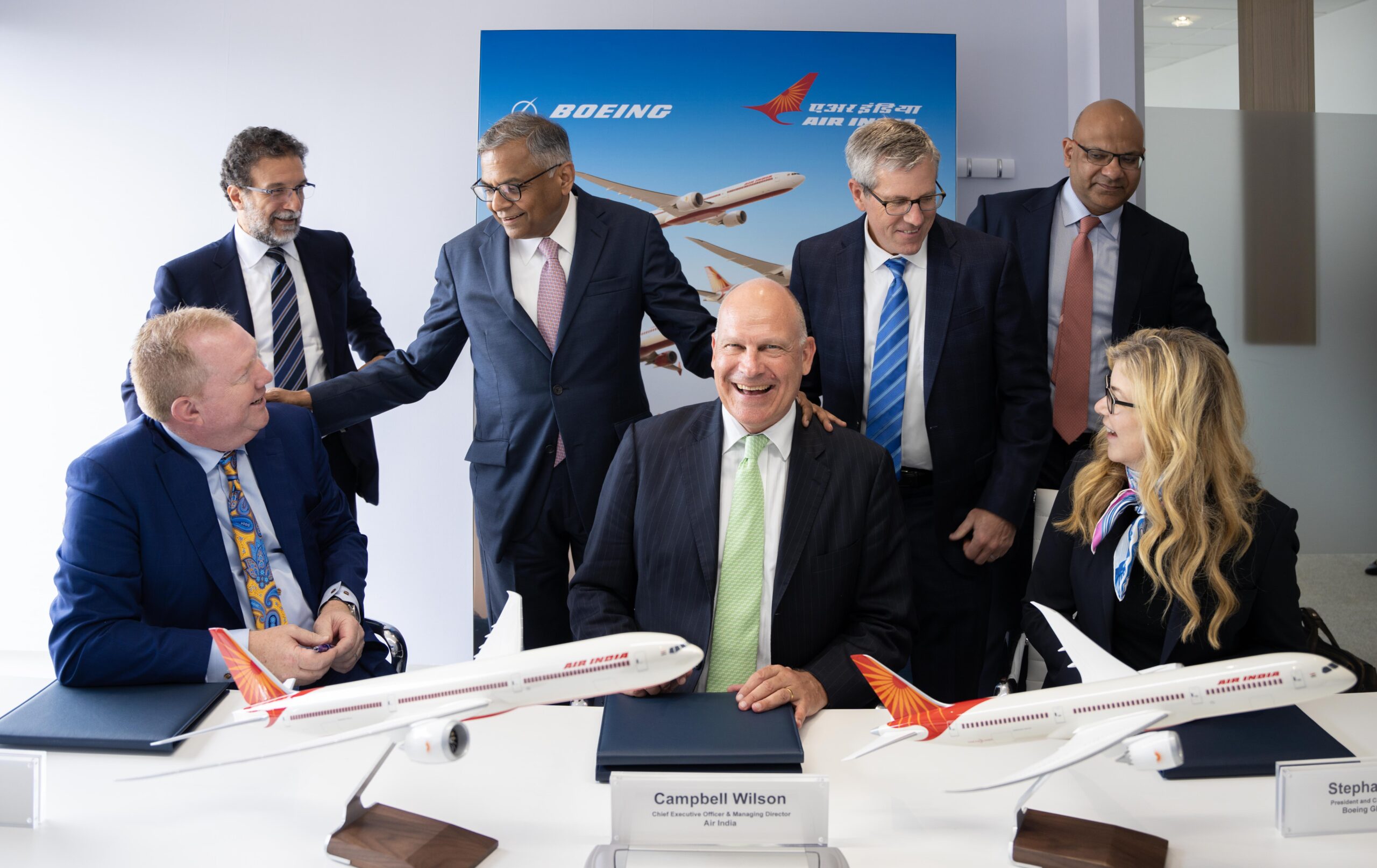 "We are excited to be a key partner in the reinvention of the Flying Maharaja. Under the leadership of the Tata Group and a focussed new management, this is one of the most ambitious projects in the airline business today. We are proud that the efficiencies, comfort and range capability offered by our latest generation aircraft will contribute to the process, as Air India reclaims its rightful position as a world-class premium carrier. The Airbus services package is a perfect future-oriented choice that will form a core element of Air India's transformation," said Christian Scherer, Chief Commercial Officer and Head of International at Airbus. 
"The fuel-efficient mix of next-generation airplanes including the 737 MAX, 787 Dreamliner and 777X will sustainably power Air India's future fleet in the world's fastest-growing commercial aviation market," said Stan Deal, President and CEO of Boeing Commercial Airplanes.
About Air India:
Founded by the legendary JRD Tata, Air India pioneered India's aviation sector. Since its first flight on October 15, 1932, Air India has built an extensive domestic network and also connects with non-stop flights to cities around the world, across USA, Canada, UK, Europe, Far-East, South-East Asia, Australia, and the Gulf. After 69 years as a government-owned enterprise, Air India and Air India Express were welcomed back into the Tata group in January 2022.
 Air India is navigating through a major five-year transformation roadmap under the aegis of Vihaan.AI, with an ambition to become a world-class airline with an Indian heart. The first phase of this transformation, the taxi phase was recently concluded and focused on fixing the basics. These included bringing back to service many long-grounded aircraft, the addition of talent across flying and ground functions, rapid upgradation of technology and strengthening of customer care initiatives amongst others.
Member of Star Alliance, the largest global airline consortium of leading international airlines, Air India offers seamless connectivity and facilities to passengers all over the world.
It has committed over USD 400MM to completely refit the interiors of all wide-body aircraft and has also planned an investment of over USD 200MM in digital and technology. In January 2023, as part of its transformation efforts, Air India placed the industry's largest-ever order of 470 aircraft across Boeing and Airbus and these will start joining its fleet from later this year. With its enhanced fleet, network and improved on-time performance, the airline is revamping its customer proposition.
About the Tata Group:
Founded by Jamsetji Tata in 1868, the Tata Group is a global enterprise, headquartered in India, comprising 30 companies across ten verticals. The Group operates in more than 100 countries across six continents, with a mission 'To improve the quality of life of the communities we serve globally, through long-term stakeholder value creation based on Leadership with Trust'.
Tata Sons is the principal investment holding company and promoter of Tata Companies. Sixty-six per cent of the equity share capital of Tata Sons is held by philanthropic trusts, which support education, health, livelihood generation and art and culture. In 2021-22, the revenue of Tata Companies, taken together, was $128 billion (INR 9.6 trillion). These companies collectively employ over 935,000 people.
Each Tata company or enterprise operates independently under the guidance and supervision of its own Board of Directors. There are 29 publicly-listed Tata enterprises with a combined market capitalisation of $311 billion (INR 23.6 trillion) as on March 31, 2022. Companies include Tata Consultancy Services, Tata Motors, Tata Steel, Tata Chemicals, Tata Consumer Products Titan, Tata Capital, Tata Power, Indian Hotels, Tata Communications, Tata Digital, and Tata Electronics.
Follow BOTT on LinkedIn, Facebook, Twitter & Instagram
Subscribe BOTT Channels on WhatsApp & Telegram to receive real time updates