The mesmerising view of the valley of roses and rugged wadi gorges, carved by the Dades river, from Ouarzazate en route to experiencing the hottest desert in the world – The Sahara; the country truly bustles with life with bespoken kasbahs and the best-known squares in Africa.
The expedition planned between 25th February 2023 and 6th March 2023 offers a self-drive convoy-style journey across Morocco, which crisscrosses from South to North before finishing at Casablanca by the Atlantic. With luxurious accommodations and delectable cuisines cared for, travellers can immerse in the experience of Morocco's rich culture and a wide variety of landscapes.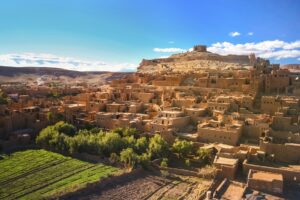 Sanjay Madan and Tushar Agarwal, Guinness World Record Holders, came together in 2012 and founded Adventures Overland, India's leading niche travel company that offers first-of-its-kind self-driving expeditions across six continents. They are also the pioneers in cross-border and fly-and-drive excursions in India.
Tushar Agarwal, Co-Founder of Adventures Overland, said, "We chose Morocco as we wanted passionate travellers to experience some of the most beautiful cities in North Africa. This road trip will offer innumerable sensory experiences, making it worthwhile, and a self-driven convoy-style journey will add to the thrill. Every single route in each country that we visit has been vetted to ensure that the journey is seamless. We take charge of documentation, paperwork, visas and permits to ensure that the entire focus of travellers is on experiencing the journey."
The cost for the Morocco Road Trip is INR 3,75 000 + 5% GST per person, and an EMI option is also available. The bookings have commenced and interested travellers looking for this unconventional experience can book by calling +91 9911599811.
With an eclectic mix of Berber, Arab, and European lifestyle traits woven into everyday living, Morocco is a cultural traveller's dream destination; and off-roading in Morocco's desert in a 4WD is sure to tick some adventures off the bucket list.
Follow BOTT on LinkedIn, Facebook, Twitter & Instagram
Subscribe BOTT Channels on WhatsApp & Telegram to receive real time updates