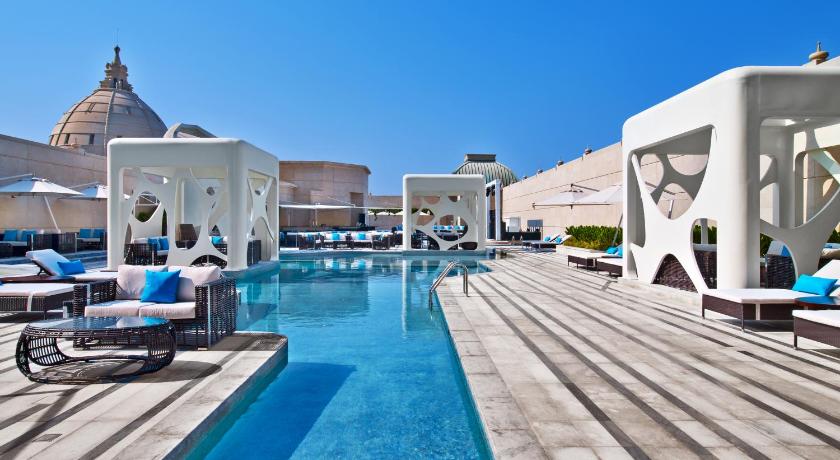 The patrons can now unwind in the hotel's renovated guest rooms and relax in the newly unveiled rooms and suites with large spaces, which perfectly fit with V Hotel Dubai's theme to see and be seen with the open layouts.

With a special focus on nightlife cherished by the young audience with creative minds, the refurbished V Hotel  Dubai is one of the celebrated Instagrammable destinations in Dubai given its unique round beds and other contemporary art pieces that can be witnessed throughout the hotel. La Perle, is Dubai's number one extravagant water-themed show, that combines excellent talent with one of the most technologically advanced theatre productions. La Perle, a theatre production featuring a fusion of artistic performance, creative imagery, and groundbreaking technology. Guests can also have an exhilarating experience while their stay at the hotel by reserving either of the signature suites – Vibrant Suite, Penthouse Suite, Sky Villa,  and more, that are equipped with noise-canceling walls and groundbreaking technology.

The brand-new V Hub now located on the 7th floor is a fully open area where hotel guests and visitors alike can access a hidden, yet exhilarating array of facilities – from the V Gym, reception, 24-hour V Lounge and by sundown a DJ to set off the mood, with a wide range of cocktails to select from. The urban chic setting offers an expansive view of the sunset and a backdrop of retro-futurism design on the seventh floor. That's not it, the newly renovated hotel also presents a variety of dining options like the vibrant V Deck or enjoying a fulfilling meal at Level 7.

Speaking about the development, General Manager at V Hotel, said, "The new-age patrons are driven by aesthetic, contemporary design and art pieces. Suiting just what they desire, our reimagined design is in line with what they desire while being able to express themselves to the fullest during their stay with us at V Hotel  Dubai. We continue to serve the young and young at heart guests with the best of the modern-day amenities and the latest technology. We welcome all to come and experience the vibe here."
Follow BOTT on LinkedIn, Facebook, Twitter & Instagram
Subscribe BOTT Channels on WhatsApp & Telegram to receive real time updates