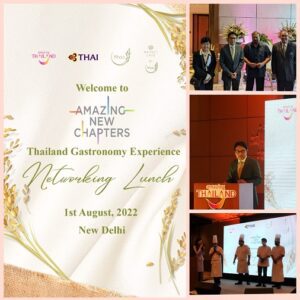 A delegation for this event was led by Mr. Tanes Petsuwan Deputy Governor, International Market (Asia & South Pacific region), Tourism Authority of Thailand. Amongst the guests present were Vir Sanghvi & Seema Goswami, renowned Journalists, Mr. Sonny Walia of Gourmet Planet, Shivani Wazir Pasrich amongst others.
The event showcased authentic Thai cuisine by Michelin star restaurant -Market Café by Khao located at Hyatt Regency Sukhumvit Bangkok, with a four-course meal, featuring some of the most popular Thai dishes.
The Objective of this networking event was to promote and showcase Thailand as an ideal destination for Gastronomy tourism that offers top-quality global culinary experiences, as well as to celebrate authentic Thai cuisine and flavours. Thai cuisine is as rich and diverse as its culture. Uniquely crafted to appeal to all tastes, Thai food combines the best of flavours, textures colours and presentation.
Since 2017, TAT has teamed up with the renowned Michelin guidebooks, to produce Michelin Guides covering Bangkok, Phuket, Phang Nga and Chiang Mai. This has significantly boosted the quality and standards of Thai chefs and helped boost the kingdom's status as one of the world's leading gastro tourism destinations.
The Tourism Authority of Thailand aims to continue, strengthening Thailand's position as a World Class Gastronomy Destination.
Follow BOTT on LinkedIn, Facebook, Twitter & Instagram
Subscribe BOTT Channels on WhatsApp & Telegram to receive real time updates